Rachel's Mid-Century Backyard Patio is About to Get a Whole Lot Better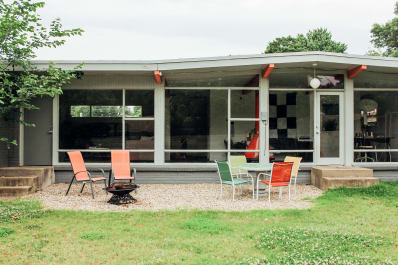 (Image credit: Rachel Anderson)
Name: Rachel Andersen
Type of Project: Backyard Patio Renovation
Location: Tulsa, OK
Type of building: Single-family Ranch
The Renovation Diaries are a collaboration with our community in which we feature your step by step renovation progress and provide monetary support towards getting it done in style. See all of our Reno Diaries here.
Rachel worked 3+ jobs all throughout high school and college, because she had a big dream: to buy a little place and make it into a home. Once she graduated, that dream became a reality when she purchased a cute little 1950s house....at the young of age 21! Over the past few years, she's renovated the interior, making it an inviting space for her large family and friends. Next up is the exterior, which she wants to make just as comfortable and welcoming as the inside.
Here's what her backyard looked like before:
Here's what Rachel has to say about her backyard, and what inspired her to do the project:
Living in Tulsa, there's perfect weather to sit outside and enjoy the back patio, but mine is currently so makeshift that it doesn't feel inviting. Right now I have two hodge-podge sets of seating, and a well-loved fire pit that's definitely showing its wear. So my goal for the next number of weeks is to transform this spot into an outdoor space to host get-togethers: family birthday parties, friend summer and fall parties, grilling out, and s'mores nights! I want a place that is more comfortable and inviting, and that feels more cohesive with the rest of my home!
Here's the planned list of projects:
Add concrete pavers to create more even ground for the kids (and adults) walking on top of the shifting river rock footing
Build a better fire pit/table that has extra space to rest your feet near the warmth — without getting burned by the current metal fire pit – and that's better suited for making s'mores!
Better, more comfortable seating
Add warmth and design with side tables, pillows, other accessories
More posts in Rachel's Backyard Makeover - Renovation Diary