The Problem with Rain Showerheads No One Tells You About
We independently select these products—if you buy from one of our links, we may earn a commission. All prices were accurate at the time of publishing.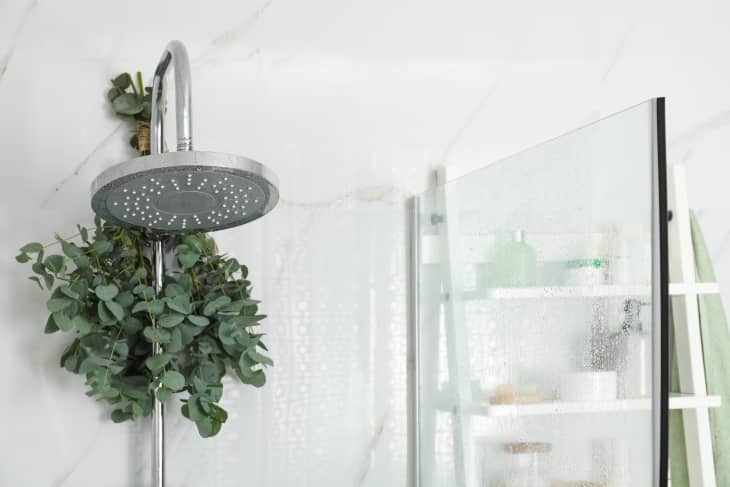 It is impossible to watch a design show or casually browse Zillow without seeing rain showerheads. The sleek cascade of water is a trend that doesn't seem to be in danger of ending anytime soon. "Almost every client I work with on a primary bathroom remodel requests a rainfall shower head," says Christina Duffy, a designer and project director for Freemodel. "Something about standing under the 'rain' gives people that luxury vacation vibe." While Duffy loves to give clients their dream bathroom, she also knows this choice isn't free from downfalls. 
Follow Topics for more like this
Follow for more stories like this
"Even though they look high-end, washing and rinsing long hair in a shower with a rainfall showerhead can be challenging because they have lower pressure than regular showerheads." 
This is a common complaint of those who recently installed a rain showerhead, and actually, that's not the only downside. Rain showerheads can also be more prone to leaks, Duffy notes, so choose a reputable brand. The other issue with a rain showerhead that no one talks about? It can be really tricky to clean your tub and shower stall without a handheld option, making it easier for soap scum, stray hairs, and blobs of body wash to build up.
Whether you are considering installing a rain showerhead in the future, or already installed one and are frustrated by the lack of a handheld option, you do have some choices. Read on to learn what they are.
Can you add a handheld option to any shower stall?
You always have the option to add a handheld showerhead, but whether or not it's a simple installation depends on your situation. Duffy does a lot of remodels where the rain showerhead actually comes out of the ceiling as opposed to the wall. In the case of a full shower remodel where the walls are open and pipes are exposed, adding a handheld showerhead will require piping a second faucet on the wall to attach a handheld to. 
When remodeling an existing shower stall without tearing into the wall, remodelers are more likely to be dealing with a wall-mounted faucet situation, in which they would have to replace a standard showerhead with a rain showerhead on an extension arm. In this case, there are more options for combination products that include both a handheld showerhead and rain showerhead branching off the same point. 
For a very basic fix, there are also tub spouts and pipe fittings that include a diverter and threads where a simple handheld showerhead can be attached without much know-how. They aren't stylish, but they are functional. 
Is adding a handheld showerhead a DIY job? 
In most cases, adding a rain showerhead with a handheld sprayer is a DIY job for people with a moderate skill set. As long as no pipes need to be moved or walls cut apart, changing tub and shower fixtures mostly involves following diagrams and screwing parts together. A new rain showerhead, a rain-and-handheld combination, or a diverter to add a handheld showerhead to an existing system do not involve any actual plumbing work. 
If you are installing a brand-new rain showerhead, though, it's probably best to hire a licensed plumber. They will probably recommend increasing the size of the wall pipes to bump up the water pressure, which is not a DIY job unless you have some serious plumbing skills. 
What are some good combination showerhead options? 
Duffy says it's important to look for brass internal fittings and stick with major retailers that have a proven track record. That doesn't always mean a high price point, though. She's a fan of Delta for remodels with a tighter budget, for example. 
The Delta TempAssure 17T Series Thermostatic Shower System includes a wall-mounted rain showerhead and a handheld mounted on a bar with adjustable height. This showerhead includes the in-wall valves, so is best for a remodel where the wall is open. The Nebia by Moen, as another option, is a fully DIY option that can be used as a rain showerhead alone or with the included handheld option. It does not require changing a standard shower plumbing setup, which is good to know!
No matter how you choose to go about it, it's worth it to have a balance between luxury and function.