Reading Before Bed Might Make You Healthier and Happier, According to This Survey
We
independently
select these products—if you buy from one of our links, we may earn a commission. All prices were accurate at the time of publishing.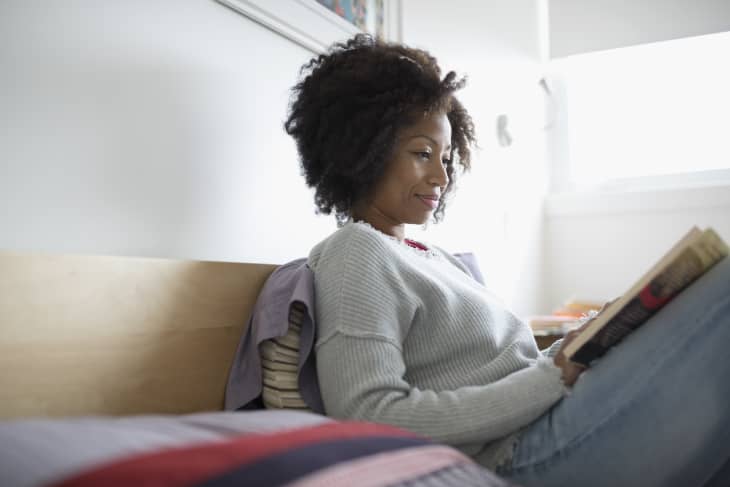 We all know reading is good for us. Our kindergarten teacher told us, LeVar Burton told us. And the effects of reading go beyond education. Apparently, reading before bed correlates with healthy sleep, along with other good life habits. If you love to read, spending some time with a book before you go to sleep at night is one small act of care you can give yourself.
The survey, conducted by mattress review site Sleep Junkie, began with 2,309 people. Of those, 11% read 1-2 nights per week, 12% read 3-4 nights per week, 7% read 5-6 nights per week, and 8% read every night, which means 62% didn't read before bed at all. 
From there, Sleep Junkie narrowed down the survey group to just 1,004 people, who fell into two equal-sized groups: those who frequently read five or more nights per week and those who rarely read before bed. "Frequent bedtime readers are strong advocates for the practice: 96 percent recommended the ritual to others," reads the report on Sleep Junkie. "That's most likely because 73 percent believed falling asleep would be harder if reading in bed wasn't a part of their routine."
The frequent readers were also more satisfied with their sleep than the non-readers: 76% said they were satisfied (meaning they responded as either "slightly satisfied," "satisfied," or "very satisfied") compared with 64% of non-readers. More significantly, 14% said they were very satisfied, compared with 5% of non-readers.
According to this survey, at least, frequent bedtime readers report earning slightly more ($39.779 per year) than non-readers ($36,094) — although that does not mean reading before bed will magically increase your salary. Readers were also more likely to say they eat healthy food (56% versus non-readers' 44%), engage in healthy recreation (57% versus 43%), and visit the doctor and dentist regularly (54% versus 46%).
Perhaps most importantly, frequent readers were more likely to answer yes to the quality of life questions. 71% said they believed they were getting the most out of themselves, compared to 59% of non-readers, and 70% said they live life to the fullest, compared to 58% of non-readers.
It's important to remember that all of these answers reflect correlation, not causation. In other words, people who feel better rested, have more leisure time, and feel happier may all be more able to carve out time to read before bed. But as far as bedtime routines for wellbeing go, this one sounds pretty nice. We'll be giving it a try tonight.