The Rise of the Real Estate Influencer—and What You Need to Know About Working with One
We independently select these products—if you buy from one of our links, we may earn a commission. All prices were accurate at the time of publishing.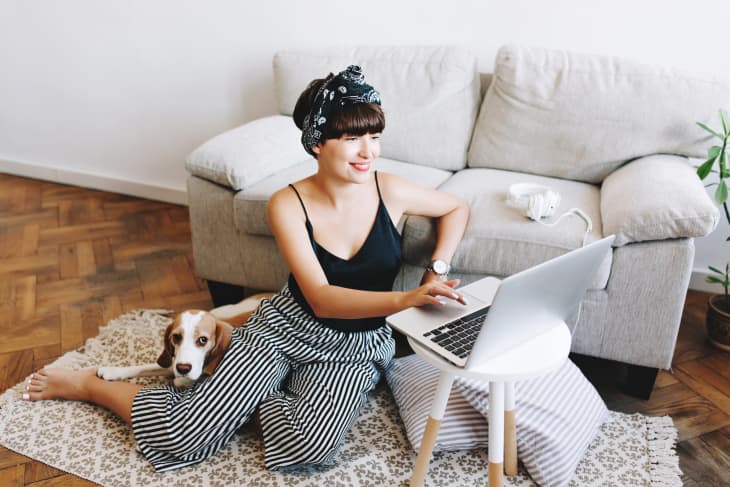 Even if you haven't already found yourself hopelessly addicted to "Selling Sunset," you've likely still seen its rotation of glam-forward thumbnails while perusing Netflix. The premise of the show is shamelessly superficial—beautiful people selling beautiful homes to beautiful people—but the concept is rooted in reality. 
Christine Quinn, Chrishell Stause, and the rest of the "Selling Sunset" cast are glorified real estate influencers, or agents using their social cachet to help sell homes. Their world may seem elusive, but agents tend to agree that using social media to promote yourself is just good business sense. While plenty of agents do use social media as a marketing tool for their properties, real estate influencers build a presence—and a following of thousands or more—around their distinct personalities and lifestyles.
That's thanks in part to influencer culture, which isn't going away any time soon: nearly three quarters of Gen Zers and millennials follow influencers on social media, and over 50 percent say they trust the influencers they follow, according to The Influencer Report released last year. 
Real estate agents as influencers play a significant role in shaping and guiding the real estate industry. And by promoting listings on social media, they can help to diversify the pool of prospective buyers and secure sales faster. To better understand the upshots of working with one, I spoke to three real estate influencers.
You can get a glimpse into the lifestyle you're buying
Nicole A. Ramos Beauchamp, a Global Real Estate Advisor with Engel & Völkers NYC, uses social media to promote listings and engage with potential buyers in a way that has a built-in sense of comfortability in our "ultra connected world," she explains.
Beauchamp says that her social media presence offers could-be consumers a lens into her lifestyle and the amenities of New York City. "At the core of my strategy, if one could call it that, is to share some of my life's passions: my unending love for my hometown (NYC), architecture, great food, arts, travel—all of which line up well with my professional life as well," she says.
You can quickly gauge whether you'd like to work with them
Following a real estate agent on Instagram means you get a sense of how they operate, which, in turn, can help you decide if you'd like to work with them.
Ashley Tingstad, an agent with the Las Vegas-based Crighton Rinaldi Team, uses a mix of Instagram and TikTok to build her brand and business as an agent. She uses her accounts to answer common questions, share examples of real life situations, and showcase her creativity, sense of humor, and affability.
"I use my social media to illustrate my personality and my reliability as a realtor," Tingstad says. "It is a position you want filled by the most qualified and likeable person possible. Being likeable just adds a sense of ease; knowing that you can trust the relationships they are establishing through representing you will be a positive experience for everybody involved."
Asking a realtor questions via Instagram story allows you to establish an informal rapport with them before meeting up. Plus, seeing a real estate agent interact positively with her followers bodes well for you as a buyer, too. You can wave off worries about an agent not being reliable, since they have a massive follower base to answer to if something goes wrong.
They can show you off-market listings
Kenny Truong, an Oakland-based agent with eXp Realty, uses Instagram Stories to document his journey as an agent. Social media has been instrumental in building his #FASTAGENT brand, while networking with other agents.
"Agents all over the United States follow me to learn best tips and strategies to sell real estate," he says. And, according to Truong, being connected to a large pool of agents can mean access to exclusive listings weeks before they go on the market.
But it's not just about followers
While a loyal follower base can be a good sign, the value of a real estate professional should never hinge on follower counts alone, Beauchamp says. 
"For any consumer who is considering working with an agent, you want to work with a real estate expert who will be your advocate and representative in your transactions," Beauchamp notes. "As you interview professionals to work with, discern what their experience is, and their market knowledge, negotiation, and communication skills."