5 Real Haunted Houses to Visit If You Love Spooks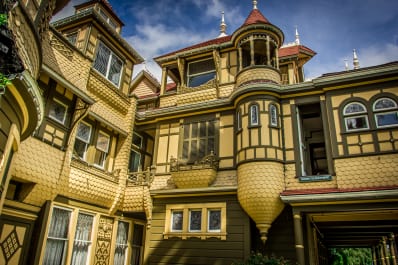 (Image credit: Jacob Williams/Winchester Mystery House)
Halloween is upon us, and haunted houses are popping up everywhere to provide visitors with thrills, chills, and holiday entertainment. But those who prefer to get their kicks from a more realistic experience may want to visit a supposedly real haunted house instead, complete with dark backstories, dastardly characters, and more. Here are five haunted houses you can visit nationwide.
Lizzie Borden House, Fall River, Massachusetts
Visit the Massachusetts home where alleged axe murderess Lizzie Borden is believed to have killed her father and stepmother, although she was acquitted. This unassuming home is now a bed and breakfast and museum where guests have supposedly seen strange apparitions.
The Sultan's Palace, New Orleans, Louisiana
The classic French Quarter residence known as The Sultan's Palace, built in the 1800s, was home to a wealthy, depraved man known as the Sultan who allegedly tortured people there before dying mysteriously (reports now say there is little evidence that this is more than local folklore). Their spirits are said to haunt the home to this day. Although the property has been turned into private residences, you can swing by on a city ghost tour and hear the ghastly tale.
Winchester Mystery House, San Jose, California
(Image credit: Jacob Williams/Winchester Mystery House)
The four-story, 160-room Winchester Mystery House in San Jose was built by Sarah Winchester, the widow of firearms magnate William Wirt Winchester. Supposedly she had the labyrinthine home constructed to protect her from vengeful spirits killed by her husband's guns. Reportedly, footsteps and disembodied voices are often heard in the third floor corridors in particular.
The Whaley House, San Diego, California
(Image credit: Sandé Lollis/Save Our Heritage Organisation)
Now a museum, The Whaley House is one of San Diego's architectural gems — and a legendary haunted house. At least two deaths were known to have taken place on the site before the house was constructed in 1857, and many residents have occupied the home over the years. Their ghosts are said to be responsible for the unusual sightings, disembodied voices, and heavy footsteps that visitors experience.
Kehoe House, Savannah, Georgia
In 1892, William and Anne Kehoe built this grand mansion for their large family of 10 children, but several of them died in subsequent years. According to legend, the spirits of those children now haunt the bed and breakfast, and guests report hearing eerie sounds of children playing. The home was also formerly a funeral home.