5 Reasons to Plan a Multigenerational Trip This Summer (or Any Time of Year)
We independently select these products—if you buy from one of our links, we may earn a commission. All prices were accurate at the time of publishing.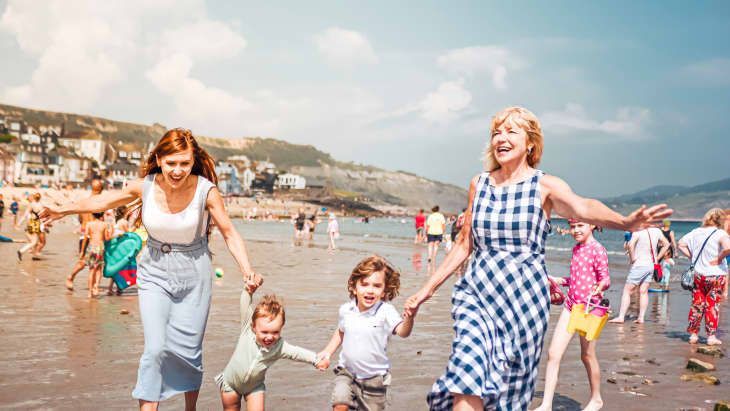 As the warm weather comes, days become more carefree, and folks begin to plan their summer trips. For many, this year's travel plans are ramped up as people figure how to balance seeing the world again with COVID precautions in mind. The reentry of travel is especially meaningful for two reasons: being able to explore and finally reconnecting with family and friends. "There's real pent-up demand out there from losing years from COVID," says Kasey Austin Morrisey of Austin Adventures. "More and more families are eager to get out and explore together on a trip of a lifetime." 
If you feel that it's time to get together with loved ones, consider maximizing your vacation by turning it into a multigenerational trip. Packing up everyone from babies to grandparents and booking an experience for all can be just what your family needs to reestablish meaningful bonds. Here are five reasons to plan a multigenerational trip this summer — and beyond.
You have been apart for too long.
Why wait until the holidays to gather when you can plan a summer trip together? Scheduling a family vacation in the warm weather allows everyone to relax while making up for lost time. "We are seeing families eager to start traveling and reconnecting in person with their loved ones now more than ever," says Shelley Wise, who is the vice president of integrated marketing at Princess Cruises. She also notes an uptick in travel to bucket list locales, such as Alaska.
Your family can get closer through shared activities.
Speaking of wish list destinations, exploring a once-in-a-lifetime spot can simultaneously help your family connect and make memories, and Morrisey reinforces this fact. "Time spent together experiencing new places as a family creates lifelong memories and enhances the bonds that no doubt have been stressed over these last couple years," she says. 
De-stressing while on vacation can be just the recipe your family needs to find a bit of solace after the storm while reaffirming relationships. "It makes sense to meet in a destination where everyone can enjoy a shared travel experience," says Tom Armstrong, who is the marketing manager for Tauck. "Exploring a new place together and sharing those discoveries is a real bonding experience." With a smartphone in hand, it's also easy to document those precious memories to share for generations to come.
You can choose a place that caters to folks of all ages.
When it comes to travel options, you don't have to do all of the planning yourself unless you want to. For example, cruises offer a variety of activities, from kids' clubs to evenings filled with adult-centric entertainment options. "Multigenerational families can enjoy an array of different experiences so everyone can do what they want yet still spend time together," Wise explains. Booking an all-inclusive resort or cruise is also an excellent option so that everyone can do their own thing while meeting for selected events throughout the day. 
If you prefer your family to spend the entire time together, select an itinerary that includes everyone. "There's certainly nothing wrong with either kids' clubs or adult-only areas," affirms Armstrong. However, the daily life of most families already pulls them in different directions, so a shared itinerary is a priority for some. "Travel is the perfect time for coming together, sharing new experiences, and savoring the bonds that naturally result," Armstrong adds.
Your long-distance family can all be in one location.
Most families are more spread out than they used to be. "When I was a child, my grandparents — not to mention cousins, aunts, and uncles — all lived no farther than one town away, making it very simple for us all to get together," Armstrong reminisces. However, things are vastly different nowadays. "Extended families are more geographically scattered than at any time before, with career demands in particular scattering families across the country," he adds. Booking a multigenerational vacation brings everyone from near and far to reconnect in one location. 
You're ready to use saved vacation time and funds.
If you've saved up both time off and travel funds from not traveling as much the past two years, then the time is right to plan a multigenerational trip. "Without having the freedom to travel the past few years as well as having saved up money not going on vacation, families are going big and planning bigger, longer, or more expensive trips than pre-pandemic," says Morrissey. "If families are realizing anything, it's that money spent on travel and making memories with family members is money well spent."