A Furniture Company Found the Best Use for All those Discarded Chopsticks
We
independently
select these products—if you buy from one of our links, we may earn a commission. All prices were accurate at the time of publishing.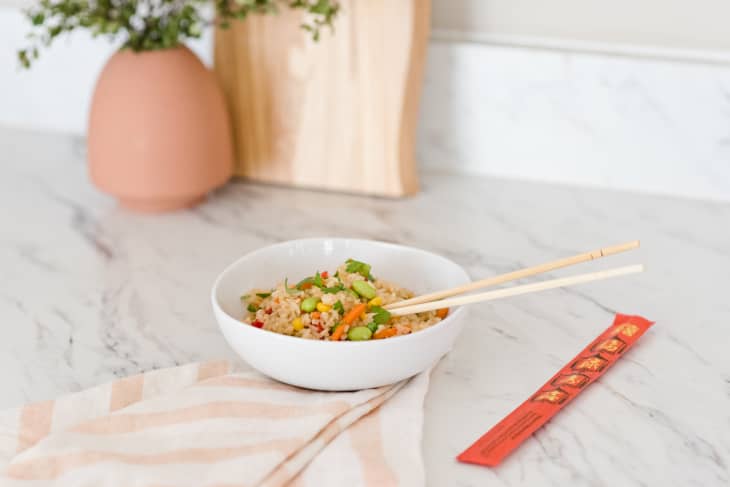 Chopsticks are obviously used for eating, but did you know they could also be used for work productivity, storing your clothes, and cutting vegetables?
Vancouver-based startup ChopValue takes used chopsticks and recycles them into various home and office goods like desks, cabinets, shelves, charcuterie boards, and even Jenga blocks. While you might think that furniture made out of discarded utensils would look weird, the products actually look great.
Here's how they do it: their staff picks up 350,000 chopsticks from 300 restaurants every week. To get rid of food residue, and more importantly, mold and bacteria, the utensils are coated in a water-based resin and sterilized in an oven for five hours. The wood is then fed into a hydraulic machine, which crushes the material into a composite board. Finally, after it is sanded, polished, and lacquered, the wood is crafted into non-toxic, chemical-free furniture.
"This material is then the core piece for everything from desks and table tops to home decor," founder Felix Böck told Atlas Obscura.
Böck came up with the idea for ChopValue in 2016 when he was eating sushi and realized that there are so many single-use chopsticks that go to waste. In fact, about 80 billion chopsticks are produced each year. And with a 20-year-old tree only able to make 4,000 pairs, that's about two million trees cut down annually to create the utensil.
"In Vancouver alone, we're throwing out 100,000 chopsticks a day," he added. "They're traveling 6,000 or 7,000 miles from where they're manufactured in Asia to end up on our lunch table for 30 minutes."
The good news is that the startup recycles a lot of chopsticks. A desk, for instance, requires over 10,000 chopsticks to make. And to date, they've saved more than 57 million pairs from ending up in landfills. Böck hopes that chopsticks will only be the start, that others will also find ways to reuse items like straws and takeout containers.
"I think change starts small, and change can be a very relatable thing that we all know from daily life," said Böck. "Right now, we're focusing on the chopstick because it's a very powerful story, but I think there are so many other urban resources where we can make this work."
You can shop ChopValue's eco-friendly furniture and accessories here.