Hard-To-Recycle Plastics Are Now Being Made Into Zero Waste "Concrete" Blocks
We independently select these products—if you buy from one of our links, we may earn a commission. All prices were accurate at the time of publishing.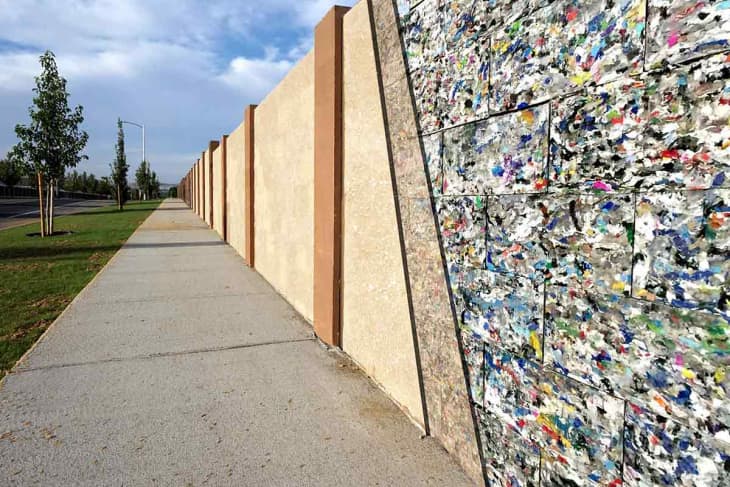 Though we try our best to recycle the single-use plastic items we use daily, there are some plastics that take a lot more effort to reuse than just tossing them into the recycle bin. And because extra effort is needed, those plastics often end up in landfills. But one company is hoping to change the fate of hard-to-recycle plastic for good.
ByFusion Global is creating a brand new kind of concrete block that is made entirely of both hard-to-recycle and recyclable plastics like plastic bags, yogurt containers, and water bottles. These blocks are called ByBlocks and they can be used exactly the same way standard concrete blocks are in modern building construction. But unlike regular concrete, ByBlocks won't break, crumble, or crack.
"ByBlock is the first construction-grade building material made entirely from recycled (and often un-recyclable) plastic waste," ByFusion Global's website reads. They can even be installed without the use of glue or adhesive.
The company uses a steam-based process called ByFusion to create the blocks that doesn't require chemicals, additives, or fillers. The block-making machinery is now available for waste management companies, governments and corporations to install to begin creating more sustainable building materials.
ByFusion Global says that the process to create ByBlock is completely zero-waste and a single ton of plastic will make one ton of ByBlock — and no special knowledge is required to begin using them for building. Plastics don't even have to be sorted, cleaned, or processed before turning them into ByBlock.
ByBlock can be swapped in for retaining walls, foundations, inner walls, terraces, and any other project where a concrete block may be found. And because they're cool to look at, you can even make them a stand-out design element.
ByFusion is aiming to partner with more governments and corporations to take the ByBlock global and reduce plastic waste in landfills and in the ocean.