Redditors Have Strong Feelings About This Lazy Susan Refrigerator
We
independently
select these products—if you buy from one of our links, we may earn a commission. All prices were accurate at the time of publishing.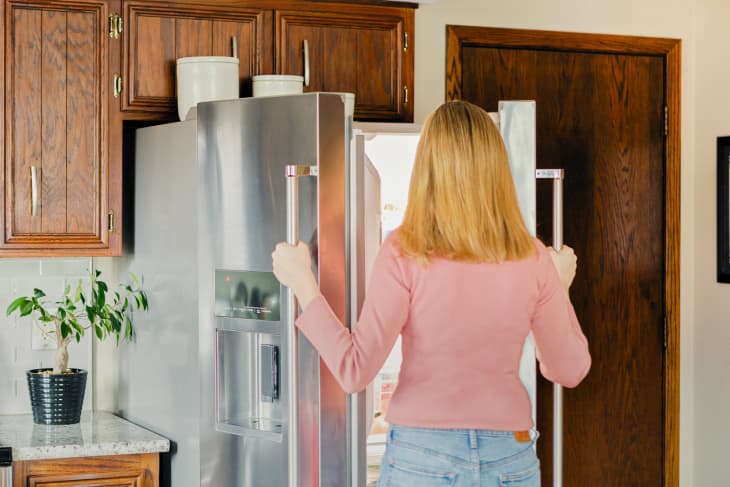 Lazy susans are pretty rad. Whether it's keeping condiments and/or spices together in the pantry or making food accessible for everyone at the dinner table, the rotating tray is a staple in the kitchen. But this is one spot that you've probably never seen (or expected to see) a lazy susan do its organizing magic: in a refrigerator.
Redditor 5_Frog_Margin posted a photo of a refrigerator with a built-in lazy susan in the DesignPorn subreddit. They didn't leave any context as to why or how the fridge came to be, but they didn't need to—the photo was enough to grab attention. If anything, the lack of information probably contributed to it becoming a buzzed-about topic. So many questions, not enough answers, but a LOT of opinions.
There were some users who expressed their disapproval of the concept. While user Adrian_Shoey mentioned that this seemed like a brilliant way to access all items in a fridge, they didn't think it was the most efficient way to use space in a kitchen. "So much wasted space to the sides and behind," they wrote. "A corner fridge seems like it'd be a much better design and easier to integrate."
Another Redditor u/ContactusTheRomanPR proclaimed that the lazy susan fridge went against the DesignPorn subreddit's purpose. "No. Just no. If something in your kitchen leaves 'broom space' then it is, by definition, NOT design porn," the user said. "Sounds cool on paper, but trashy as hell in practice to stick a wanna be jumbo water heater which doubles as a broom lean-to in the middle of a kitchen."
Then, there were those who loved everything about it. u/Outerbongolia, an engineer, said, "I am thinking of the amount of time I have to spend picking junk up from the back of the fridge, all the things that spilled and broke over the years. I'm all for a lazy Susan fridge." In addition to that, they mentioned the lazy susan feature can fit inside a square fridge, so everyone who wasn't a fan of the circular shape could be happy.
Many good points were brought up in the thread, and everyone is entitled to their own opinion. As for me, I'd love to reach my carton of eggs and oat milk in the morning without knocking everything else down (when I'm truly too tired to pick it back up).
What do you think of this refrigerator with a built-in lazy susan? Let us know in the comments below!