Remembering Kate Spade's Iconic Style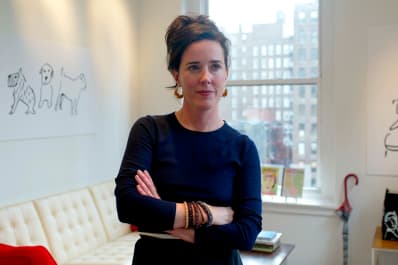 (Image credit: David Howells/Getty Images)
We were so saddened to hear that Kate Spade was found dead by apparent suicide today. Her influence on the world of design and fashion is immeasurable and we will so miss her iconic style.
From her handbags to her home goods, Kate brought delight into our lives by approaching simple items with a sense of joy and whimsy.
Her iconic trademarks—the little spade stamped on every bag, her love of polka dots, and her quirky, inspiring sayings—have captivated her fans for years, while her bold, sparkly aesthetic has inspired countless trends.
She encouraged people to tap into their playful side with a sense of confidence, and for many women a Kate Spade purse felt like their first step into adulthood.
Without Kate Spade, pineapples and flamingos would never have become must-haves and the world of design would be much less playful.
And as journalist Yashar Ali pointed out on Twitter, she was a trailblazer for women creating their own brands.
Before Kate Spade, only a handful of women had their own lines, Donna Karan, Susie Tompkins Buell (ESPRIT). If you're wearing clothes today that were designed by a woman or carrying a handbag designed by a woman, you can bet that she got there through a door opened by Kate Spade. pic.twitter.com/NKaKRNfeFR

— Yashar Ali 🐘 (@yashar) June 5, 2018
Celebrities and fans alike are speaking out on Twitter about the memories her designs evoke and the impact her style has had on their life.
Mindy Kaling shared how connected she felt to Kate's colorful aesthetic and female empowerment.
I am heartbroken about the news of Kate Spade. I have worn her clothes many, many times. They were colorful, bold, cheerful, and encouraged women to find the twinkly person inside them. You couldn't walk into her boutiques and not smile. Rest In Peace, Kate.

— Mindy Kaling (@mindykaling) June 5, 2018
Former First Daughters Chelsea Clinton and Jenna Bush Hager both tweeted about receiving their first Kate Spade bags in college.
My grandmother gave me my first Kate Spade bag when I was in college. I still have it. Holding Kate's family, friends and loved ones in my heart.

— Chelsea Clinton (@ChelseaClinton) June 5, 2018
I will never forget the first Kate Spade bag I got for Christmas in college. She was a trailblazer. Her life and death are a reminder that pain doesn't discriminate. Sending love to her family.

— Jenna Bush Hager (@JennaBushHager) June 5, 2018
"Shameless" star Emma Kenney reminisced about how strong she felt wearing Kate's designs.
my heart is so broken hearing the news of Kate Spade. i grew up rocking her dresses and clothing and feeling SO strong, confident, and beautiful. thank you for your timeless work and empowering so many. my heart and prayers are with Kate and her loved ones. ❤️ pic.twitter.com/NXrzcKiWqy

— Emma Kenney (@EmmaRoseKenney) June 5, 2018
While Lena Dunham perfectly encapsulated the wide-reaching appeal her designs have.
Kate Spade was more than a designer. She had a quirky visual language that captivated Bat Mitzvah girls and artists alike. She was also a staple of NYC who spread good will. My heart breaks for her family. Thank you, Kate, from one of the millions you made feel beautiful.

— 💎 Lena Dunham 💎 (@lenadunham) June 5, 2018
And journalist Natalie Daher pointed out how Kate's designs appealed to women of all ages.
Kate Spade was one of those rare designers who held up from preadolescence to adulthood, probably by making me feel smart & confident in a way no other brands did. What a loss.

— Natalie Daher (@NatalieDaher7) June 5, 2018
There's no doubt that Kate's design legacy will continue to be felt in the worlds of fashion, accessories, and decor for years to come, and our thoughts are with her loved ones in this difficult time.
If you or someone you know needs help, please call the National Suicide Prevention Lifeline at 1-800-273-TALK (8255).