10 Home Reno Safety Tips That'll Ensure You and Your House End Up in Good Shape
We
independently
select these products—if you buy from one of our links, we may earn a commission. All prices were accurate at the time of publishing.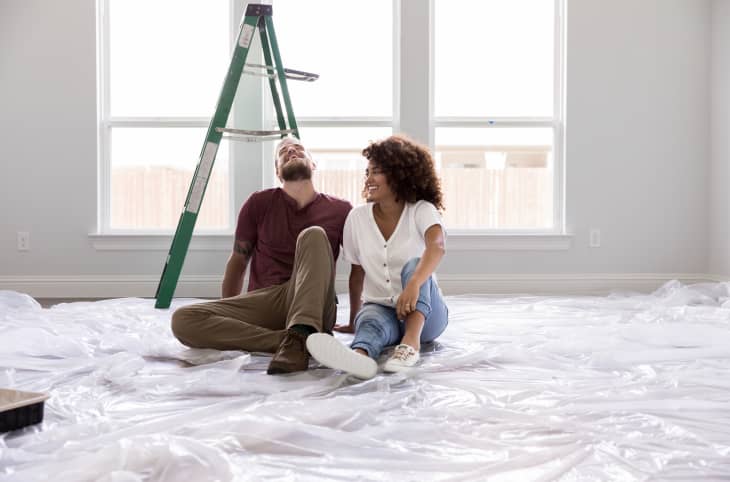 Choosing to renovate your home is a big undertaking. Sure, Chip and Jo make "demo day" look so fun, but the reality is that renovations can take a toll on your physical and mental health—and can be dangerous, too, without the right precautions. Whether you are personally overseeing your home renovation or outsourcing the project to licensed experts, it's likely to be a stressful process either way. Here are a few ways to ensure that you stay safe, healthy, and (reasonably) un-frazzled while you're renovating your home.
1. Make sure your home structure is secure before you start
"A lot of times, when renovating an older home, the structure could be compromised before you start the rehab," says Lance Massey, Project Manager at Rehab Specialists of Tennessee, Inc. Some homes might have foundational issues due to previous flooding or water build-up. "Have a structural engineer write a report on the current structure recommending the best practices to secure," says Massey.
Kevin Anundson, Director of Business Development at NARI, says that when looking for visual signs of structural failure, you can start in the basement. If you see cracks in the walls, or mold and mildew, these are signs of water intrusion and could mean that the wood might be rotted above it. 
Know the floor plan of the house—inside and out. This includes gas lines, water lines, electrical lines, load-bearing walls, etc. If you have the original floor plan of your house, you might gain access to that information. Otherwise, you'll have to play detective by pulling down some sheetrock and doing a little digging until you find these lines, so proceed with caution, as drilling into one of these could be dangerous and costly to replace.
2. Have a clear plan for your renovation before beginning
"Have a clearly determined scope of work for the renovation before the project starts," advises Anna Karp, co-founder and COO of Bolster, a design-build firm in NYC.  "Renovations can often morph into larger projects midway through construction if the pre-construction stage is not handled adequately. This may lead to expensive, rushed, and potentially unsafe decisions."
"A big part of pre-construction involves probing to understand the details of how the building was constructed. The safety hazards you can encounter are pre-existing illegal conditions and work that was done in the property before your time," says Karp.  
So when you decide you want to redo your kitchen, then halfway through that process, you decide you'd like to go ahead and re-do that entire floor of your home (and quickly, please! We're staying with my mother-in-law!), you're more likely to have potentially dangerous mistakes due to rushing or due to unwelcome building surprises.
"We have seen everything from bricks turned to ash, to lead heavy homes and structures built on top of rotten decks and worn out cloth wiring, which is very typical in pre-war buildings," Karp says.
3. Separate your living space from the remodel zone
Although it is ideal to stay in another space while you're renovating your home, not everyone can afford that luxury. "We have done many apartment combinations where the homeowners have lived on one side of the property during the reno," says Karp.
"We have created cocoons that shield one side of the apartment from the other. However, even if the reno does not result in a safety hazard per se, it can certainly become unnecessarily complicated if the homeowner resides there."  
If you're going to be living on one side of the house while renovating another, she says to be prepared for constant construction traffic. Don't bring kids to the site at any time, and make sure all items are properly boxed, not just covered with sheets. "If the property is empty during the renovation, work progresses faster and that in itself is a major risk mitigator," she adds.
4. Know when to bring in the experts
"You've got to know your limits, because there's potential to get hurt," says Heath Thompson, PA at Jackson Clinic concentrating in internal and family medicine. Thompson has also done several home renovations himself. "If you're trying to save money but you don't know what you're doing, and knock down a load-bearing wall…"
"Don't be too prideful to consult an expert, because accidents happen and you can be injured," Thompson adds. You might think it's worth cutting costs to take on the electrical wiring of your home, but if you accidentally cut into exposed wiring and spark a small fire with your creative cost-cutting solution, you could not only endanger yourself, but also those around you.
5. Keep your worksite clean, and wear the right gear
"Basic rules never grow old," says Karp. "Always keep a clean site and always wear appropriate clothing." A clean site should be organized, with all the tools in one location, as well as all materials properly labeled and protected. If applicable, permits should be displayed, and there should be an appropriate "office area" with paperwork and rules such as how to dispose of trash properly for the building or area.
As far as appropriate clothing goes, Karp recommends gloves, pants that cover the legs, belts to protect the waist if you are moving heavy things around, as well as a construction hat and steel-toed boots for any intense demo or construction projects. It's wise to include a pair of safety glasses in your tool kit, too, to protect your eyes from flying dust.
She adds: "For die-hard DIYers: tools are to be handled expertly and they are to be kept in one place. Be sure to always check that tools are unplugged before you pick them up when starting your construction shift."
6. Make sure your carbon monoxide detectors, smoke detectors, and fire extinguishers are in working condition
Yes, this might seem obvious, but it's especially important during this time that all household safety items are in working condition. "If the contractors are cutting concrete, in a basement renovation for example, one has to be concerned both about dust/silica exposure, and the carbon monoxide produced by gasoline powered tools," says Brian W. Christman, MD, and spokesperson for the American Lung Association. "It would be important to isolate the area as much as possible with plastic sheeting and keep a carbon monoxide detector active if the family is trying to live in the home during renovation."  
Thompson adds that gas leaves the house through either a chimney or pipes, and if you're moving things around during a renovation, you might accidentally block that airway, so having those detectors in working order is vital.
7. Identify when dust has become a problem
"Often the biggest problem occurs during the early demolition phase when drywall is coming down and there are large amounts of dust. The main risk is to those with sensitive airways," says Christman. "That includes babies and small children—due to the small caliber of their airways and developing lungs—and patients with asthma, COPD, and congestive heart failure." He recommends changing the air filters often during this process. 
Thompson advises to always wear a mask when dust is flying, and that while light sneezing or coughing might be normal, if you develop a cough with sputum production and fever, it's time to seek medical help.
"Dust control is very important and there is specialty machinery to deal with it during the renovation. The neighbors will thank you," says Karp. 
Of course, sometimes flying debris can be more than just run-of-the-mill dust. Karp says to always do testing for asbestos and lead prior to starting renovation. 
"Speciality firms deal with asbestos abatement and the appropriate air monitoring services and sampling that is required," says Karp. "While Bolster carries our own certification for lead-safe practices removal, access to the home is not allowed during hazardous material abatement."
8. Be on the lookout for black mold
"There is also some risk of disturbing and aerosolizing significant amounts of mold that could trigger airway narrowing or sinus problems in allergic folks," says Christman. According to the Centers for Disease Control, black mold spores can cause flu-like symptoms such as stuffy nose, wheezing, skin and eye irritation, while longer exposure can cause fever, shortness of breath, or nausea.
Black mold looks black specks and might be found behind your bathroom wall, for instance. If there is a small area to be treated, Anundson says you can wash it away with a good bleach solution and encapsulate it with a mold cover paint, while Thompson recommends calling a mold removal professional to eradicate it.
9. Turn off the electricity when working on the electricity
"And always turn the power off when dealing with electrical work!" says Thompson.  He adds that it seems obvious, but is worth the reminder. So here's another one: Turn off the electricity from the circuit breaker when you're working on electricity.
10. Take care of your mental health by keeping an otherwise normal routine
Sure, there's going to be a lot going on during a renovation, but it's important to prioritize your mental health. "Don't disrupt previously established healthy patterns because the reno is stressing you out," says Beth Livingston, LMSW Therapist at The National Institute of Psychotherapies. "Keep the things you need to access most to maintain your sanity at your fingertips, not buried in the chaos of the renovation."
Whether that's your yoga practice or fitness routine, volunteering at your favorite organization, making time to have coffee with a friend, whatever it is that makes you feel healthy and balanced, keep doing it.
And perhaps most importantly: Manage your expectations. Doing the research upfront, budgeting for potential problems, and knowing when to seek help (professional or medical) is key to maintaining your physical and mental health during a renovation.