Here's the Real (Science-Backed!) Reason Why We Love Home Reno Shows So Much
We
independently
select these products—if you buy from one of our links, we may earn a commission. All prices were accurate at the time of publishing.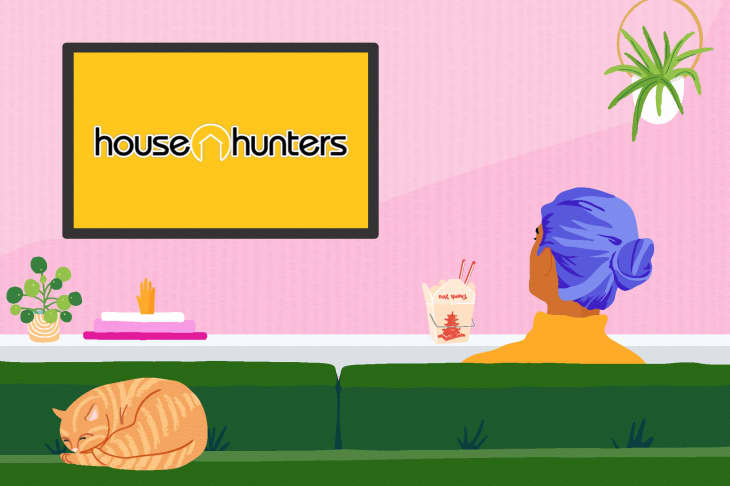 Welcome to Watch Week! In honor of fall TV season and the newly minted Emmy winners, we're streaming new content daily about watching television—because after all, watching TV is one of the best parts about being at home. Catch up on all of our episodes articles here.
People are flipping out over house flipping, raving over renos, and positively dizzy over design. They have been for many years, starting when "This Old House" debuted in February 1979 on PBS and began its impressive 40-plus-year run. Without this old-school take on home improvement, HGTV's line up and very existence would look very different.
Home renovation shows—like "Property Brothers," "Fixer Upper," and "Flip or Flop"—are HGTV's bread and butter (or two-by-fours and nails, as the case may be). In fact, home renovation and real estate shows make up about two-thirds of all programming listed on HGTV's website. By 2016, HGTV nudged into the top three most-watched cable networks, settling into the fourth spot in 2018. But the question remains, how did the home renovation shows we all know and love (and binge-watch) today become so popular?
It starts with the formula of the show. Whether it's Chip and Joanna or Karen and Mina or Drew and Jonathan, viewers pretty much know what to expect—and that includes beautiful homes and education. "Renovation shows combine two very relevant topics to most people… overwhelming aesthetic inspiration and the know how to do it successfully," says Chip Wade, DIY Expert and Liberty Mutual Insurance Consultant. "Often referred to as the background soundtrack in most homes, renovation programming finds its way into staying on for endless hours because it is typically appropriate for kids, inspirational for mom, and tolerable/informative for dad."
In the midst of transformation, inevitably there is a problem that pops up "unexpectedly" over the course of the episode. What that problem is and how the hosts find a solution feeds viewers' curiosity. "Watching home renovations satisfies both the voyeuristic urges normal to humans (curiosity in observing others and their desires, tastes, what represents them, what makes them feel comforted, etc), and enhances their own fantasy life about their own home," says Dr. Gail Saltz, Associate Professor of Psychiatry at the NY Presbyterian Hospital Weill-Cornell School of Medicine.
The very human problem-solving element is endearing and relatable, even to those who aren't in the market for a reno. "The biggest thing about these shows is they show a little bit of each part of the project, so no matter what project you are working on, there is something in there for you," says Wade.
Watching the makeovers and dramatic transformations unfold right before your very eyes in 60 minutes or less is oh-so satisfying. It's inspiring, too, as real-life remodeling activity has increased every quarter since 2015. The overall money spent on remodeling is expected to top $350 billion in the second half of 2019, according to the Joint Center for Housing Studies of Harvard University.
Home renovation programming addresses the need and curiosity of many homeowners for updating their own homes, too. "Humans also have a desire to be generative and creative, and making a home is a place to feel both," says Saltz. "Watching others' ideas for being creative is enjoyable but yes, it also is a menu of possibility for you and your home." The show creates an enjoyable fantasy that makes changes seem relatively inexpensive and accessible, and appeal doesn't dissipate if you never pick up a hammer or select new tiles yourself, either.
Solving the problems as they come up on TV seems so simple, but it doesn't always work out so cleanly in real life. "Renovation shows are like popular fiction," says Holden Lewis, home expert for NerdWallet. "They tell you a story with a solid ending. We crave simple stories with a beginning and an end because most of us have jobs that don't satisfy us that way. We knock off work for the day with unread items in our inboxes. It feels satisfying to watch someone start a project, and then finish it 30 or 60 minutes later."
It's escapism TV, plain and simple. However, remodels are rarely this easy, or straightforward for that matter. The big reveal can be months and months of hard work away, instead of a neat 60 minutes. So, sit back , relax, and soak up the inspiration—even if your own projects remain untouched for the time being.