A 410-Square-Foot Buenos Aires Home Is Full of Renter-Friendly Ideas
We independently select these products—if you buy from one of our links, we may earn a commission. All prices were accurate at the time of publishing.
About this tour
Location
Monte Grande, Buenos Aires, Argentina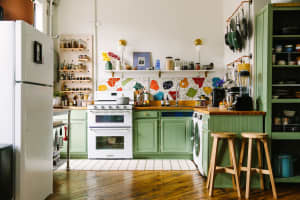 Can't-Miss House Tours Straight to Your Inbox
Keep up with our latest house tours each weekday with our House Tour of the Day newsletter
Name: Celeste and Felix
Location: Monte Grande — Buenos Aires, Argentina
Size: 410 square feet
Years lived in: 2 years, renting
Celeste and her boyfriend Felix's story actually starts in chilly Canada, where he was living when they met. She tried moving there, but the cold weather and the distance from her friends and family made things hard for Celeste, so the couple decided to move to Buenos Aires to see how that worked for them. Now residing in this teeny but stunning apartment… it seems they've found the perfect fit.
This small studio-turned-one-bedroom apartment is in a quiet neighborhood of Monte Grande, in the Buenos Aires suburbs. The space wasn't very inviting when the couple first viewed it, but they saw the potential and loved the amount of light it gets by being on the eighth floor.
Thankfully, Felix turned out to be delighted with the warm climate of Buenos Aires, and they both put their green thumbs to work filling the apartment with plants, one cutting at a time. They also made rental-friendly improvements, like covering the cabinets and backsplash with removable vinyl wallpaper.
They're not afraid to take action and try things, and every corner is a work in progress (you can check out Celeste's evolving vignettes at her Instagram account). Many of the home's furniture items tend to return to the world to make room for new options as the couple works to find just the right pieces for their space.
Apartment Therapy Survey:
My Style: Has a little bit of a rural life and retro elements from the Scandinavian and American style. I think it's a mix and match thing. I just like to take action, move and mix things that I consider beautiful or functional.
Inspiration: The Argentine campo and Buenos Aires city.
Favorite Element: The big showcase cabinet. We've had many similar pieces there until we found the right one and I just love it.
Biggest Challenge: I think that decorating while renting is a big challenge on its own, but I'd say the most challenging thing has been the bedroom. It has a built-in wardrobe that separates the bedroom from the main room. It's a small space but we managed to fit not only our bed but a small workspace, too!
What Friends Say: They say it looks bigger now with all the furniture that I put in than before when it was empty; I agree with them.
Biggest Embarrassment: The heater in the kitchen and the bathroom. Sadly I can't change those while renting.
Proudest DIY: I've put removable vinyl decals on the kitchen cabinet doors and backsplash. It was a simple, cheap and very renter-friendly DIY that changed the space's vibe completely!
Biggest Indulgence: Plants, and furniture-wise it would be chairs.
Best Advice: Experience your home. Live it. Don't rush into making it stylish or fancy right away; you might be tempted to go for the look and not the feeling, but that's not sustainable. You're only going to waste money if all you care about is style.
Dream Sources: I follow my intuition and draw inspiration from a friend of mine Marcela Conti. For both of us it's more about the process than the actual visual aesthetic end product. Decor comes from within.
Thanks, Celeste and Felix!