This Renter Revived a Cookie-Cutter Apartment With Simple But Stylish DIYs
We independently select these products—if you buy from one of our links, we may earn a commission. All prices were accurate at the time of publishing.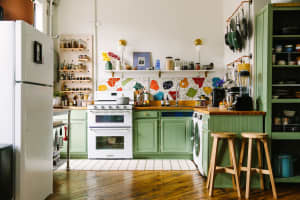 Can't-Miss House Tours Straight to Your Inbox
Keep up with our latest house tours each weekday with our House Tour of the Day newsletter
Name: Melanie Sutherland, Jon (husband), and Isa (cat)
Location: Sunnyvale, California
Type of home: Apartment
Size: 1100 square feet
Years lived in: 3 months, renting
Tell us a little (or a lot) about your home and the people who live there: Our apartment is a cookie-cutter rental unit that we've had tons of fun transforming into a space that truly reflects us and is anything but cookie-cutter. Jon and I have been renters our entire young lives (reality of living in the Bay Area!) and each time we move we upgrade to a little more space, always bringing with us all the furniture pieces we had before and then adding a few new pieces. It's definitely been a design challenge to make existing pieces work in a new space—but we think it keeps our layout a bit quirky and unexpected, and we always make it work! As native Californians, our style is very much inspired by the beach and a calm, casual lifestyle. We love a good beach vacation and it's important to us that we return from vacation feeling like our home is better than the real thing!
We also value having unique decorative pieces in our home that have a story or a purpose beyond just being pretty. We found this to be hard when you're on a budget, so I put my creative side to work to bring a more personal, special touch to our home. Almost every art piece in our home is one I did myself—from the large scale potato print art work in our dining area to the aerial ocean print I created on an iPad (it's even sold at Minted). I even started designing my own textiles when I found myself uninspired by the decorative pillow options available to me—it ended up sticking and I've been designing and selling textiles for about a year now. It's been the perfect creative outlet for me when I'm not working as a software engineer, and it means our home is always filled with patterns I love—I've even turned one pattern into a wallpaper for a small hallway in our apartment!
Describe your home's style in 5 words or less: California modern meets bohemian.
What is your favorite room and why? My favorite room is the office because it's the perfect getaway space for me to spend some time doing what I love. Jon and I are both hard-working creative people who need our space to be productive, so we created two separate working spaces in the office—one oversized table workspace and one wall-length desk we made by cutting an old door in half. We definitely appreciate having the option to spread out and work separately or come together and collaborate!
If you could magically change something about your home, what would it be? If we could magically own our apartment rather than rent it—that's what we'd change! We often find ourselves thinking up grand plans to make our apartment even more "us" but it's hard to justify making any major changes or investing in pieces that are perfect for this space specifically. The reality is this isn't our forever home, so we have to balance how important our short-term space is. Our biggest splurge in the space was putting up some wallpaper! It definitely makes the space feel more like home for us, but it will be a pain to take down when we move out and it's not something we can take with us.
What's the last thing you bought (or found!) for your home? The last thing we bought for our home was another plant! When we first moved in we didn't have any real plants, but making the leap to being plant parents has definitely been worth it (it's also a little addictive!). We bought this planter for our most recent addition and we love how sophisticated it makes an otherwise boring corner of our apartment look.
Any advice for creating a home you love? Our best advice is to let go of the items you don't absolutely love—right now! If they aren't making you happy, they are just taking up space. Also, don't be afraid to splurge on items you do love. It's the pieces we splurged on or drove an extra few miles to find that we treasure and have kept through each move, while the pieces we bought just to save a little money are the ones we ended up parting ways with. So treat yourself to the couch you really want right now because you will end up keeping it longer and loving it more, which might end up saving you money and time in the long run!
This submission has been edited for length and clarity.