This Smart $30 Drying Rack Alternative Takes Up Zero Storage Space
We
independently
select these products—if you buy from one of our links, we may earn a commission. All prices were accurate at the time of publishing.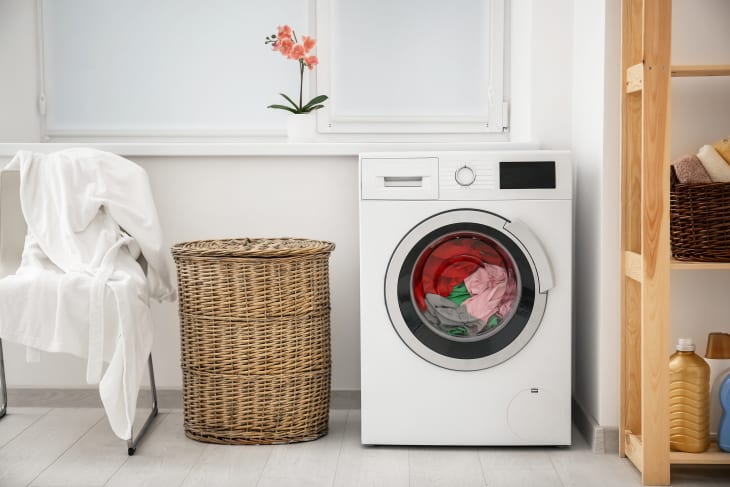 If you take laundering your clothing seriously, then you know that the dryer isn't for every item. But what happens when your space isn't big enough to set up one of those expandable drying racks — or what if you have too many clothes to fit on a single rack? One Instagram user figured out a way to install a clothesline in her laundry room, and this is such an easy and ingenious idea, you'll be kicking yourself for not having thought of this sooner.
"My biggest regret when building our home was not adding a drying rack or rod to our laundry room," Amanda Stein from @littlehouseonalittleisland wrote in a recent Instagram caption. "I found this retractable laundry line for less than $30 on Amazon and it not only took care of the problem, but it went crazy viral and so many of you guys needed one too!"
In a separate Instagram post, Stein said she hang-dries all of her activewear and the pieces are all in like-new condition. Keeping your Spandex and elasticated pieces out of the dryer can extend their life and help keep their stretch stretchy! Plus, you're saving energy (and money) every time to you decide to hang-dry instead of tumble.
According to Stein, this clothesline comes with all the hardware you need to install it and it can hold up to 50 pounds worth of clothes. "If you've ever air-dried a heavyweight CARHARTT hoodie, I hang my husband's in here without any issues!" she wrote. 

"Just retract the line when you don't need it and it virtually disappears."
This line can extend up to 13.9 feet and be used both indoors and outside, so grab one for your yard, too. Laundry day just got so much easier and cheaper — plus, your clothes will thank you!

Buy: GorillaLine Retractable Clothesline, $29.99