We Ordered a Bunch of Faux Fiddle Leaf Fig Trees & This One is the Best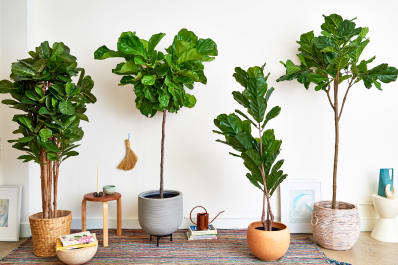 (Image credit: Joe Lingeman for Apartment Therapy)
It's hard out here for a plant lady. High on jungalow vibes, you pop into the local nursery to pick up a fiddle leaf fig tree. You're confident your succulent-killing past is behind you. Water and light? This is gonna be a cinch. Until it isn't. And your new best friend Freddy the Fig starts dropping leaves like they're confetti on New Year's Eve and your living room is Times Square.
Nothing in the world makes sense right now, and not the least of it is how Instagram's favorite it-plant is also one of the hardest ones to care for.
But I am going to tell you what I've told each of my friends who comes to me to ask for tips on plant care. (My journey from black thumb to plant lady is well-known in my circles, yet I still won't go near a fiddle leaf fig with a ten-foot hose.) It's OK to fake it once in a while.
Don't fill your whole home with fake plants unless you want to risk looking like a doctor's office lobby. Instead, fill your space with lush leaves from easy plants (snake plants and ZZ plants love to be ignored) and then just punctuate your decor with a few fakes. Layered in just the right way in the right room, you'll get the jungalow look you're after — forever.
So with that ringing endorsement of fake fiddle leafs on the record, you now have the confidence to buy one... but which one? Don't worry, I've got you there too.
We ordered three of the top-rated, most-recommended fake fiddle leaf figs to the Apartment Therapy office and compared them side by side with a real one.
(Image credit: Joe Lingeman for Apartment Therapy)
At the first (wide) glance, the World Market fig looks the most like our real fiddle leaf, but since fiddle leaf figs come in all shapes and sizes, I wouldn't discount the overall look of the others if we didn't have a real specimen to compare them to. Lots of real fiddle leaf trees and bushes have multiple trunks/stems like the Amazon plant, but we heard from everyone that the Wayfair one was altogether too bushy to look real.
Rug: ABC Carpet and Home / Large planter baskets: Jamali Garden
(Image credit: Joe Lingeman for Apartment Therapy)
None of the fakes are able to perfectly replicate all of the beautiful imperfections of the leaves of a real plant, but some got closer than others. The Wayfair fig gives itself away as a fake off the bat with too much veining on very flimsy-feeling leaves. The Amazon leaves are large and have a waxy coating — being "waxy," in this case, is a good thing — which gives the leaves a good weight and texture. The World Market fig has the same waxy texture, but gets extra points for having more variety in the leaf shapes.
(Image credit: Joe Lingeman for Apartment Therapy)
Sadly, the underside of all of the fake plants look, well, fake. The World Market fig wins this contest, but not by much. If you're looking for a tree to hover over your sofa where people will mostly be looking up at it from below, you may want to consider something else.
(Image credit: Joe Lingeman for Apartment Therapy)
The shape and texture of the World Market fig branches looked the most like a real plant up close, with the right leaf density and tapered shape. The Amazon fig really went for it with texture, but the branches are designed to be able to adjust and spin, and there are some really jarring-looking fake notches along the stems. The Wayfair stems look like light colored plaster, and the branches don't taper off at the end like you'd expect a real plant to.
(Image credit: Joe Lingeman for Apartment Therapy)
Pro tip: When you get your fiddle leaf fig, plan to drop it into a floppy basket. The Amazon fig has totally unrealistic plastic "dirt" that needs to be covered up, and both the Wayfair and World Market plants have eerily tiny bases that are heavy enough to keep the plants propped up, but would be a dead giveaway that your tree is a fake. But in both faux botany and organizing, a good looking basket can hide a multitude of sins.
The Winner: World Market
The tall single stem tree shape is definitely the trendiest of the bunch, and the World Market fig backs it up with some strong faux features, including a dense variety of leaf shapes, good texture and realistic branching.
Buy it now: World Market's 6 Foot Faux Fiddle Leaf Fig Tree, $179.99
---
Style credits: Rug: ABC Carpet and Home / Large planter baskets: Jamali Garden
Prop Stylist: Sophie Leng
Prop Stylist Assistant: Taryn Mann
Photographer: Joe Lingeman
Apartment Therapy supports our readers with carefully chosen product recommendations to improve life at home. You support us through our independently chosen links, many of which earn us a commission.