A Floral Designer's Once-Sterile Spec House Is Now Cheery
We
independently
select these products—if you buy from one of our links, we may earn a commission. All prices were accurate at the time of publishing.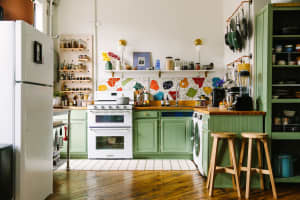 Can't-Miss House Tours Straight to Your Inbox
Keep up with our latest house tours each weekday with our House Tour of the Day newsletter
Name: Rhiannon Bosse, her husband Andrew, son Lachlan Rue, and rescue pup, Zoe
Location: Rockford, Michigan
Size: 2,900 square feet (including the 800-square-foot finished basement which is completely dedicated to Rhiannon's work studio)
Years lived in: Almost 8 years, owned
For the past nine years, Rhiannon Bosse has been a wedding planner, stylist, and floral designer with her own business, Rhiannon Bosse Celebrations, which serves clients around the world. She's also a lifestyle blogger who embraces "messy motherhood" and has a "passion for celebrating everything." And all of her passions come together beautifully in the large Michigan home she shares with her husband Andrew, their son Lacklan Rue, their rescue pup Zoe, and another baby on the way.
Rhiannon writes about the home she loves below.
By most standards our home is pretty basic. It's a spec home we built in 2011 and is the kind of home I always swore I would never ever live in. I grew up moving around every few years and my favorite home during my childhood was our navy blue Cape Cod with white shutters and charming old floor plan. I always imagined living in a home with character and feel like spec homes are so sterile.
But! I've learned that a home is more than the features that make it up. So I've been embracing the people in it (my beloved family), the area we're located in (which goes through four really distinct seasons), and the personal elements that we've collected and contributed to our space over the last eight years of living here.

One of the features of our home that we love the most is our yellow front door and how it's such a cheery welcoming first impression. The nice part about a spec home is you start with a great blank canvas with such potential for personalization… so we have done our best to make the most of this great space.
Apartment Therapy Survey:
Our Style: My style is a bit different than my husband's so I would say our home is a reflection of blending together my feminine preferences with my husband's desire to not live in a blush-pink-infused home (at least I try hard to hold back on putting too much of my own style into the home because I DO live with two, soon to be three, guys). Also, my personal style, whether that be in how I dress, present myself, run my business, or decorate our home, has changed slightly since becoming a mother and that's certainly reflected in our home and how we maintain systems. I like to balance comfort and function with form and aesthetic so all the beautiful elements shine without being bogged down by clutter or unnecessary pieces. Classic, simplified, approachable, welcoming, natural, and with a dash of unexpected all are words I feel accurately represent our style and home.
Favorite Element: Where do I even start? There are so many! I love how the sun sets perfectly at the end of a long day so that natural light pours into our home making it feel super enchanting. I love our open concept floor plan that yes, feels a bit tight with a smaller kitchen, but allows us to stay connected as a family even if we are all doing different things at once. I love having a dedicated and comfortable basement studio where I can nourish my business but then a separate space upstairs where I can also nourish my family. I enjoy having trees on our lot that are always changing with the seasons, as a personal reminder that nothing is stagnant or set in this life. There's just a lot of simple but tangible good here!
Biggest Challenge: My biggest challenge is feeling like we don't have it ALL or like perhaps we are missing out on something better out there (like a better lifestyle, neighborhood, home, property, location, etc). I wish we could walk to our favorite coffee shop, have more land for a separate studio, large cutting garden, or treehouse for our boys, or live on the water (my husband's dream), but the homes that offer these features aren't in our budget, or the ones that are, are half the size we want, require major updates, don't have the bedroom count we need, and overall would be a step down from what we've worked hard to build here. So while we yes, have a truly beautiful space we're grateful for, sometimes it can be a challenge to sit and not strive for the next best thing, whatever that may be in any given season.
Also, an always tidy and clean home with kids? Challenge.
What Friends Say: What I love most about others' thoughts and reflections on our home is how they feel we've managed to create a balance between having a space that feels curated and beautifully styled but in a way that still feels approachable and welcoming. Our home for many visitors is a place to kick off shoes, curl up on the couch, get cozy, and help yourself to anything you need. It's a goal in my professional life to create events for our clients that balance sophistication and approachability, and being able to do that same thing in our home is something I feel proud of.
Biggest Embarrassment: The amount of dog hair that just will not go away despite countless efforts to sweep and vacuum almost everyday! We have these terrible dark wood bamboo floors that felt like a good idea when we were building this place as excited new homeowners, but they are just terrible to maintain and keep tidy. Our beloved pup isn't going anywhere anytime soon so we are hoping to invest in new and updated floors this fall (meaning no more carpet to vacuum!), which in turn, will also add value to our home should we ever move.
And on a completely transparent note, our garage is a really big embarrassment! My job as an event planner and floral designer means I have a lot of tangible items and inventory that have to stay somewhere when they aren't being used. And since I work out of my home, a lot of those items end up in the garage. Paired together with our yard tools, lawn mower, snow blower, and kiddo toys, our two and a half stall garage is really a catchall for all of the things we otherwise don't have space for.
Proudest DIY: Our landscaping and yard would absolutely be our favorite home DIY. When we moved in weeks before Christmas 2011, we were living in a beautiful and brand new home surrounded by a lot of dirt and weeds covered in snow. It pained me to patiently wait until May (because here in the Midwest that's how long winter drags on) to finally get my hands on our yard and start to plot out where I would place all of the plant and flower varieties I had been dreaming of for years.
Being the impatient perfectionist I am, I foolishly thought by that summer's end our yard would look like something out of Better Homes and Gardens. I wanted beautiful bushes of hydrangeas, and bursting bunches of peonies, to sprawl out over a lush lawn shaded by established trees. And I wanted it all immediately! HA! But it's truly taken a lot of heart, soul, blood, sweat, tears, money, and patience to have the space we do now! And I believe there's still lots to do in the future because our yard and landscape is a living, breathing space. But this year was definitely the first where I've stood back on countless occasions and admired our handiwork since every plant, bush, flower, and piece of mulch has been hand-planted and cared for by us.
Biggest Indulgence: My husband said 'pillows' when I asked him this question, which I think may be him poking fun at my love for throw pillows but in all seriousness, I think having a little bit of everything here is our biggest home indulgence. We have quiet and peace in our home and neighborhood, but the friendly familiarity of dear neighbors we love and trust. We have a small enough home that it doesn't feel out of our hands to manage and maintain but still space to raise our two boys, host guests, celebrate holidays, and work from home. I am a compulsive Zillow browser, always looking for that magical home to pop up and offer us all the things we currently have and then some, yet I always end up closing out my browser at the end of each search knowing that we have the best of almost everything we need and want right in front of us. Also, my clawfoot tub! I use it twice daily. So in simple terms that may just be one of the biggest indulgences of all: a nice soak in the tub!
Best Advice: Impatience and comparison are two of the quickest surefire ways to feel discontent in/with your home. Whether you're wanting a big renovation to be done yesterday or you're scrolling Instagram wishing you lived in a different space than your current reality, it's easy to feel like the grass is always greener. Find small ways to make your space more ideal (e.g. a fresh coat of paint, new curtains, or a custom-framed print) until large projects are in the cards, and remember sometimes the grass is only greener on the other side because it's AstroTurf (so I tell myself).
Also, just because something is affordable and looks cute in the store doesn't mean you'll love it forever or that it'll make sense in your space. Be responsible, aware, and honest as a resident of your space and shopper, and you'll eventually end up reaping the rewards of having a home you love and cherish.
ENTRY
White end table and wicker mat — HomeGoods
Botanical prints — Hobby Lobby
Light fixture — Wayfair
Black front porch urns — Target
Front door wreath — Handmade by Rhiannon
Paint for front door — Sherwin Williams 'Evening Glow'
FRONT LIVING ROOM
Legacy wall frames — Frame Bridge
Oval rope mirror — World Market
Gray nail-head couch — TJ Maxx
White coffee table — IKEA
Lucite table tray — CB2
Wood end tables and jute rug — Overstock
Floral pillows — Caitlin Wilson Design
White pillows and lamps — HomeGoods
Floral print chairs — Custom (Chairs were a trash day find years ago! Fabric from Joann)
Paint — White primer straight out of the can! It was the only shade of white we truly loved.
FAMILY ROOM
White toys cabinets and sofa table — IKEA
Gold handles on white cabinets — Hobby Lobby
Light fixture — Wayfair
Gray sectional couch — Art Van
Blue throw pillows — HomeGoods
Pink and beige rug — Overstock
Pink vase and blue lamps — Target
Tri-leg spotlight lamp — West Elm
Leather X leg benches — HomeGoods
Wicker catch all baskets — World Market
Kitty drawing — Done by a friend of our late pet cat, Chenko
Wood coffee table — Hand-me-down (this was actually our family's dining table growing up but then the legs were then cut down to coffee table height when I was college; it's been with me since I had my first apartment in 2003 and is one of our most treasured pieces).
Paint — Benjamin Moore 'Stormy Monday' (The entire lower level is this color minus the half bath and formal front room)
DINING ROOM & KITCHEN
Slider sheer curtains — Pottery Barn
Wood frame floor mirror — IKEA
Jute rug — Overstock (but it sheds terribly!)
Wood dining table — World Market
White dining chairs and barstools — Overstock
Light fixture — Wayfair
Kitchen print — HomeGoods
Kitchen lights — Lowe's
LACHLAN'S TODDLER ROOM
Orange throw rug — Overstock
Window curtains — Pottery Barn Kids
Curtain rod and ends — Lowe's
Light fixture, bed, dresser, brown chair and table and chairs — IKEA
Bear pillow, bedding and quilt, wall fox — Crate & Kids
Wooden bead art garland — Hobby Lobby
Custom cursive canvas print — House of Belonging
Pillows, end table, wall shelves, kraft letters — Target
White lamp and pom pom garlands — Target
ADVENTURE and bear prints — Minted
Birch woof shelf — Pottery Barn Kids
Mini peg pieces — PocketfulofPegs via Etsy
Custom birth stat pillows — Parris Chic Boutique
Closet knobs — Anthropologie
Wood trucks — A gift from my aunt in Canada
Paint — White primer straight out of the can!
BABY BOY BOSSE'S NURSERY
Rug and small wood wall shelf — Overstock
Window valances — Custom made with clearance fabric found online
Ceiling medallion — Lowe's, bravely painted in the same color as the walls
Chandelier — Restoration Baby and Kids
Crib, rocker, and bedding — Babies R Us
Globe, gold frames, wicker elephant — Target
Gold floor lamp — Target
Wall prints and white dresser — Minted and HomeGoods
Leather pouf — Lulu & Georgia
Wood bookshelf — World Market
Zebra bust — Rebel Reclaimed GR
Zebra pillow — Crate & Kids
Elephant knobs — Anthropologie
Paint — HGTV for Lowe's, Sherwin-Williams 'Privilege Green'
MASTER BATHROOM
Faux fig plant — Chris Loves Julia
Clawfoot tub and faucets — Lowe's
Wicker stool, bath mats and shower curtain — Target
Gray framed mirrors — HomeGoods
Wood bath tray — Custom made
Taupe watercolor painting — Made by Rhiannon
Paint — Benjamin Moore 'Cement Grey'
MASTER BEDROOM
Black dresser and side chair — HomeGoods
Black side tables/dressers — IKEA
Bedding and pillows — Target and IKEA