Here's How To View October's "Ring of Fire" Solar Eclipse
We
independently
select these products—if you buy from one of our links, we may earn a commission. All prices were accurate at the time of publishing.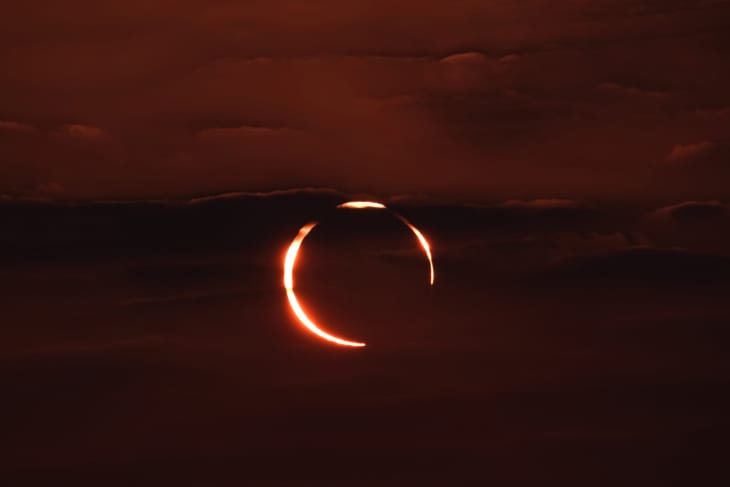 Listen up, space enthusiasts: One of the most significant astronomical events of the year is almost here. The annual solar eclipse will take place on October 14, and depending on where you live in North, Central, or South America, you can see it in its full glory. For those who might be unaware, a solar eclipse occurs when the Moon passes between the Earth and the Sun, creating a "ring of fire" effect around the Sun.
How much of the eclipse you'll be able to see depends on how close you live to the path of totality (a.k.a. the track of the Moon's shadow across Earth's surface), and whether you're turned towards the sky at the right moment.
The good news is that stargazers in the United States will have plenty of opportunities to glimpse the eclipse for themselves. NASA reports that the 2023 solar eclipse will kick off in Oregon at approximately 9:13 a.m. PDT on October 14, before heading to the Texas Gulf Coast around 12:03 p.m. CDT. Weather permitting, it will also be visible in Nevada, Utah, and New Mexico, as well as parts of California, Idaho, Colorado, and Arizona throughout the morning.
The eclipse will then continue on to Central America, traveling through Mexico, Belize, Honduras, and Panama. Finally, it will wrap up in South America, passing over Colombia before ending off the coast of Northern Brazil around sunset. 
If you're curious about catching the annual eclipse and happen to live in one of the states mentioned above, you're in luck! NASA has put together a list of cities that will have the best view of the eclipse, along with timetables of when the eclipse will begin and end. Here's a list of those cities, as well as when the eclipse will reach the maximum phase (when the Moon completely covers the Sun):
Eugene, Oregon (9:18 a.m. PDT)
Alturas, California (9:20 a.m. PDT)
Battle Mountain, Nevada (9:21 a.m. PDT)
Richfield, Utah (10:28 a.m. MDT)
Albuquerque, New Mexico (10:35 a.m. MDT)
San Antonio, Texas (11:54 a.m. CDT)