Why Lumber Prices Have Gone Up — And How Pros Say You Can Deal with It
We independently select these products—if you buy from one of our links, we may earn a commission. All prices were accurate at the time of publishing.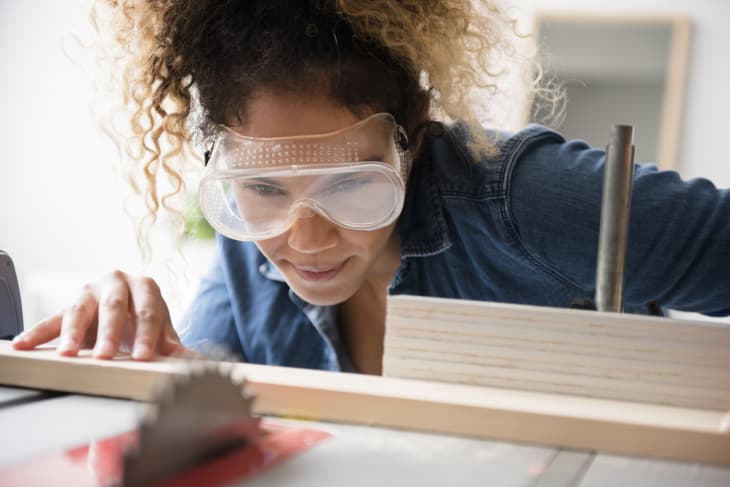 In May 2020 my husband and I began enclosing our covered patio. I'd just given birth to our third child at the beginning of April, and between lockdowns and school closures, our newly expanded family quickly maxed out our existing living space. 
Follow Topics for more like this
Follow for more stories like this
We had no way of knowing at the time that our "easy" six-week-long project would eventually stretch well past the 15-month mark, or that the estimated cost of our addition would almost immediately triple as lumber prices began to rise. Not to mention that inventory of the items we needed most (plywood and 2-by-6 studs) quickly vanished from the shelves. 
Unsure of what the future was going to hold financially, we worked on our addition in small batches, ordering just enough supplies to complete the current stage of our project. Sometimes we'd have to stop for months at a time while we saved up enough to purchase the next batch of materials. Other times, it was long waiting periods that forced us to press pause. More than a year has passed since we first began our project, and I'm happy to say that we're finally seeing the light at the end of the tunnel. 
According to the pros, ours wasn't a unique experience. There are plenty of people who have similar stories about lumber costs and inventory shortages since early last year, and not everyone chose to push through it like we did. Some people postponed their renovations, while others found more creative solutions. 
Nobody was prepared for the initial rise in lumber demands.
The main reason why lumber prices jumped so much during the pandemic was because of the increased demand, according to William Watts, director of operations engineering for home renovation platform Block Renovation. "Trees are fairly abundant, but the supply of mills and other infrastructure to produce lumber are relatively fixed and it takes years to spin up new capacity," Watts tells Apartment Therapy. "Additionally, in the early stages of COVID-19, many contractors and developers, expecting an economic downturn, canceled orders for lumber." Labor shortages have also played their part. Between employers scaling back to account for the expected slowdown, and skilled laborers being unable or unwilling to work, the pandemic created the perfect storm.
But there are ways to meet lumber challenges.
For those who are tired of waiting out the lumber shortage, or who have a project that simply can't wait for prices to come back down, Watts says using wood-adjacent products can be the answer. "Decking is a good example of this," he explains. "Prior to the pandemic, composite or aluminum decking carried a significant premium over the standard pressure-treated lumber. As lumber spiked, the alternatives remained relatively constant as we saw with a lot of our customer renovation projects, and there were periods where composite decking was actually cheaper." Depending on what type of project you're working on, you may want to forgo traditional lumber options for more creative ones. 
While repurposing reclaimed wood for certain projects can actually be a budget-friendly choice that allows you to work around some of the major lumber shortage issues, Michael DiMartino, senior vice president of installations at Power Home Remodeling, says it's not always a structurally sound option. "You can't demo a house or a wall and then take that wood to reframe a new house or a new wall," he tells Apartment Therapy. "Even if you demo it carefully and surgically, you're still compromising the strength of it and, as a result, it wouldn't pass a new inspection." 
Figure out what you need and then order it all at once.
Looking back, I know one of our bigger mistakes was ordering our supplies piecemeal. If we had included all the lumber we would've needed in our initial order, we would've saved untold amounts of time and money, which is why Watts says homeowners need to come up with a project plan ahead of time and then order everything at once. "Especially when lead times are long, ensuring everything you need is incorporated into the initial order, and that you have everything on hand before you begin your project, is key."
There's good-ish news on the horizon.
After reaching new heights over the past 15 months, lumber prices are finally starting to level back out. The good news is that means that prices should remain stable for a bit. The bad news is that they have stabilized at a much higher cost than normal. "The lumber yards are telling us that it might be two years before there is any relief," Gregg Cantor, president and CEO of Murray Lampert Design, tells Apartment Therapy.
"Since the onset of COVID-19, lumber prices have consistently increased every week until June 14, 2021," he explains. While the numbers have been trending slowly down, the overall cost of materials still remains high. That may be bad news for people looking to start new projects with 2019 pricing in mind or for those who haven't given the cost of lumber much thought recently. But for someone like me, who has been stuck in lumber limbo since early 2020, this news sounds like music to my ears.