A Historic Salem Home Is Spooky and Stylish Year Round
We independently select these products—if you buy from one of our links, we may earn a commission. All prices were accurate at the time of publishing.
About this tour
Location
Salem, Massachusetts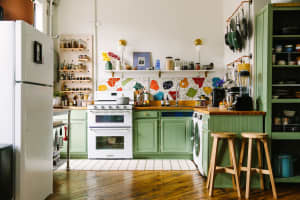 Can't-Miss House Tours Straight to Your Inbox
Keep up with our latest house tours each weekday with our House Tour of the Day newsletter
We would visit Salem often in the early 2000s and loved the history, culture, and vibrancy of the city. It was a place that always held special meaning in our hearts. After some years living in the metro D.C. area, we decided to move back to New England, and Salem was the obvious choice—it had just the right amount of kitsch and character we were looking for. We both became really involved in the community and incredibly interested in the history and preservation of the city itself.
After a couple of years renting in Salem, we decided to purchase a home—hoping for a single-family historic house, near downtown, with a yard, off-street parking and—if possible—a barn or carriage house. We were basically looking for a unicorn. We had 80+ showings over two years before our unicorn-home appeared—a 1756 gambrel that probably scared away others, but we saw past all the issues; we saw our home. We instantly fell in love with it—the wide plank floors, all the trim work and wall paneling, the hand-forged iron hardware, the seven fireplaces… there's just so much to appreciate.
A few fun historical facts about the property:
According to sources, Sophia Peabody, Nathaniel Hawthorne's wife, was born in this home.
The house narrowly escaped being torn down in the Great Salem Fire of 1914. The home was to be demolished to stop the fire from spreading. Thankfully the home was spared.
John Preston, a longtime owner of the home, is a descendant of Rebecca (Towne) Nurse, known for being one of the accused witches and hanged at Gallows Hill.
We haven't entertained a lot because the home only recently came together. But now that there's more than one place to sit, we're excited to host a beer and poker party with our crew, The Flying Gulu Beer Society. We're homebodies for the most part—we spend time going to local flea market antique shows like Brimfield looking for new pieces to add to our collections. In between big renos and redesigns, we're always working on mini projects around the house—like repairing plaster, painting, and building things like a custom-screen door. Work is never done when your house is 260 years old!
Apartment Therapy Survey:
Our Style: Our home is historic-meets-eclectic. Our home was here when America was first founded, not many places can say that. So when thinking about a vibe, I thought it would be really cool to have rooms depict different historical eras and style genres, kind of an homage to what this house has seen. But we didn't want our home to look like a museum, where everything was just old and antiqued. I wanted to have a mix of old and new—take a different spin on how we think about art and history, and how they can work together.
Inspiration: The City of Salem and the long history of the home was our inspiration. We wanted to find a blend of old and new that not only felt like us, but felt appropriate for the home, and wielded a representation of what makes Salem, Massachusetts, so special.
For example, we have artwork of Hawthorne's "Scarlet Letter," antique bakery paddles because a bakery used to be on the property, artwork of a Naumkeag tribesman, maps of The Great Salem Fire, and a portrait of Marquis de Lafayette presiding over the front parlor. Everything we chose has a historical purpose or a personal memory attached to it—nothing in our home is chosen at random.
Favorite Element: I wouldn't say we have a favorite element per se, but we each have a favorite room. My favorite is the study/office. It's decked out in a goth Victorian vibe, and Stacy Harwood with Havenly came to my rescue to provide me with inspiration for the finishing touches I needed to push it over the top. One of my favorite items is a defaced portrait of Hamilton. We're big fans of the musical and seeing the portrait makes us think of that amazing night seeing it on Broadway. I work from home as a Creative Director for Hilton, so I need to be surrounded by art, music, and inspiration when I work—but I hang out in there beyond the 9 to 5.
Chris's favorite room is definitely the Captain's Parlor. It's this uber masculine, brooding, moody, curated space that just makes you want to pour a bourbon and let the day roll off your shoulders. The wall of lights surrounding Captain Bill Murray adds an amazing ambiance to the space, and eating a meal in there is more of an experience than it is an action.
Biggest Challenge: During the six-month renovation, we were sequestered to living in one room in the house, the room that's now the Captain's Parlor. It's a small room, about 15′ x 12′. We even had Christmas in there. Yup… in that tiny room we put a full Christmas tree AND had family visit—and I worked out of that room because I work from home. We didn't have a shower in the house, so we had to clean up with just the kitchen sink and a washcloth… in the dead of winter. And the only toilet available was in the basement, which was surrounded by mousetraps and covered in cobwebs. We made sure not to drink anything an hour before bed, so we wouldn't have to go to the creepy basement, three floors down. It was such an experience, and we loved (almost) every minute of it. Not saying I'd want to do it again anytime soon, but it made for some great stories.
Proudest DIY: We had to replace 28 wood windows, and couldn't afford the window company to paint them a custom color. So we had all 28 windows delivered inside the home and spent the entire winter season of 2016 hand-sanding, priming, and painting each window—inside and out… all in that tiny room we were living out of.
We also did every inch of painting in the house ourselves. Every piece of trim, door and wall, painstakingly repaired, primed, sanded, and painted. But we make a great painting duo—Chris is 6'5″ and can reach all the high places and I'm a towering 5'0″ so I can get all the lows.
Biggest Indulgence: I splurge on light fixtures, for sure. Lighting can either make or break a room and I never pull punches when it comes to finding the perfect piece. I was really nervous when I was planning the wall of lights in the Captain's Parlor, because the original fixtures I wanted were $200 a pop, and that would make for one pricey wall. But I took my time and ended up finding really similar ones for $30 each and to give them a more expensive feel, I topped them with gold-gilded shades. Oh, and the velvet Victorian settee—that was certainly an indulgence but it had to be mine!
Best Advice: Never put yourself into a "style box"—choose pieces for your home that you genuinely love, regardless if you think they go together or not. Your home is an extension of who you are, where you've been, and what you aspire to be. Collect. Curate. Take risks. And if you find that things aren't meshing the way you'd hoped, ask for help! I hit ruts all the time, and collaborating with Havenly was amazing because they understood my vision and took the time to build spaces that are uniquely us. And never let anyone tell you "No, it can't be done." I hear that all the time, and yet we always are able to find a way to make things work.
PAINT & COLORS
Exterior — Aubergine by California Paints
Trim — Black Bean by C2
Doors — Maine by C2
LIVING ROOM/FRONT PARLOR
Paint — Walls – Etiquette, Benjamin Moore; Trim: White Dove, Benjamin Moore; Ceiling: Abalone, Benjamin Moore
Sofa — West Elm
Leather chair — Overstock
Globe — Target
Coffee table book — Amazon
Pouf — Amazon
Coffee table — Wayfair
Gold hand — Wayfair
Mini mirrors — Birch Lane
Chandelier — Lamps Plus
Rams head — CB2
Rug — One Kings Lane
DINING ROOM / CAPTAIN'S PARLOR
Paint — Walls – Dragonfly, Benjamin Moore; Trim: White Dove, Benjamin Moore; Ceiling: Abalone, Benjamin Moore
Almost all items on glass shelving unit have been collected over the years.
Shelving unit was my grandmother's, clock was my grandfather's, rug was in my parents' house growing up and they gifted to us when we moved here.
Tavern sign was found at a flea market
Bottles and such were found buried in the yard or found inside walls
Curtains — Restoration Hardware
Dining table — Overstock
U.S.S. Constitution; U.S.S. Constitution
Leather brown chairs – Overstock
Skeleton chairs — Funny story… I found two of them at a salvage store in Virginia; they were just sitting outside in the rain! I was smitten with them from the get-go and got them both for $50. Many years later, when looking for more dining chairs to match them, I stumbled upon this artsy store based out of Texas that had the same chairs! I was like "Wait, there are MORE of these things?!?" Needless to say, I was shocked and without skipping a beat, grabbed up two more to make our spinal set complete.
STUDY
Wallpaper — Walls Need Love
Hamilton Art — Society6
Lady Flowers — Society6
Creole Queen Bey — Society6
Holmes pub — Society6
Edgar Allan Poe — Art.com
Everything Will Be Fine — Society6
Velvet drapes — Pottery Barn
Leopard pillow — Willa Skye Home
Lamp — Houzz
Rug — Ballard Designs
Velvet settee — Anthropologie
Leather ottoman — Found at a carnival ride graveyard near Brimfield, Massachusetts
Victorian pttoman — My grandmother's
Almost everything on the mantel, including sconces, are flea market or travel finds
All books and knick knacks collected randomly
Paint — Ceiling Dragonfly, Benjamin Moore
Walls — White Dove Matte, Benjamin Moore
Trim— White Dove Satin, Benjamin Moore
The skeleton artwork is Van Gogh's Skull With Cigarette, 1885. We built a frame around it so the frame would have more presence, but the piece of art itself is a magnet, so you can change it out at any time. But it's not just a piece of art, it's on hinges—so if you pull on it, behind the art you'll find a secret medicine cabinet
Thanks, Stacey and Chris! Thanks also to Kiera Slye Photography for the photos, and huge thanks to Stacy Harwood and Havenly for sharing this project!
*These responses have been edited for length and clarity.