This Cozy SF Condo Shows How to Do Colorful With a Neutral Base
We independently select these products—if you buy from one of our links, we may earn a commission. All prices were accurate at the time of publishing.
About this tour
Location
San Francisco, California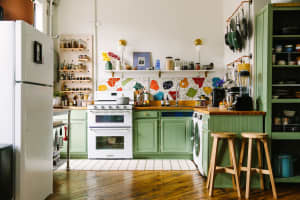 Can't-Miss House Tours Straight to Your Inbox
Keep up with our latest house tours each weekday with our House Tour of the Day newsletter
Name: Aparna Jayaraman and cat, Maya
Location: San Francisco, California
Size: 815 square feet
Type of Home: Condo
Years lived in: 2 years, owned
Tell us a little (or a lot) about your home and the people who live there: My home is occupied by two beings who spend a lot of time in it — me, an introvert who works 100 percent from home at a pretty high stress job, and my cat, Maya, who is also a pretty content homebody. This is my first time having my own place so there have been a lot of learnings the past few years. I live in a one bedroom plus den in San Francisco. The den has been a life saver — my company moved to being fully remote during the pandemic and my job has always been pretty stressful. Having a space that I can leave when I'm ready to end the work day has been a life saver for my mental health. Weather has also played a big role in how I've designed my home. While I live in a sunnier area of San Francisco, it can still be pretty unpredictable; a sunny bright morning can easily turn dreary by midday. Grounding my home in neutrals and letting colors be an accent has helped my home feel bright even when it's not outside.
I also own a lot of blankets with different levels of warmth to adapt to the temperature and mood of the moment. I love this city but I do really miss seasons, so I do what I can inside my home, switching out the faux fauna and changing the colors just a little to match with the season mood. The biggest change happens during the winter when I pull out all the pink, lean more into the blues and whites. Maya, unsurprisingly, doesn't care about colors, is just as invested in the blankets, and has additional investments in the chewability of items and sunny nap spots. Therefore all my plants are either faux or non-toxic. Maya isn't much of a climber (so no cat shelves in the apartment) but she has very high tastes in scratchers and has deemed cardboard scratchers the only acceptable option for her delicate paws. So I'm always on the look out for modular, neutral colored, cardboard scratchers.
I'm Indian and have always been inspired by the bold colors, patterns, and glitz of traditional saris. My favorite piece of art actually encapsulates this perfectly, an elephant tearing through draping saris (at least that's what I see when I look at it). But I also love how neutrals ground a space, making it brighter and calmer. So while color is very important to my space, neutrals provide it the foundation to really pop. I've also traveled a lot and have lived abroad a few times, and have been to six continents with plans to see Antarctica later this year. I've collected most of my artwork through my travels from art fairs or street vendors (I pay more for the framing than the piece itself). They are great conversation pieces when people visit. Maybe it's living in a concrete jungle, but I love nature and biophilic design and unfortunately there's not a lot of green where I live. I'm still in the process of building my plant collection but thus far I have three very happy calatheas and one palm tree, which is Maya's favorite and has the puncture wounds to prove it.
Describe your home's style in 5 words or less: Cozy global glam
What is your favorite room and why? My bathroom because it's the space where I've been able to go just a little crazy. I had a feeling that the bathroom would look amazing if the walls were painted black and it made the small space feel cozy, intimate, and bold.
What's the last thing you bought (or found!) for your home? A dresser! I used to keep a lot of items in baskets on the floor of my closet and while it worked, it wasn't very organized and it made my closet disorganized and chaotic. Having a dresser makes my closet so much calmer and it's so much easier to find things.
Any advice for creating a home you love? It's better to start somewhere rather than nowhere at all. My first iteration of my home was… not great. I didn't really think about how all the items would come together (it was way too much color and pattern for my liking), bought way too many wood veneer items and realized the hard way that I don't like that much wood, and my rug was just too small. But I also got a lot right, like my accent chair and cushion, the artwork, and the overall color scheme. I learned a lot with all the things I got "wrong" and my place wouldn't be where it is now if I didn't start from that place.