Sarah's Small Space That's Perfect for Entertaining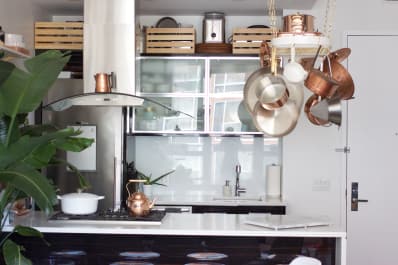 (Image credit: Submitted by Sarah)
Name: Sarah
Location: Williamsburg — Brooklyn, New York
Hello! I'm a chef and founder of Salt House, and I created the ultimate entertaining space and sanctuary in my small (around 600 square feet) Williamsburg apartment.
(Image credit: Submitted by Sarah)
I work and live in this space, so there's a big dining room table that me and my team work on during the day and then use for dinner parties in the evenings! We can seat up to 20 people, believe it or not! The living area is by far my favorite area in the apartment. The kitchen, too. Everyone loves the copper everywhere! We painted one of the walls with big black and white stripes, and then had a custom wine bar built along the wall, with lots of shelving and wine storage. And there are plants everywhere!
(Image credit: Submitted by Sarah)
(Image credit: Submitted by Sarah)
The apartment is also connected to the McCarren Hotel, and my balcony overlooks the pool — which is a big perk in the warmer months! I have an edible garden on the balcony. The kale is currently looking really nice!
Thanks, Sarah!
• Interested in sharing your home with Apartment Therapy? Contact the editors through our House Tour & House Call Submission Form.