Can You Still Build Savings with Credit Card Debt? Here's What Experts Say
We
independently
select these products—if you buy from one of our links, we may earn a commission. All prices were accurate at the time of publishing.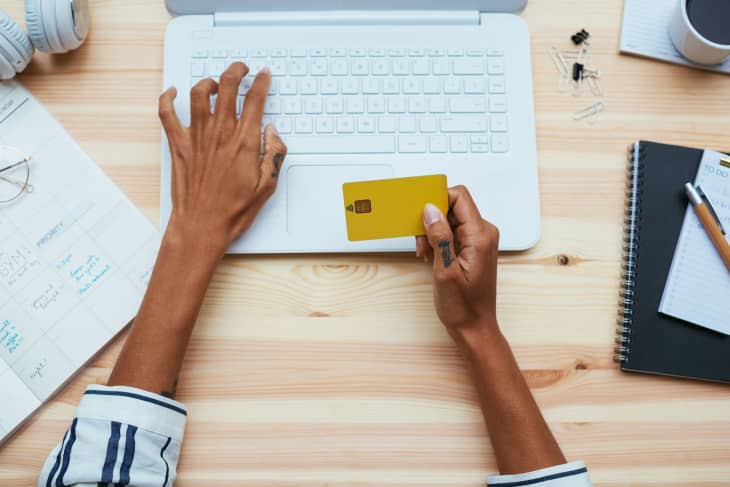 In a perfect world, you'd squirrel away a chunk of each and every paycheck, putting the money into savings and watching the balance grow. Your savings is a safety net. A potential down payment on a home. A retirement fund. A symbol of your financial health.
But what should you do in the real, not-so-perfect world—the one where you, ahem, have high balances on your credit cards? Plus, student loans, a car loan, medical bills, and other debts?
To find the answer, we asked financial experts: Should you still be socking money away in savings, even if you're in debt?
The answer is two-fold: You should definitely concentrate on paying off your credit cards, which could not only save you interest, but also improve your debt-to-income ratio that can help you qualify for a car loan or home mortgage, says Dana Marineau, a vice president and financial advocate at Credit Karma. But, if you can, experts say you should also be simultaneously building your savings—even if it's a modest amount you're putting away.
First, tackle that credit card debt
It largely comes down to this: When you're thinking about whether you should pay something off versus save money, compare the interest rate on what you're paying off to the rate you can earn on your savings, says Shannon Sottile, a certified financial advisor in Indiana, Penn. 
"If you're paying more in interest than you expect to earn on your investment dollars, then there's a pretty strong argument for getting rid of your debt," Sottile says.
The current average APR across all credit card accounts is 15.10 percent, according to Federal Reserve data. But, some rates marketed to people with bad credit can go as high as 30 percent or more. These interest rates far exceed the interest rates that your average savings account could yield. 
So, unless your credit card is at a "0" introductory or very low interest rate, then, yes, it's best to direct your efforts to paying off your credit cards, Sottile explains. The idea here is that you'll save money by paying down your credit cards instead of paying the minimum due each month. 
Consider this: The total owed by the average American household with credit card debt is $6,849, according to a Harris Poll analysis on debt commissioned by NerdWallet. The study found that households carrying credit card debt month to month will, on average, pay annual interest amounting to $1,162.
But don't forget about building an emergency savings fund
While you're diligently paying down your credit cards, you shouldn't totally neglect your savings account, experts say.
It's still a good idea to have a mini emergency fund of about $500 to $1,000 saved, says Ben Watson, a CPA and personal finance expert from DollarSprout.com, a personal finance blog geared toward millennials. The fund can be used if you lose your job, for example, so you're not stuck in a cycle of charging unexpected bills on your credit cards or paying hefty late fees every day your rent is late.
Ready to tackle this two-pronged approach to paying down your credit cards while still building an emergency fund?
Financial consultant Steve Sexton, the president of Sexton Advisory Group, recommends taking a serious look at your income vs. expenses and debt. To do this, create a spreadsheet of your monthly bills and a separate list of all your loans that includes the balance, interest rate, due date and minimum payments. If you can only afford to pay your monthly bills and make the minimum payments on your credit cards, consider reducing any non-essential spending to free up funds to save or pay down your debt, he says.
His recommendation is to pay off the cards with the highest interest rates first. If that feels too daunting, though, pay down your smallest balance first and gain some momentum, Sexton suggests.
Everyone's financial situation will be slightly different, but those who have a separate emergency fund are ultimately in a better position to clear their debt, Sexton says. 
"Think about it: If you've paid off all your debt, and have no savings, you'll have nothing to rely on but credit cards in an emergency—and emergencies are inevitable," Sexton says.