A Fun Swedish Home Has a Pink Kitchen and an Indoor Skate Ramp
We independently select these products—if you buy from one of our links, we may earn a commission. All prices were accurate at the time of publishing.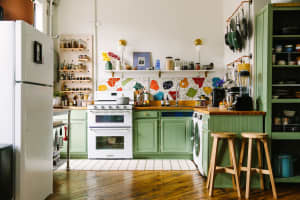 Can't-Miss House Tours Straight to Your Inbox
Keep up with our latest house tours each weekday with our House Tour of the Day newsletter
Name: Christin Haussman, my husband Lars, with our two kids Calle and Emma.
Location: Upplands Väsby — North of Stockholm, Sweden
Size: 2,000 square feet
Years Lived In: Myself 4 years, the hubby 12 years, owned
I am originally from Germany but have lived in England and Scotland, until moving to Sweden five years ago. Sweden is a bit of an outdoorsy-type country, so I was like let's start a new hobby! I started skateboarding, because well, that just always looked real fun, right? Long story short, eventually I met my now-husband, Lars and his son Calle. Making another long story short—with a few years on and a baby added in the mix and a spontaneous elopement in Las Vegas—we are living a fun, not always easy, but exciting patchwork-family life.
And this is sort of what our home is like. Built in the '80s, with a lot of old and newer bits. Once it's summer and not so frigging cold, we spent most of our time outside, in skateparks and on road trips, and that's why we just don't like spending all the money on the house. In fact most goes into the skateboarding element. We have a skate-able pool in our backyard, as well as a small ramp (as seen in the pictures) in Calle's room. Apart from the skateboard addiction, I am a bit of a DIY addict. I mean of course, I'd love a big, brand new kitchen or bathroom (who doesn't right?). Plus, I have the worst decision-making anxiety! What if I spent a fortune and don't want to live with it for the next 15+ years?! You can't break or ruin a DIY on the other hand.
I probably should mention that my hubby is a very hands-on person and very precise in whatever he starts, a bit the opposite of me really. That's why I think things are as they are in our little house. A perfect mix of us!
Apartment Therapy Survey:
My Style: I would describe it as an eclectic mix of new, old, colorful, bohemian elements, paired with the odd DIY and handmade pieces. Like I said above, a fun patchwork-kind-of-house.
Inspiration: Instagram! Oh my I love it! It's the real deal and people you get to meet are real and amazing! Recently Instagram really has become my favorite sourcing tool though. And of course interiors all day long if you want… Absolute favorites include Brandi, @the.hectic.eclectic, and Emily, @mybohofarm— for everything color, pattern, and texture related, Kalina, @42_designs, if my boho side is calling, and Elyse, @elyse.mccurdy_homedesigns, to still my New England design desires. What more does a girl want?
Favorite Element: Wood! Wood is so amazingly versatile and has such a long life span. One day it's all natural and the next day you feel like a color, and on you go and paint it. I actually did a carpentry course whilst on maternity leave and really enjoyed creating something from a log!
Biggest Challenge: Living with small kids haha! All the pretty things mama wants are impractical (and dangerous) for small toddler hands. But in the end, I just embraced it and created little play areas throughout the house. So instead of a coffee table we have a soft carpet, or instead of having decor, books, records, and such in our floor cabinets, it's toys! But that said, I tried to blend it with the bigger furnishing pieces to not live in a playhouse. Having a lot of natural wooden furnishing pieces really helps to calm down the colorful toys that usually come in. And you know what? I really, really enjoy our family home we have created.
Proudest DIY: That must be our kitchen! Because of a not-big-enough budget and not being able to make long-term decisions about colors, I opted for chalk paint to give our 20ish-year-old kitchen a new life! I painted all bottom cabinets and appliances in a dusty pink, added new hardware, painted the worktop, and used a stencil to add a pattern to the newly painted backsplash as well. All the feels really!
Biggest Indulgence: The rug I am going to buy for our living room some time in the next few weeks, when I have found the match made in heaven!
Best Advice: Just go with the flow and make your house your home. It's not important what others think or how many likes a pictures scores, as long as it cheers you up the moment you step in (not counting all the laundry that is still waiting for me haha).
PAINT & COLORS
Emma's Room —Moules from Alcro
Calle's Room — Hårdrock from Alcro
Bedroom — Tallbarr from Alcro
Kitchen Cabinets — Dusty Pink from Rustoleum
Living Room — Pinje from Alcro
ENTRY
Wooden Telephone Seat/Shoe Shelf – Self made
Wooden Bench – Triple R Sweden
Basket — H&M Home
Patterned Pillows – Home
Table Lamp – Thrift store find
LIVING ROOM
Sofa – Fogia
Shaggy Rug – IKEA
Textured Boho Pillow – H&M Home
Pink Shaggy Pillow — H&M Home
Cactus Pillow – H&M Home
Dark Green Fleece Throw – Urban Outfitters
Textured Beige Pillow – H&M Home
Rust Tassel Pillow – H&M Home
White Textures Pillow – H&M Home
Beige Throw – IKEA
Shelf Above Sofa – Self made
Reading Light – IKEA, ÄRÖD
Play Kitchen – IKEA, DUKTIG (painted with Moules from Alcro)
Round Jute Rug – Plantagen
Pink Basket – Thrift store find
Chair – IKEA, INDUSTRIELL
Rainbow Pillow – Urban Outfitters
Patterned Throw – IKEA, FÖREMÅL
Wooden Cabinets – IKEA, IVAR
Glass Cabinet – IKEA, FABRIKÖR
BEDROOM
Headboard – DIY
Floor Bed – Mix of IKEA Mattresses
Bed Linen – H&M Home
Throw Blanket – Lola y Lolo
Patterned Pillow Cases — Hemtex
Mirror – Thrift store find
Moon Banner – Urban Outfitters
Magazine Shelf – Self made
Armchair – Fogia
Palm Tree – DIY (check out the blog)
Jute Rug – IKEA, LOHALS
Hanging Shelf – Self made
Chest of Drawers – IKEA, RAST (DIYed)
EMMA'S ROOM
Area Rug – IKEA, KOLDBY
House Headboard – DIY (soon to be blog post up)
Yellow Throw – Zara Home
Blue Velvet Pillow – Lola y Lolo
Color Assorted Name Pillow – Miles and Tate
Pompom Lights – Urban Outfitters
Throw With Tassles – Indiska
Rainbow Wall Hanger – Noodle Doll Nelly
Star Garland – H&M Home
Toy Storage Bench – Self made
Orange Velvet Pillow – Lola y Lolo
Wooden Cabinet – IKEA
Golden Wall Decals – Studio Picco
Shelves – DIY
PomPom Basket – DIY
Rainbow Pillow – H&M Home
Book Shelves – IKEA, BEKVÄM
Cloud Ceiling Light — DIY