This Charming Old Copenhagen Home Is Classic Nordic Style
We independently select these products—if you buy from one of our links, we may earn a commission. All prices were accurate at the time of publishing.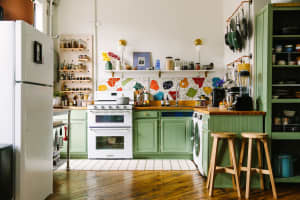 Can't-Miss House Tours Straight to Your Inbox
Keep up with our latest house tours each weekday with our House Tour of the Day newsletter
Name: Majken Thrane, husband Andreas, and Hans (4 years old) and Soren (1½ years old)
Location: Copenhagen, Denmark
Size: 1,658 square feet
Years lived in: 3 years, owned
Welcome to Scandi Week—Apartment Therapy's seven-day focus on all-things Scandinavia (often defined as the countries of Sweden, Denmark, and Norway). Sometimes it seems like the whole world is obsessed with trying to copy this corner of the globe, from its timeless style aesthetic to its now-famous coziness rituals. For the next week, we'll take a look at all of it—cleaning, pop culture, and of course tons of eye-popping design inspiration. Pull up a blanket and get hygge with us.
We live in a house built of traditions, memories, and heart. I have lost two very important women way too early in my life, so heirlooms and memories are important components of our home. We have prioritized classic design mixed with flea market findings. Our home must be fun and cozy. We need room to grow and enjoy each other. It's a place of heart and coziness.
We live in a small and charming old house from 1947 with endless projects and many possibilities. When we bought the house, it was virtually inhabitable, but we have renovated large parts of the house throughout the last three years. Still…the renovation is far from finished.
Books take up lots of space in our home; I wouldn't live without them. Books make up a home! It gives it so much personality and warmth. My husband, on the other hand, finds the rapid growth of the books a little disturbing. He lives with me in spite of it…
I actually find books a colorful disruptor to an otherwise very streamlined and simple Nordic style, which is so very trendy in Denmark at the moment. I realize that our home never truly will be modern—it doesn't matter though. In fact, it's exactly what makes it our home. The changing moods of fashion rarely bring changes in our home, but we have gradually learned that this is how we like it best.
Next project is the bathroom, then comes the kitchen, and finally we'll get to the garden…we never get bored!
Apartment Therapy Survey:
My Style: Some would probably call my style conservative. I imagine it's classical.
Inspiration: Primarily, I start with the furniture we already have. We rarely change, and my style is quite persistent. I do not actively seek inspiration for decoration. It is memories, traditions, and our heirlooms that are the focal point for the way we live.
But of course I get inspired. Primarily through Instagram.
Favorite Element: I love the fact that our home forms the framework for my family. This is where my boys grow up. This is where we create memories.
The plate from Royal Copenhagen Flora Danica is inherited from my grandmother. Initially, I thought it was ridiculous that a plate can cost that much money, but she wished for me to inherit it, and maybe that is why it means so much to me now. Actually, I used to think that only "old" people could have plates on the wall, but somehow it has found a natural place in our dining room.
I too love our Eames chairs in our dining room. We bought them with my first real salary. They contribute to a more contemporary look to our home; a nice contrast to the traditional pieces. But at the same time, I think the design is classical and timeless.
What is your favorite room and why? It must be the boys' room. It is so fun to decorate! My oldest boy is very scientifically interested, and I think it is fun to choose things for the room that support his interests and awaken his curiosity.
If you could magically change something about your home, what would it be? The bathroom needs to be fixed. But I would rather renovate the kitchen to make it bigger and brighter.
What do friends say? They often say that we live in a cozy home. That makes me happy.
Biggest Challenge: Time and money!! There is so much that needs to be refurbished. Large and expensive projects. We take it a little bit at a time and do as much as possible ourselves. At the same time, we want to enjoy spending time with our boys, now when they are small. So we live with the flaws of our house and try to embrace it.
Proudest DIY: All the children's furniture is flea market found. And I have refurbished all the furniture myself. The desk is painted in a light gray/green color. The small drawers save my oldest boy's little findings and secrets, and the plate can be pulled out so the furniture works as a desk.
The cabinet is painted with lime paint and contains a lot of boys' toys.
Best Advice: Be true to yourself. Choose classic design rather than follow the whims of fashion. Create space for personality and coziness.