This Scottish Gothic Castle Is on the Market for $37,000
We
independently
select these products—if you buy from one of our links, we may earn a commission. All prices were accurate at the time of publishing.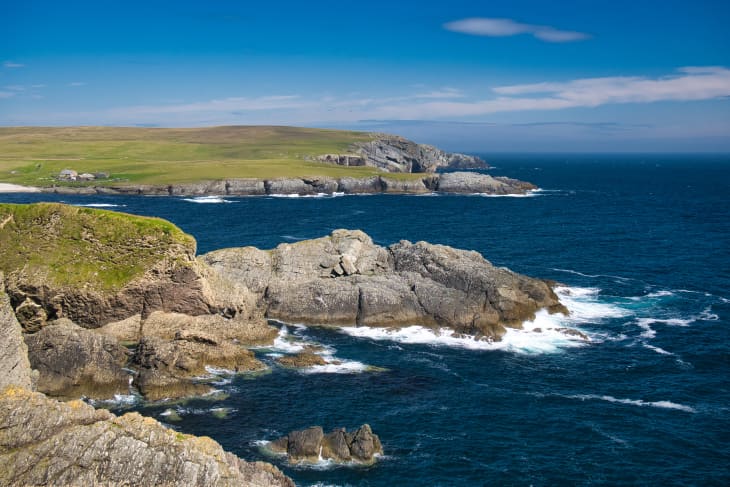 If you've ever dreamed of retiring to a Gothic castle by the sea, listen up: One such property is on the market for just £30,000 (roughly the equivalent of $37,000) on Fetlar, the fourth largest of Scotland's Shetland Islands. Although Fetlar is located in one of the most remote areas of the U.K., you can reach it via ferry from the Shetland mainland.
The 40-acre castle — known as Brough Lodge — was built by a local merchant named Arthur Nicolson in 1825. According to the property's official website, Nicolson designed Brough Lodge based on architecture he had previously admired while traveling France, Italy, and Switzerland. In addition to the main house, it also boasts several walled gardens, an oval-shaped tower folly, a courtyard, and stunning views of the sea and nearby Shetland islands.
However, the castle has been abandoned since the 1970s. Although it's been wind and watertight for the past decade, thanks to its current owners, the Brough Lodge Trust, it's still suffering from disrepair.
So yes, you can own your very own Gothic castle for less than $40,000 — but there's a catch. It'll take an estimated $15 million (£12 million) to restore Brough Lodge to its former glory. More specifically, the Brough Lodge Trust is looking for a "philanthropic investor" who's passionate about transforming the property into a 24-room "first-class retreat," complete with meeting spaces and an elevated restaurant.
According to the official Brough Lodge website, "The 'retreat' is expected to attract guests who wish to learn and practice textile design, bearing in mind Shetland's worldwide reputation. Courses in other strands of Shetland's heritage (music, for example) could also be offered. There is also great potential for other activities, particularly yoga and other aspects of wellness."
Interested in sprucing up Brough Lodge yourself? You can reach out to the selling agents at Harper Macleod now.