This Secondhand Piece of Furniture Totally Transformed My Relationship To Reading
We
independently
select these products—if you buy from one of our links, we may earn a commission. All prices were accurate at the time of publishing.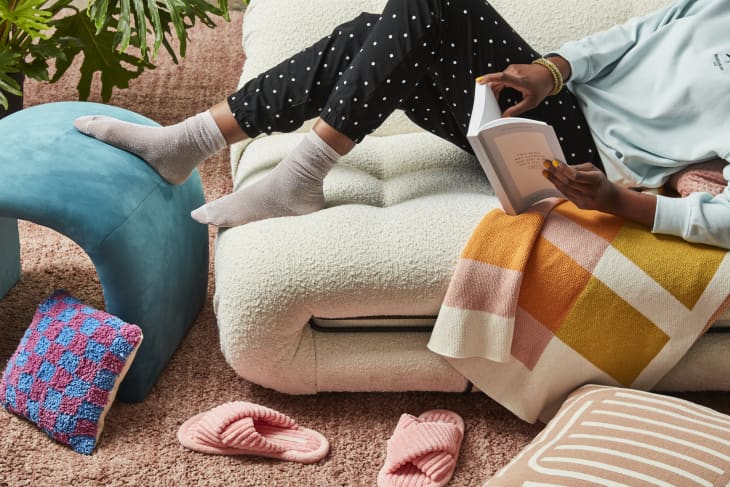 I've tried everything. I charge my phone in another room. I delete the Instagram app for days. I put my phone on airplane mode before taking a walk through the park. But some nights, when the sun is setting outside my velvet chartreuse curtains and the day feels like an entire week, nothing sings quite like the siren song of my phone. 
What I want to be doing is reading. It's the hobby I loved enough to turn into an MFA. When I close my eyes on a Friday night, imagining the weekend ahead, I dream of long, languid hours of uninterrupted reading. Living in a one-bedroom apartment with my partner and our dodgy work-from-home schedules started to make reading less of a priority and more of an afterthought. The sofa, where I write most mornings, is the only space for relaxing in the house — aka a highly trafficked area after 5 p.m. I needed something. Not a room of my own, exactly, but a chair all to myself. 
Inspired, I took to Craigslist, desperate to find a piece of furniture that reminded me of the armchair I bought at a garage sale for a quarter as a kid in Iowa. It was dusty blue with light pink flowers. Sinking into its worn cushion, I penned a note to my first crush, finished my first Hemingway, and stitched up a skirt I was fashioning out of a vintage tablecloth. It was comfortable enough, which is to say, I wasn't prone to naps between its arms. And it was mine, which maybe mattered most. 
The armless slipper chair that caught my eye in another neighborhood in Brooklyn wasn't perfect. There was some wear on the bottom leg. Thanks to its once-relevant designer branding, it was a little out of budget, but not too much. Spatially, it was a winner. My partner and I drove over on a sunny Thursday night, paid over a clunky third-party app, and came home, one chair richer. Hauling it into the apartment, I couldn't help but notice the similarities to the chair I'd retreated to after basketball practice as a child. 
Slowly, I found time to read throughout my day, thanks to its welcoming tilt. A laptop can't quite balance and my lanky frame is too long to curl up for a nap. Instead, I've been marking the time between the invisible end-of-the-workday and my evening activities with a glass of seltzer and a few chapters. The chair's not perfect, but my to be read pile is shrinking by the day. So in some senses, it's the exact antidote I had in mind. 
This piece is part of Transformation Month, where we're showing off amazing home makeovers, brilliant tiny tweaks, inspiring before & afters, and so much more. Head on over here to see it all!