Why 20% of Workers Will Have Trouble Getting a Mortgage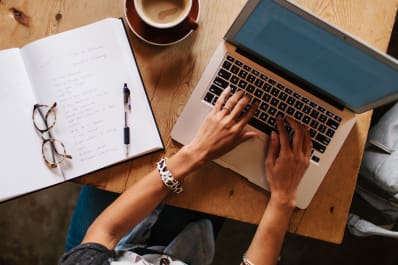 (Image credit: Kristen Curette Hines/Stocksy)
Andrea Kaplan-Chambers and her husband have owned their Austin, Texas, home for a year now, but the path there wasn't easy. The couple were both freelancers when they were applying for mortgages, (Kaplan-Chambers worked as a contract programmer and her husband owned a small sound design business) something they didn't know was going to be as big of a problem as it ended up being. Though they both had thriving businesses, it turns out that the bank was skeptical of the couple's financial profile.
"It was impossible to get approved for a mortgage as a small business owner, even with good credit, no debt, [and 10 years of savings]," says Kaplan-Chambers.
On top of the already tough path to homeownership in terms of managing student debt and a small inventory of affordable homes, an increasingly gig-based job market is just another hurdle millennials are facing. According to a 2018 NPR/Marist poll, one in five jobs in America is held by a contractor or freelancer. By 2028, that number could jump to one in two. Like Kaplan-Chambers, many self-employed are finding it hard to secure a mortgage—even if their finances are otherwise healthy. Because lenders see freelancers and contract workers as not having a stable paycheck, the banks often move the goal posts in terms of required assets. And with an increase in self-employed workers, some are finding that the mortgage industry is still trying to manage risk with what some consider outdated requirements that don't mirror the current realities of the job market.
"For [mortgage] qualification purposes, lenders want you to show as much income as you can," says Jan Hill, a mortgage loan originator with Certainty Home Loans in Austin, Texas. Hill says that for the self-employed, lenders operate from the bottom line of tax returns. However, this amount is usually lower for contract employees and freelancers, since they're eligible for certain tax deductions. "Unfortunately, for income tax purposes the CPAs that usually work with the self-employed want to write off as much as they can," says Hill, thus lowering that bottom line. Hill says one fix to this is to lay off those tax deductions—at least until you've moved into your new home.
Generally, the self-employed need to start preparing for homeownership earlier than those with a salary. According to Hill, mortgage lenders in most states ask for two years of tax returns as proof of income. Because of this, she recommends working with a mortgage lender and accountant during those two years with homeownership in mind. This way, you increase your chances of qualifying once you apply.
And if you're so lucky as to be applying for a mortgage with a traditionally-employed partner or spouse? Consider talking to your lender about using their income (if they make enough) when applying. It's actually wise advice to budget a mortgage off of one partner's income—whether or not you're self-employed—to make sure you're not buying more than you can afford. This is what Emilee Guidorzi did since, at the purchasing of her home, she had only been freelancing as a videographer for seven months (remember that two-years-of-tax-return rule). Fortunately, using her husband's steady income made the process far easier.
However, Guidorzi recommends that others who are newly self-employed take her situation as the exception, not the rule (as many don't have partners with incomes that can singularly handle a mortgage payment). She says that you can look at waiting at least two years to establish tax returns as beneficial to your home-owning plans: "It will help give you a better idea of what your finances look like and what you can truly afford after a year of self-employment," says Guidorzi, "You can [also] use that time to keep saving for that down payment."
And with no signs that the mortgage industry is going to change any time soon and make it easier for the new workforce, unfortunately waiting may be your only option.