Selling a House During a Pandemic Is Weird—But Here's What I've Learned
We independently select these products—if you buy from one of our links, we may earn a commission. All prices were accurate at the time of publishing.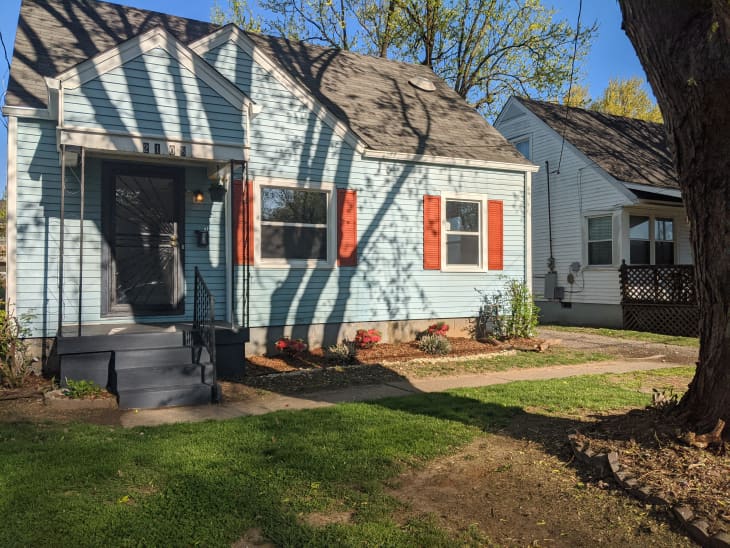 Follow Topics for more like this
Follow for more stories like this
Normally, I would've been excited (and ready) for this challenge. I've bought and sold homes before and I write about real estate and design—in short, I'm passionate about all things homes. This house in particular needed a total overhaul. I bought the distressed property and completed a gut redo of the kitchen and bath, on top of adding basically brand-new everything else.
My husband and I were in the home stretch of the renovation when the pandemic struck. We hurried to get it on the market before things got any worse. Needless to say, there were a few unique challenges, but we've managed to learn some valuable lessons and navigated the situation. Here's what helped us—and what might come in handy if you're also in this strange, stressful situation.
Come up with a plan in case the house doesn't sell.
A plan B was in order because we wouldn't be able to let the house sit on the market indefinitely, thanks to insurance, taxes, utilities, and upkeep. With mortgage requirements becoming more stringent as the economy staggered, we knew there was a real likelihood the house wouldn't sell. Thankfully, our realtor generously agreed to a very limited listing period of one month so that we could rent the house if it didn't sell. I highly recommend working out this deal if you're able to.
Accept that open houses are off the table.
I was proud of the beautiful renovation we did and looked forward to letting people walk through on a Sunday afternoon. But open houses were among the first casualties in the real estate world. Instead, we simply put our listing live on the MLS and real estate listing sites. Our wonderful realtor hired a photographer to not only take beautiful, professional photos, but also to create a very appealing virtual tour. The first offer (and the one we accepted) came from a quarantined buyer who only took the virtual tour and never actually visited the house. It's a bummer to not do in-person open houses as a seller, but it's equally tough for buyers. Once you accept it, know that it won't necessarily preclude a sale.
You might not meet your real estate agent in person.
Since we are all practicing social distancing, we haven't met with our realtor in person once. He looked around the house alone before helping us set the price, and sent all our documents over to sign digitally. We joined him by Zoom video chat to walk through everything at the signing, and I honestly don't even know if I'll see him at the closing. There's nothing quite like establishing a face-to-face rapport, but it make sure you feel confident in your digital correspondence with an agent before you start doing business together.
You might have to produce some disconcerting new paperwork.
The pandemic added a new layer to the already all-consuming paperwork that comes with selling a house. One addition was a "hold harmless" document that, at our realtor's recommendation, we required anyone who physically visited the house to sign. It acknowledged that we've taken all the precautions we can, but they hold us harmless if they contract the virus after they arrive. (One seller in our county was recently sued when a prospective buyer who became ill claimed it happened after touring the house.)
For everyone's protection, we required that anyone who toured the house wear a cloth mask. In the "old days," I didn't think it was a great idea to ask buyers to take their shoes off to tour—you should be making it easy on people, right?—but safety outweighs image in this case. 
We were also strict with some terms of the listing. We were hearing of closings falling through due to COVID-related job losses, so in an attempt to avoid that scenario, we consulted with our realtor and opted to require a few things: We'd only review offers from buyers who provided proof of pre-approval (this is a step beyond prequalification, meaning they showed proof of funds to their lender) and provided details on their place of employment (so we could try to make a best guess as to whether their job could be impacted). That felt awful, but necessary. 
Try your best to avoid delays.
It became understandably difficult to find contractors to do a final few things, so we knew it would be next to impossible to do any further repairs. We required buyers to acknowledge that we would not consider any offers asking for repair concessions. That also felt pretty drastic, but given our limited time frame, we wanted to avoid negotiating delays that could push us beyond our listing period. 
Fortunately, we received a strong offer in three days, though the negotiations did last longer than I thought they would. We ultimately ended up with an agreement I was happy with. Now, it's onto the appraisal.