This Company Wants to Replace Your Garbage Disposal with a Smart Composter
We
independently
select these products—if you buy from one of our links, we may earn a commission. All prices were accurate at the time of publishing.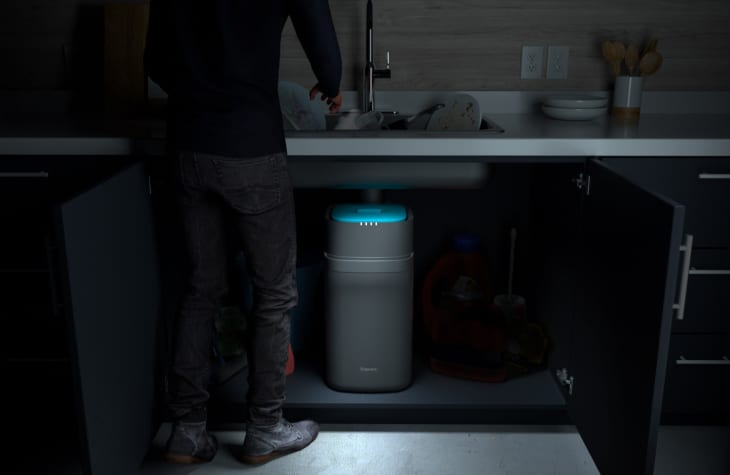 Composting at home is about to get a lot easier (and a lot less stinkier). Unveiled earlier this year at Las Vegas CES 2020, Sepura Home is a high-tech garbage disposal replacement that kicks countertop composters to the curb. It is completely odorless, easy to install and use, and keeps food waste out of landfills and drainage systems, providing you with compostable matter that can either be added to your outdoor compost bin or your kitchen trash.
"Living eco-friendly doesn't have to be difficult," the Sepura website reads. "[Sepura Home] will cater to your composting needs, with the simple push of a button. Green and convenient, our tech is designed to help you gain efficiency while caring for the environment."
The Sepura system comes with two separate components—the separator, which hooks up to your sink drain, and the collection bin that sits beneath the sink. When in use, the system smartly collects food waste solids from the drain in less than eight seconds, and will work efficiently either with or without water. Simply press the button on the system, and let it do the work for you. 
And unlike a traditional garbage disposal, the Sepura does not grind up the food waste. Therefore, it's much quieter than standard disposals and it doesn't chew up, so to speak, as much water and energy as traditional disposals.
Besides emptying out the bin when the LED lights show that the bin is full, the Sepura system doesn't require much. It's completely self-cleaning, and you can even throw things like bones, paper towels, and tea bags down the sink drain and be sure they'll be separated into the collection bin. And if larger, non-food items are dropped down the drain by accident, the Sepura sensors will stop the the food disposal process so you can safely retrieve the item. The system is currently available for pre-order for $580, and will begin shipping in 2021.