Seriously Smart Rental Upgrades We Loved in 2017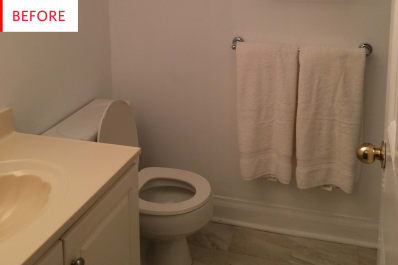 (Image credit: Wendy Carwardine)
Bland rental kitchens and bathrooms are about as common as noisy upstairs neighbors, but at least you can make small temporary fixes to transform your space. Take some serious inspiration from these clever renters, who invested a little bit of time and very little money to make changes they could live with, then reverse when they moved out.
(Image credit: Wendy Carwardine)
This awkward bathroom — with a seashell-shaped sink — got a weekend facelift that only cost $350 (also lead image above). The classic black and white combo is chic, modern, and sophisticated:
(Image credit: Wendy Carwardine)
When Chelsea redid her rental, the only things she spent money on were a floor runner, some cabinet hardware and contact paper for the countertops. It's amazing how much glam she achieved with so little.
Samantha's apartment was getting renovated by the owners once she moved out, so she had a little more leeway than the average renter. Still, she made some minor but smart changes, without putting a bunch of money into the makeover:
Patricia's rental loft was open and airy, but the bathroom was old, grey, and windowless. The property manager wasn't okay with major changes, so Patricia started making small tweaks to improve the space, bit by bit:
This couple devised a DIY way to update their kitchen cabinets that they can change back when they move out some day. This is one of the more clever upgrades, with the biggest impact. The kitchen has a whole new look going on: