SF House Tour: Annie and Eric's Art-Filled Ocean Beach House
We
independently
select these products—if you buy from one of our links, we may earn a commission. All prices were accurate at the time of publishing.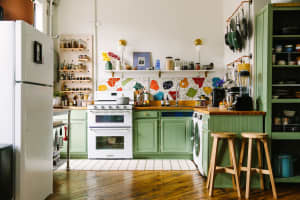 Can't-Miss House Tours Straight to Your Inbox
Keep up with our latest house tours each weekday with our House Tour of the Day newsletter
Name: Eric Rewitzer and Annie Galvin (
Location: Outer Richmond, Ocean Beach, San Francisco
Years lived in: Owned for 7 years
It's pretty obvious when you step into their house that Eric Rewitzer and Annie Galvin are artists. The first hint is the sheer amount of actual art throughout the house, much of it by one of the pair, but it's their strong use of color, creative finishes, and attention to detail that really shines through and let you know you're not dealing with just another rehabbed San Francisco home.
The house is even more impressive when you learn that it was in pretty bad shape when Eric and Annie bought it seven years ago, and that they did much of the work themselves. They've managed to make their 1907 space feel modern without resorting to a matching set of DWR furniture, and while still honoring its turn of the (last) century soul. The highlights, beyond the truly impressive art collection, great amount of light, beautiful yard and welcoming feel, are the tree-mural bathroom, painted by Annie, and the newly-tiled fireplace, done by Eric.
My/Our style: classic/contemporary mix. We have some vintage pieces, like our walnut sideboard and ?? desk, mixed with clubby leather chair, classic red couch, and simple bookshelves, table, and chairs with clean lines from Viking Trader in Berkeley. It's hard to classify it as an actual style, but we like it.
Inspiration: Our garden, which we grew from scratch. We bring it inside with vases of lilac, poppies, and lavender.
Favorite Element: We love our deck, which is right off the kitchen. It's perfect for sunny breakfasts and lunches, and it's usually the favorite gathering spot for parties.
Biggest Challenge: We bought our 1907 Beach House in 2001 from an elderly couple who lived here for over 40 years. It needed a lot of work. The front room was closed off and filled with furniture and litter boxes and a crumbling ceiling, and the fireplace in there had not been used in decades. The bathroom was decorated with an indescribable green velvet wallpaper. The room upstairs had bizarre bunk-bed built-ins, held together by millions of finishing nails. The dining room had nicotine shadows from old aquariums and redwood burl clocks that had not moved for an eternity. The kitchen – ha. Bring me a power washer.
But we could tell it had good bones – crown moldings, inlayed red oak floors, redwood timber construction, lathe and plaster walls. Nothing that some elbow grease wouldn't address, and we spent the first month gutting the place while we lived in our apartment up the street. We scrubbed the walls, fixed the plaster work, put in a new front door, ripped out the awful built-ins, installed a lot of dimming lamps to illuminate the rooms, and painted every square inch with bold colors to brighten the walls.
What Friends Say: That our house is welcoming and colorful. People who haven't been to our house before love the colors, especially the blue and brown mural that Annie painted in the bathroom, and the deep red dining room.
Biggest Embarrassment: Only one bathroom. We really need to put another bathroom downstairs at some point.
Proudest DIY: The fireplace. It took 7 years and several attempts to get it right, and now that it is done it makes the whole house 20% cozier. And the outdoor shower not only refreshes, it gives us some Beach House cred.
Biggest Indulgence: The hot tub, which makes cold, foggy summer days near Ocean Beach something to look forward to. And the Viking stove.
Best Advice: Evolution not Revolution. Which means don't try to do everything at once when moving into place that needs a lot of work. We fixed what we felt we had to to make it livable, but let other projects steep for a while, such as the kitchen, garden, and fireplace. While the majority of work we did ourselves, we hired the pros to do the deadly stuff, like electrical and roofing. And we regularly clear out clutter.
Dream Source: ABC Carpet and Home in NYC is fantastic, but usually too expensive. And Knoll for Saarinen and Bertoia chairs. Indulgent but approachable are Design within Reach and Jonathan Adler. And we'd love a gift certificate from Andersen Windows with a few figures on it.
Appliances: Can't beat Sears for the staples. For the really good stuff (like our Viking Range) we went to CG Appliance in Daly City – great people, pricing, and installation.
Hardware: Center Hardware in Potrero Hill is simply the best. Their staff is incredibly helpful and friendly, and they stock everything that the big box stores do.
Furniture: Craigslist, Harringtons on Valencia, Ambiente in Potreto Hill, The Wooden Duck and Viking Trader in Berkeley, and Crate and Barrel downtown. We also have our eye on a new sofa from EQ3.
Accessories: India Rose in SF, Zinc Details in SF, Fishs Eddy in NYC, Alameda Flea Market, and souvenirs from our travels
Lighting: Ikea is great for lighting. We also have some lovely Restoration Hardware ceiling fixtures.
Rugs and Carpets: India Rose, California Carpets, and Ikea
Tile and Stone: Heath ceramics in Sausalito. Their warehouse if full of beautiful tiles, and they are really helpful and inspiring for designs.
Window Treatments: We figure if all our neighbors have curtains, we don't need them. Which is great, because neither of us really likes window treatments, so we just have some thin linen panels for privacy on our big picture window. They still let the light in, which is important in a house that tends to be dark.
Beds: Crate and Barrel. Nuff said.
Artwork: We have an eclectic and growing collection. We have some mutual favorites from our own hands, plus work from Lisa Congdon, Amy Ruppel, Anthony May, Sarah Chase, Mathew Feyld, Jacob Whibley, Jaime Hernandez, Leigh Wells, and one gorgeous Rex Ray.
Paint: Benjamin Moore, from Creative Paint and Wallpaper in SF.
Flooring: We still have the original red oak floors with inlays. The kitchen and bathroom floors are next on the to-do list.
Photos by Elizabeth F. Clayton
Click here to see all House Tours