Shawna & Stef's "Put Together" Apartment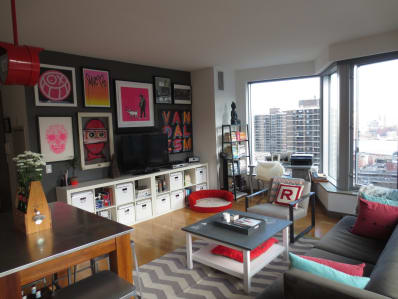 (Image credit: Submitted by Shawna)
Name: Shawna & Stef
Location: Seaport/Financial District - NY, NY
When friends and family walk into our apartment, their first response is your home is so "put together". For us, our home represents our individual (and often opposite) styles 'put together' as a couple. Stef (a banker by day) has a love and great eye for street art that serves as the source of inspiration for our decor. Shawna (a youth development specialist) enjoys a good DIY project and the hunt for playful decor that reminds us not to take ourselves too seriously.
(Image credit: Submitted by Shawna)
Much like who we are as a couple, we have brought opposites together, vibrant colors blend and subtle shades, to create our own urban sanctuary.
(Image credit: Submitted by Shawna)
Our favorite DIY project is the coffee table/dog house. Murray and Zoey, our Boston Terriers, first crawled into the bottom shelf of our coffee table as puppies and have never left. As a result, we came up with an IKEA hack to meet our needs for a coffee table and our dogs' need for a dog house. Shawna refinished the top of this IKEA table with chalkboard paint in charcoal gray. Not only is it a great topic of conversation, guests love to draw all over it. We love seeing how people express themselves and the different look and feel it takes on with each new illustration.
(Image credit: Submitted by Shawna)

We moved across the country and into this Frank Gehry-designed apartment building we call home, one day before Hurricane Sandy struck NYC and got married one week later. Despite a rocky start (literally and figuratively when riding out a storm in a 76 story high-rise), our home today represents our solid foundation of comfort, laughter and creativity.
Thanks, Shawna & Stef!
• Interested in sharing your home with Apartment Therapy? Contact the editors through our House Tour Submission Form.