This Powerful Exhibition Of Protest Signs Honors Black Women Killed By Police
We
independently
select these products—if you buy from one of our links, we may earn a commission. All prices were accurate at the time of publishing.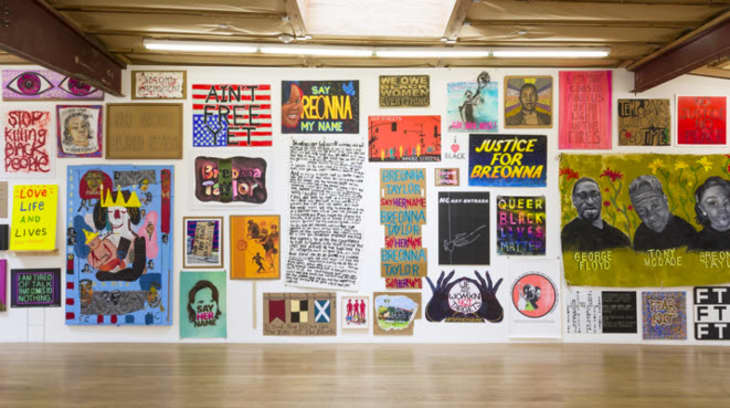 Over a hundred artists have come together to curate powerful art pieces in the form of protest signs for "Show Me The Signs," an exhibition and auction created to benefit the families of Black women killed by police. Major names like David Hockney, Cardi B, Billie Eilish, Rashid Johnson, Jim Carrey, Lenny Kravitz, and more have created and donated pieces to be auctioned to raise funds for the African American Policy Forum's (AAPF) #SayHerName Mothers Network—a campaign that works with the mothers of Black women, girls, and femmes killed by police to share their stories and fight for justice. 
The exhibition—riddled with the rallying cries seen on protest signs across the nation this past summer amid the Black Lives Matter movement—will be presented on more than 90 billboards and digital kiosks across the country throughout the month of November, but the pieces are also available to explore (and bid on) on the ArtFizz website. Part 1 of the live auction will run between November 10 and November 19, and Part 2 will run between November 21 and November 30. 
"Black women and girls do not fit the most accessible frames of anti-Black police violence, and because of that, it's difficult to tell their stories in a way that people recognize and remember," Dr. Kimberlé Crenshaw, AAPF executive director and co-founder and Say Her Name founder, said of the exhibition. "By working with the families of slain Black women, AAPF's #SayHerName campaign resists Black women's invisibility by telling their stories."
On rapper Cardi B's sign, "SAY THEIR NAMES" is printed in black on a white cardboard surrounded by the colorful names of Black folks killed by police, such as Breonna Taylor, Sandra Bland, George Floyd, and Tamir Rice. (The current bid is at $555.) Carrey's sign is a lot more graphic. Titled "Shape of Nightmares," the actor and comedian used acrylic and water to paint three police figures standing over the body of a Black man. (The bid is at $6,000.)