Activists Dropped a Sinking House into a River to Show the Severity of Climate Change
We independently select these products—if you buy from one of our links, we may earn a commission. All prices were accurate at the time of publishing.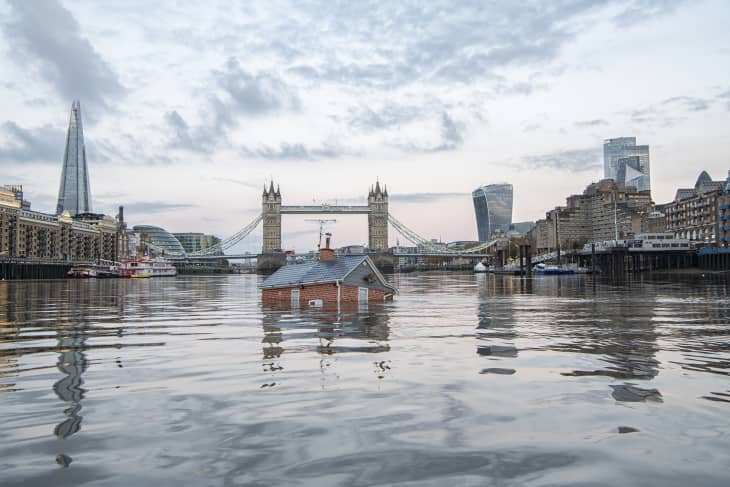 Earlier this month, a half-submerged house floated down the River Thames in London. The house, which looked like the casualty of a flood, was placed in the river by climate protest group Extinction Rebellion to communicate the seriousness of sea level rise and flooding as a result of climate change.
Follow Topics for more like this
Follow for more stories like this
"As the ongoing flood disaster in Derbyshire and Yorkshire has so starkly illustrated, our homes, businesses and families are at very real risk," Extinction Rebellion wrote in a statement following the sinking house demonstration. "We are watching, in real-time, as people's lives are destroyed around the world and in the UK. Unless action is taken to halt biodiversity loss and reduce greenhouse gas emissions to net zero these tragedies are set to worsen."
During the floods mentioned in the statement, "some parts of England got more rainfall in just 24 hours than they normally would in a single month," according to The Guardian.
"Flooding is a political issue, disproportionately impacting our poorest and most vulnerable communities," reads the Extinction Rebellion statement. It goes on to give context about the seriousness of rising sea levels, explaining that while the melting of floating sea ice won't cause dramatic sea level rise, melting ice on land is another story. If all the ice on Greenland were to melt, for example, average sea levels would rise by seven meters, it says. 
At the same time, a global temperature increase of 1.5 degrees Celsius would mean a sea level rise high enough to displace 280 million people, or four times the number of current refugees worldwide.
Katey Burak and Rob Higgs, who built the sinking house explained the thought process behind the demonstration: "…When I hear the facts about climate change my brain can scarcely comprehend them, they are vast and scary. We wanted to make something that people can visually connect to, whilst leaning on the government and the experts to make the changes that need to be made. Until they make the big legal and financial changes, it's very hard for people like me or you to make significant changes to protect ourselves and the world around us."
Extinction Rebellion's demands are that the government declare a climate emergency, work with other institutions to reduce greenhouse gas emissions to net zero by 2025, and "create and be led by" a citizens' assembly on climate justice. Read more about the sinking house project and Extinction Rebellion's mission here.