A Small, $1,475-a-Month San Diego Rental's Brimming With Historical Built-Ins
We independently select these products—if you buy from one of our links, we may earn a commission. All prices were accurate at the time of publishing.
About this tour
Location
Bunker, San Diego, California
Style
Minimal, Scandinavian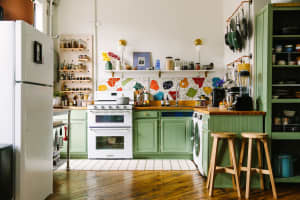 Can't-Miss House Tours Straight to Your Inbox
Keep up with our latest house tours each weekday with our House Tour of the Day newsletter
Name: Olivia Picolla
Location: Bankers Hill — San Diego, California
Type of home: Apartment
Size: 500 square feet
Years lived in: 5 years, renting
Rent: $1,475 a month
Tell us a little (or a lot) about your home and the people who live there: I've lived alone in my beautiful home for the past five years. It is my first solo apartment, and so near and dear to my heart. I'm located in Bankers Hill, a quaint, walkable neighborhood with historic homes and bridges. My building includes 12 units that are considered "Junior One Bedrooms" (500 square feet) with a communal rooftop that overlooks Downtown, Point Loma, Hillcrest, and Balboa Park. My apartment includes a bedroom with sliding wooden doors, separating it from my dining area and living room, and the swinging door in my bedroom connects to my kitchen and three-step walk-up closet. My apartment's interior structure is Craftsman style, with built-in features including a slide Murphy bed (which I use as storage), built-in wall shelves surrounding the living room space, a stained glass cabinet (which holds my dining ware), antique push-button-style light switches, and, lastly, a bathroom with a built-in deep tub and an open shelving unit. I've made great use of my space by separating my living room from the dining area to my bedroom, and I can easily reconfigure my space to be more functional when I am hosting dinner parties.
My home is a big piece of my identity. My sun sign is Cancer, and we are known to be the nurturing homemakers of the zodiac. I've always made a conscious effort to create a space that fills me with peace, comfort, love, and light. I love to design my life and home in a way that aligns with my season of life. And while I have staples in my home, I like to rotate in and out decor pieces, photos, and artwork. During my time here, my apartment has gone through many phases and continues to evolve. I come from a family of past wood sculptors, furniture designers, and painters, and I'm so fortunate to display their pieces because that's what makes any space (new or old) feel like home. I truly feel my heart and soul are embedded in my apartment. So yes, as the evolving and nurturing person I strive to be, this energy is reflected in my home and is recognized by guests when I host gatherings.
Describe your home's style in 5 words or fewer: Warm, organic, evolving, historical, hygge.
What is your favorite room and why? My favorite area is my bedroom for its simplicity, cleanliness, brightness, and warmth. I saved up to purchase my low-platform wooden bed from Floyd Furniture a year after I moved in, and I love that it takes up just enough space to keep my room minimal. I also enjoy doing my morning meditation and journaling routine in my accent chair beside one of my grandmother's (who passed) paintings. It's a special nook in my bedroom that feels private and only utilized by me.
What's the last thing you bought (or found!) for your home? An antique director's chair and marble drink table — both found in my grandparent's home in their attic collecting dust, so they gifted them to me to add to my space. One thing I really value when adding pieces to my home is the quality and story behind it. I've been lucky to find such pieces by thrifting or snooping around my grandparent's historic home.
Any advice for creating a home you love? Collect pieces for your home from family and friends, scour thrift stores, and continue to make changes to your home that reflect you in the present moment and what brings you joy and comfort. In addition, watching Apartment Therapy home tours is an excellent space for inspiration. Don't just opt for cheap cute furniture. It took me purchasing two inexpensive-yet-uncomfortable couches before realizing investing a little more money would be worth the comfort and aesthetic I desired. One last tip is to repurpose items — for example, I love keeping the more beautiful wine bottles because they act as decor and can be used as water decanters when hosting.