How Apartment Therapy's House Tour Editor Lives
We
independently
select these products—if you buy from one of our links, we may earn a commission. All prices were accurate at the time of publishing.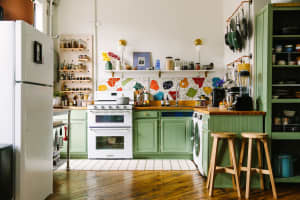 Can't-Miss House Tours Straight to Your Inbox
Keep up with our latest house tours each weekday with our House Tour of the Day newsletter
I've been madly in love with this apartment since the moment I walked in. After a long day of looking at horrifying rental apartment listings, I stepped into this small space flooded with light, took one look at the fireplace and the giant cove molding, and I signed an application on the spot.
Four years and many decor updates later, and this is my most favorite home I've ever lived in. I work from home (as your tireless, dedicated House Tour Editor), so it's important to me that I love where I live. The sunlight helps a ton, the views of a big live oak outside my apartment are stunning, and I love that I'm surrounded by tons of color, pattern, texture. And while it's an oft-made-fun-of Apartment Therapy trope, everything in my apartment really does have a story.
This is not all to say I'm not shaking in my boots showing my home right now; I do spend my days visually swimming through a sea of stunning interior photos, after all. I have a serious case of FONHAGEH (Fear of Not Having a "Grown-up" Enough Home). Though I love all my kooky art, mismatched furniture, weird vintage accessories, and textiles that are always wrinkly, I still look around sometimes and think to myself that this apartment doesn't look grown-up enough. It doesn't look like a Dwell magazine spread. No one would confuse these photos with an article in Architectural Digest. In all honesty, I'd say a large number of house tours on this site are better/prettier/fancier/more grown-up than my home.
But the one thing I've learned through all my years of looking at/writing/photographing/editing house tours is this: It really is about finding that balance between working on making your home better and being grateful for the home you have. When it's cold outside and I have the heater on and I'm piled in my bed under a bunch of colorful quilts, two cute dogs, and a great boyfriend, I'm grateful. When I'm making tea in the kitchen and the sun is streaming in and back-lighting the leaves of the pothos in there, I'm grateful. When too many friends try to fit in my small home (during the two times a year I actually invite people over)—I'm grateful. And, in the end, the fact that my home really and truly reflects me is perhaps the thing I'm most appreciative of.
This tour published on Valentine's Day, and for a very good (albeit corny) reason: It's a love letter to this beautiful, cozy, tiny apartment I currently call home.
Apartment Therapy Survey:
My Style: Minimalism. Kidding! "Your cool aunt in her 50s who had a long and storied career in archaeology and traveled the world and has now decided to make art and love in New Orleans before the city sinks into the sea."
Inspiration: Dusty random thrift stores you come across when you're traveling. Atlas Obscura sites. Institutional architecture from the '50s and '60s. The color palette and sets of the movies Beyond the "Black Rainbow," "The Holy Mountain," and "2001: A Space Odyssey." The usual nature-y things like birds, plants, trees, leaves, and more. The warm feeling you get when you listen to Neil Young's "Harvest" album. Roadside tourist traps/obsessive folk artists and craftspeople. Handmade quilts. Victorian-era glass greenhouses filled with plants. Walking through the costumed crowds of locals and tourists on Mardi Gras day. Abandoned architecture. Moss.
Favorite Element: The light, size, location, and all the architectural character. This is my first fireplace! How warm and cozy it feels with the yellow sunlight and walls making it feel like it glows. I think the fact that my boyfriend Keith's and my style blended together so effortlessly is quite nice, as well.
And the bathroom gallery wall! This is 90 percent Keith. When he moved in we decided to add his art to the bathroom, and every time we've made or added something to it, Keith has rearranged it to find the perfect composition. I just love how it's evolved.
Biggest Challenge: Space, obvs. It was tiny to begin with for me and Stanley but then Keith and his dog Otis moved in. We had to get smart with storage. The only closet in the entire apartment is in the hallway by the bathroom, and while it's really big and great for storing lots of things, when it comes to clothes… not so much. So we incorporated the IKEA hanging rack (so cheap and very sturdy) as well as lots of under-the-bed storage for clothes. I store off-season clothes in a bin under the bed as well as in the back of the storage closet.
We created a shoe and hat storage area in the weird spot behind our bedroom door and beside the sofa. I just hammered nails into the wall randomly for our hats and my various headbands I make. The two shoe racks are precariously balanced one on top of the other, but they fit just so perfectly in that space.
In the kitchen, we incorporated shelf risers inside some of the cabinets to maximize storage space, and Keith did an amazing job installing both a shelf and Lazy Susan above the microwave and also the wall-length pegboard.
I also use pretty much everywhere for storing craft supplies. In New Orleans, you have to be prepared to wear a costume for just about any occasion, so the filing cabinet and trunk in the living room, the filing cabinet and baskets in the bedroom, and a considerable amount of real estate in the closet are for craft supplies.
What Friends Say: "There sure is a lot to look at in here."
Biggest Embarrassment: This house is old… they told me it was built before the 1900s when I first rented the place—so it gets dusty easily. And I have to caulk cracks from time to time. Absolutely nothing is straight. I'm also a little lazy when it comes to styling a space, so the living room curtains still have fold marks in them, and I forgot to take the stickers off the bottom of the bedroom pothos before we stuffed the pots in too-small macrame holders, so those stickers are there forever now. I haven't hemmed any of my curtains and they're all just a touch too long.
Oh, and one time while working on a costume I accidentally glued a rhinestone to the coffee table and it won't come off for anything.
Proudest DIY: The pegboard that Keith made. I was initially "meh" about installing it; I don't do a lot of cooking and to me the kitchen storage situation was just good enough. But now that it's here I can't imagine life without it… it's such a delight realizing you need a tool and turning around and having that tool easy to grab. The Lazy Susan above the microwave is cool, too. Keith just added one small support to the wall and a piece of wood rests on that and the microwave. He attached the large Lazy Susan on top of the board, and now we can easily access all our dry goods in jars. He also installed a short rod on the wood shelf so a curtain conceals even more storage above the fridge/next to the microwave.
Best Advice: I'm a firm believer in making things more beautiful than they have to be.
PAINT & COLORS
Yellow Door — "Golden Promise," Valspar
Living Room Bench and Coffee Table Base — "Corduroy Black," Valspar
Pegboard and Bedroom Dresser — "Good morning," Valspar
Other Walls — Landlord's choice
ENTRYWAY
Rusty Bar Cart — Free street find
Mayan-esque Art — Room Service Vintage in Austin, Texas
Vintage Lamp — Closed vintage store in my New Orleans neighborhood
Leash Hook — Bronze Command hook
LIVING ROOM
Commune Armless Sofa — West Elm (no longer available)
Coffee Table — Built by Adrienne's dad
Bench — Built by Adrienne's dad
Curtains — Dirt Defense Cotton & Heavy canvas Drop clothes, from Amazon (Hat tip to Jacqueline Marque for the recommendation)
Living Room (bottom) Rug — World Market
Living Room (top) Rug — Spearment LOVE
Bookshelf — Parents' hand-me-down
Globe — Street find
Rolling Record Box — Keith DIY
Coat Rack — Built by Adrienne's dad
Beige Textured Lamp — Craigslist
Water Gun Art — Will Bryant
Geometric Blue Art — Will Bryant
Record Player — JVC, Keith's
Receiver — Vintage, Keith's
Filing Cabinet — Vintage Steelcase cabinet from Texas County Surplus in Austin, Texas ($10, baby!)
Plant Stand — Bottom of a really old IKEA side table I got from an ex-boyfriend's sister-in-law
Speakers — Vintage, Keith's
Collage Art over Heater — Adrienne Breaux original
Mantel Stuff — Vintage doo-dads
Textured Things Above Mantel — Pieces of a chair I found on the side of the road and a genuine '70s hanging fan thing my parents had on their walls when I was growing up
Yellow Side Chair — Vintage from Keith's friend who was moving
Yellow Rattan Ottoman — World Market (no longer available)
Rolling Wood Trunk (that's hiding craft supplies) — Pretty sure from Kirklands (is it still open?)
Giant Mirror — Craigslist
Giant Bird Painting — The Bank Architectural Antiques, New Orleans (only paid $50… my friend Liz Kamural has a matching one; we bought at the same time.)
Booze Tray — World Market
Pillows — All World Market
Faux Sheepskins — IKEA
Shoe Racks — Amazon
KITCHEN
Pegboard — Keith DIY
Lazy Susan/Microwave Shelf — Keith DIY
Curtains — Vintage from my Maw-Maw
Art — Garage Sale
Baskets — Michaels (similar)
Rug — Vintage
Fruit Basket — Vintage from my Maw-Maw
Electric Kettle — Fellow Stagg
Yarn Art — Adrienne Breaux
Tea towel — Alja Horvat from Society6
BEDROOM
Bed — IKEA (I upholstered the headboard and the bed is also on risers
Headboard — Urban Outfitters blanket
Art above Bed — Adrienne Breaux
Hanging Pothos Plants — Harold's Plants in New Orleans
Macrame Plant Hangers — World Market
Bed Accent Pillows — World Market
Bedside :amps — Vintage
Left Nightstand — Thrift store
Right Nightstand — Old CB2 outdoor side table sprayed painted with Rustoleum Brass spray paint
Yarn Art — Adrienne Breaux
Dresser — Maw-Maw's; it's metal and apparently from an old hospital in Crowley, Louisiana that was closing and selling furniture
Dress Mirror — Free curbside find painted several times
Rug — Overstock
Narrow Basket Drawers — Honestly can't remember
Curtains — Target
Vintage Chair in Corner — Vintage, Keith's
Hanging Window Doily — Found in an antique store in Ponchatoula, Louisiana
Table — Belonged to my grandmother
Baskets Full of Craft Supplies under Table — My mom's old sewing baskets
Rattan Stool/Plant Stand — Pelican Thrift, New Orleans
Hanging Clothes Rack — IKEA
Gray Metal Cabinet — IKEA
Under Bed Storage Drawers — Container Store
"Love One Another" Word Art on the Door — Tomoko Yates
KEITH'S OFFICE
Desk — IKEA
Lamp, Chair, Rug — All vintage
Pomegranate Art — Vintage
Discover Todays Fun-Tier Texas" Poster — Room Service Vintage in Austin, Texas
BATHROOM
Shower Curtain — Alja Horvat from Society6
Art — Varied thrift art, found pieces, art I made, pieces Keith brought, found objects, and more.
Birds of North America Poster — Pop Art (laminated at FedEx Kinkos)
Bath Rug — World Market
Hanging Shower Terrarium — Apartment Therapy holiday gift
Brontosaurus Toilet Paper Roll Holder —Found it discarded on the street (yes I cleaned it really well)
Hand Towel — World Market
Big thanks to Keith for all the work he put into the place when he moved in, to my mom and dad who have helped me move 9 million times over the past 15 years. And to my coworkers at Apartment Therapy, old and new.