A Small Sacramento Studio Has an Enviably Organized Closet
We independently select these products—if you buy from one of our links, we may earn a commission. All prices were accurate at the time of publishing.
About this tour
Home Type
Studio Apartment
Location
Sacramento, California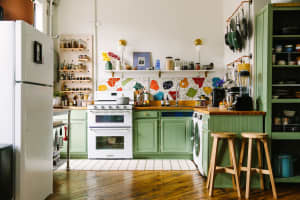 Can't-Miss House Tours Straight to Your Inbox
Keep up with our latest house tours each weekday with our House Tour of the Day newsletter
As a creative consultant, the writer at The Kachet Life, and the founder of The Blog Bloc, Kachet Jackson-Henderson needs a home where she can live, unwind, and work in. Though only 450 square feet, this Sacramento studio apartment is just the space.
Kachet describes her home: "The apartment is located in Downtown Sacramento, just two blocks from the Capitol and Capitol Park, and from the church I grew up in. I have so many great memories of the area in general that it was great to land this studio and call it home base.
As someone who downsized from a two-bedroom cottage and works from home, it was very important to create a functional and vibrant space, one that I could also entertain in if I wanted to. With some key pieces of furniture and a few storage solutions, it is the perfect bachelorette pad. And don't even get me started on that closet! It is the best feature of the apartment. While it does have a door that can close to create separation, I absolutely love having it open. Plus, as Carrie Bradshaw said, 'I like my money where I can see it: hanging in my closet.'"
Apartment Therapy Survey:
My Style: My style is ever evolving, and always influenced by things and people that I encounter on my travels and day-to-day life. There are definitely some trends that I have been a fan of, but mostly everything I have in my home has a story. It's made me become very selective about what I let stay and what I add to the space. But, I love that I have some pieces that have been in my family for years. It keeps a piece of my loved ones that are no longer here with me around always.
Inspiration: I was immediately inspired by the space itself. It's a studio with some amazing features. I was inspired to maximize its space in the most stylish and functional way possible. Also, the light that shines in here. It's no coincidence that I am my most productive when it's bright.
Favorite Element: Besides the closet, the velvet settee. I hesitated getting such a statement piece but after some encouragement from a friend and finding this one for an incredible price, I knew it had to come home with me.
Biggest Challenge: Making sure everything has a place. Having downsized from a house with a living room, separate bedroom and a garage, it was important that I could keep everything nearby and be able to find it with ease. When it comes to the closet, I increased the storage by adding a cube shelving unit to act as "drawers" since I use the built-ins as a linen and supply cabinet.
Proudest DIY: Sawing off the foot of the bed. It was a tall frame and it was totally obstructing the view of the TV. Seriously. So, one night, it had to go. It was great to be able to see out from the bed, but it also changed the energy of the room and ended up opening it up quite a bit.
Biggest Indulgence: Cozying up and Netflixing in bed all day. Seriously, nothing beats it and if you open up the windows, you'll feel like you're hiding away in a treehouse. It's lovely.
Best Advice: Forget what you see on Pinterest and Instagram, and create a home that means something to you. Fill it with things that make you happy. If that doesn't fall into what's trending, then that is just too bad.
CLOSET
Shelving Unit — IKEA
*This interview's responses have been edited for length and clarity.