This Small San Francisco Studio Is Incredibly Bright & Stylish
We independently select these products—if you buy from one of our links, we may earn a commission. All prices were accurate at the time of publishing.
About this tour
Home Type
Studio Apartment
Location
San Francisco, California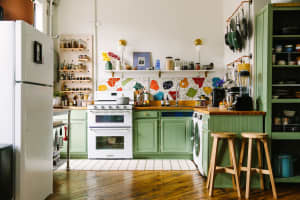 Can't-Miss House Tours Straight to Your Inbox
Keep up with our latest house tours each weekday with our House Tour of the Day newsletter
Name: Terri Burns
Location: San Francisco, California
Size: Sorry, I legitimately have no idea and am terrible at estimating
Years lived in: 10 months, renting
Tech investor and writer Terri Burns just moved into her first studio apartment. Though she doesn't know the exact size of it, you can see it's on the smaller side. But it doesn't feel tiny or cluttered in the slightest. Rather, this is a home that's airy, spacious-feeling, and with just a hint of glam. "I spent a ton of time doing research (and drew a lot of inspiration from Apartment Therapy), to make it a really open, chic space that aligns with my personality," she writes.
And perhaps most impressive of all? Nearly everything in the entire apartment was bought online. "I didn't see a single piece of decor or furniture in person until it arrived, minus my curtains," Terri describes. "I love my space, and purchasing everything online made move-in day a breeze (I shipped everything to the new location and unpacked it all in a day)."
Apartment Therapy Survey:
My Style: Cozy chic. I love a place that feels warm and relaxing, but is well decorated and color coordinated. I like accent walls, sleek pieces of furniture, and pillows. Lots of pillows.
Inspiration: I love a mid-century modern or Scandinavian design aesthetic. But I also tend to lean more towards color. I love photography, so I'm always inspired by landscape or city photographs that can really make a space whole.
Favorite Element: My chandelier. It's vintage—from the '70s, I think—and as soon as I saw it I absolutely fell in love with it. It was the last major piece that I bought for my place. Made of capiz shells, it's nearly as tall as I am and illuminates my entire space at night. During the day, when the windows are open and it's breezy, the capiz shells sing.
Favorite room: The dining area. It's tiny, but I always have fruit and wine ready when people come over, so that's usually where the night starts. I made a little breakfast nook out of the space and I painted the kitchen walls myself with one of my best friends, so the space just feels very homey and hospitable.
What Friends Say: That the IRL version looks even better than Instagram, which is really the utmost of compliments. They also always comment on how much natural light it gets. During the day, my apartment is fully illuminated. It's one of my favorite characteristics!
Biggest Embarrassment: The kitchen appliances are so old and tiny. People always comment on it. I usually just cook for myself and it doesn't really bother me at all, but I get kind of shy when I have a lot of people around!
Proudest DIY: I assembled most of the furniture in my apartment, including my bed, benches, and desk. I also hung the photographs on my wall—they're super heavy so I had to Google how to drill a hole and wire everything appropriately. They haven't fallen down yet, so I think I did a good job! Oh—and I also painted the top of my chandelier gray. It was a bright red before, which didn't really match the space. You can't remove any of the wires or dangling shells, so I had to work my way around all of the wires. It was exhausting. I didn't know if I was going make it, but I did!
Biggest Indulgence: I think the chandelier was the most expensive piece I got for the space, so probably that.
Best Advice: To paint my walls. Renters are so terrified of painting (because you have to be sure to paint it back, which I will inevitably have to do at some point), but it's so worth it.
PAINT & COLORS
Benjamin Moore paint colors:
Orleans Violet (the pink in the main living space)
Smoke Embers (the gray accent color in the main living space and in the kitchen)
Twilight Gold (kitchen)
MAIN LIVING AREA
Chandelier — Stuff, a vintage store in San Francisco
Curtains — Bed, Bath and Beyond
Photographs on the wall — Smorgasburg Los Angeles
Everything else was bought online. A lot of this was bought on Black Friday/Cyber Monday, so I got some decent discounts:
Bed — Overstock
Lamps — Wayfair
Couch (which is so comfortable!) — <a href="https://www.wayfair.com/furniture/pdp/zipcode-design-cazenovia-reversible-sectional-zpcd2973.html<br>%0A%09%20</a>Coffee%20table%20%E2%80%94%20<a%20href=" https:="" www.amazon.com="" gp="" product="" b00wndm3hu="" ref="oh_aui_search_detailpage?ie=UTF8&psc=1">Amazon
Desk — Got it on Best Buy, but you can get it pretty much anywhere
Rug — Overstock