Small Space Love: The First-Time Solo Renter Inspired by Her Grandfather's Paintings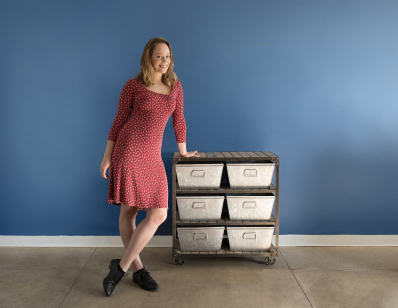 (Image credit: Ana Gambuto)
Renter: Emily Loughlin
Lives in: Crown Heights, Brooklyn, NY
How Small Is Her Space: 280 square feet
Objects of Desire: Turlock Storage Table with Galvanized Nesting Bins
After studying sculpture and design at a small liberal arts school, I became the director of marketing and outreach for Sage and Coombe, an architecture firm in New York. I've always been intrigued by the challenges that small spaces pose. Growing up, I romanticized living on boats. Now I think about living that way in my apartment, too. Living in a tiny space has taught me to simplify my life, to think critically before buying anything, and to think twice about pieces of furniture or appliances that serve only one purpose.
The Blueprint
This is my first solo space, and the majority of my furniture is either made or left over from past spaces. It's a tiny space, and it's been a valuable exercise in learning what I do and don't need; in creating a routine cleaning schedule (small spaces may not accumulate quite as much mess, but they tend to feel much messier without regular cleaning); and in learning tricks to optimize my storage space.
I need spots where I can hide any number of things, even clothing and cleaning products (which it seems there's never quite enough space for). The Turlock Storage Table with Galvanized Nesting Bins are extremely versatile. I could see it transitioning from kitchen island to playroom to entryway storage seamlessly. Personally, I'd use it as a bar cart. It's the perfect height for standing and mixing drinks. I love, too, the idea that I can customize the steel bins with magnets; it could be another way of adding storage, or holding onto exhibition invites or postcards or takeout menus. Aesthetically, I am so loving the recent trend in industrial-modern interiors. It's like the antithesis of hygge but keeping all the cool.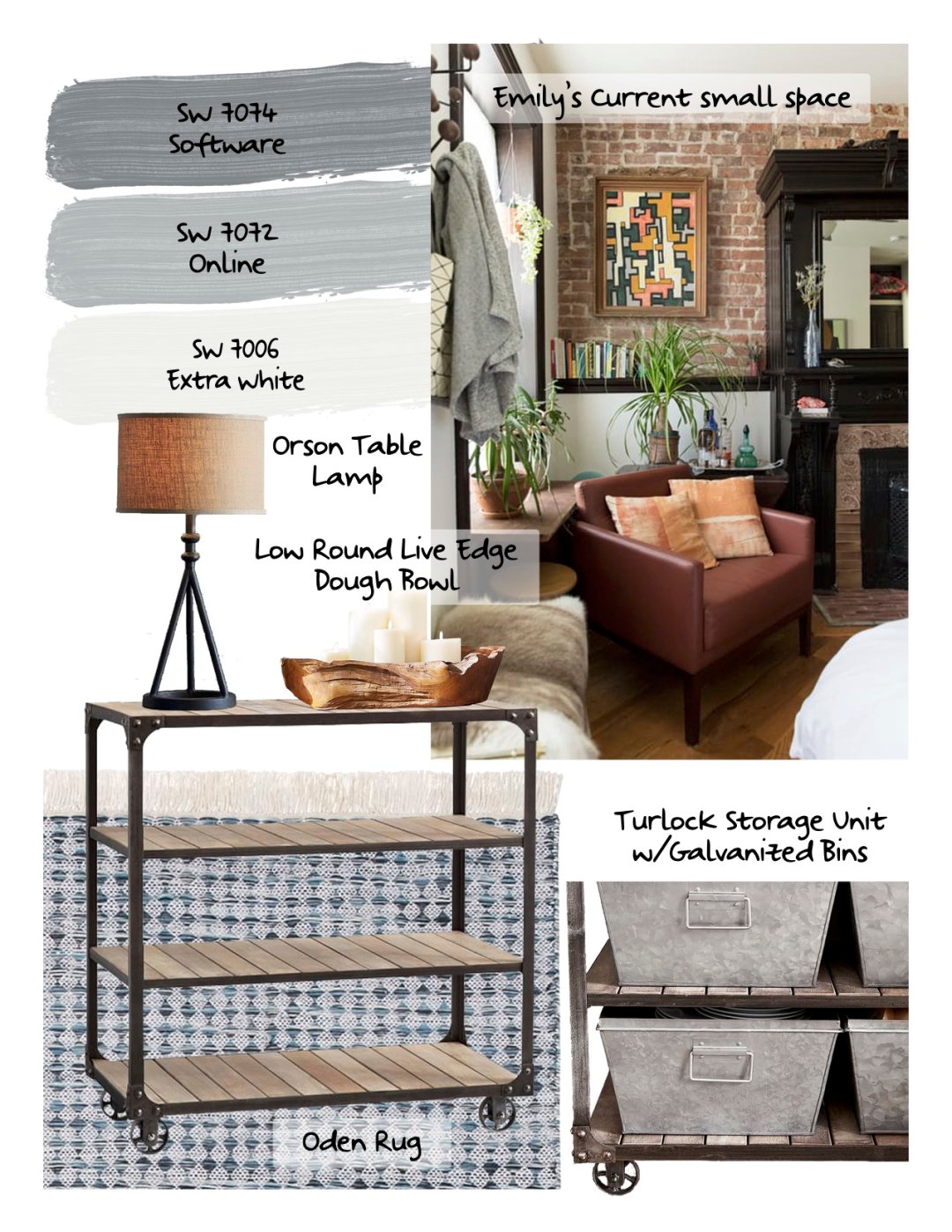 The Inspiration
I was lucky to spend a lot of time in my grandfather's painting studio as a child. It was actually within a house that he designed himself, a former barn that he and my grandmother fitted out beautifully. Their house, even more so than mine, is just crammed with his paintings. The color palette in my apartment came almost entirely from my favorite painting, which I have hanging in my kitchen.
My other grandparents, too, had an incredible house — a stone, 17th-century farmhouse in New Jersey. They spent almost their entire lives collecting outsider art and classic American and Chippendale furniture. My grandmother on that side is definitely an inspiration — she was always "playing house" — arranging centerpieces and creating little design "moments" everywhere you looked.
Why I Love Small Space Living
Affordability is definitely a priority, but I don't have to sacrifice good sunlight, architectural details, or a neighborhood where I feel both safe and close to the action. While this apartment was slightly out of my initial budget, as soon as I walked inside I knew it was the one and I made a deposit on the spot. I loved the beautiful wooden detailing both inside the apartment and throughout the common hallways — it reminded me of growing up in my parents' 19th century Tudor in New Jersey.
Yes, it's small, but there's something so satisfying about figuring out the perfect place for each and every thing. When you see the tree-lined street, the gardens, the church music drifting in from across the street on Sunday mornings…it's pretty ideal.
The Turlock Storage Table and Galvanized Nesting Bins are part of Pottery Barn's new collection of small space solutions. Many of the pieces are multi-functional and provide storage while still being of the high quality and thoughtful design Pottery Barn is known for. The collection is available in select stores across the U.S., and is also available online at potterybarn.com.
See how Emily's grandfather's art shows up in her home in her House Tour.
This post is sponsored by Pottery Barn and was created by the Apartment Therapy Creative Studio. Thank you for supporting the brands that make Apartment Therapy possible.
Apartment Therapy supports our readers with carefully chosen product recommendations to improve life at home. You support us through our independently chosen links, many of which earn us a commission.