A Nature-Loving Artist's 390-Square-Foot Studio Apartment
We independently select these products—if you buy from one of our links, we may earn a commission. All prices were accurate at the time of publishing.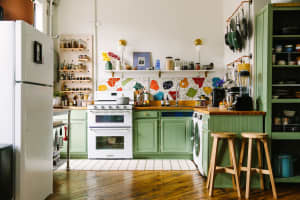 Can't-Miss House Tours Straight to Your Inbox
Keep up with our latest house tours each weekday with our House Tour of the Day newsletter
Name: Lisa Vanin
Location: Toronto, Canada
Size: 390 square feet
Years lived in: 7.5 years, renting
A few years ago Apartment Therapy took a tour of illustrator/fine artist Lisa Vanin's Pint-Size Storybook Nook in Toronto. With the current challenges and sky rocketing rents in the city, rather than move somewhere new when she started to feel restless, Lisa decided to stay put and change the decor to give the space a new and fresh feeling. Check out the updates that she's made to her "old fashioned" space. —
Like many freelancers Lisa mainly works from home. And like many people working from a small home, it can feel a bit tight at times, especially when you can see your office from your bedroom! But after seven years living in a space smaller than 400 square feet, Lisa's mastered the art of living well. Thriving in a small space…not just surviving.
"I tend to begin my day with a cup of tea, quickly followed by getting organized, running errands, preparing meals, and working on the less creative side of my business (sending emails, packing and shipping orders, paperwork, etc). I like to work on my paintings best in the late afternoon and evening, so I enjoy the feeling of being free of distractions and having only my art to focus on," she describes of her typical work day in her studio apartment.
How do you separate your work and non-work life when your office is located in the middle of your home? Lisa says it's errands first, art after. "By separating my day in this way, I find it helps me to keep my workspace tidy and productive. Because I can see most of my apartment from every corner, having a made bed and dishes put away helps me feel relaxed and ready to paint. I have a hard time getting into a creative mindset if I can see unfinished chores all around me."
Sure, working from home can have its challenges. But for Lisa, they're minimal compared to the wealth of advantages she sees in her arrangement. She can work on hobbies when she's in between painting jobs. She loves to cook, preserve, tend to her plants and hang out with her pets, which include lovely cats and an aquarium.
"The challenges I have working from home don't outweigh the advantages. I can't fit some of the equipment I'd like to have in my small space, but I'm happy to get out and use other studio spaces, plus it's a great way to fit in some socializing."
And when the walls of a 390-square-foot studio apartment start to feel like they're closing in on her, Lisa knows what to do: "I also often pack a little travel studio and work out in nature, which is quite a change of scenery."
Apartment Therapy Survey:
My Style: Natural Cottage Vintage
Inspiration: Cabins, nature, Tasha Tudor's Home, hand-crafted modern
Favorite Element: The interest created by my curated collections and vignettes.
Biggest Challenge: Still my bathroom and kitchen cabinets. I'd love to rip them out!
What Friends Say: It feels homey, the Canadian equivalent to Hygge (hehe)
Biggest Embarrassment: The floors are in pretty rough shape, but have been since I moved in. I've been tempted to try waxing them.
Proudest DIY: My personal art pieces as additions to my collection.
Biggest Indulgence: Still kitchenwares.
Best Advice: I have to stick with, "make your bed everyday." If you live in a small space, it helps it feel tidy and organized.
LIVING ROOM
Couch — Vintage
Pillows — Green – Handmade by Lisa's Mom, Grey suede – Homesense
Embroidered Dog Pillow — Handmade
Blankets — Ikea and Amazon
Coffee Table — Structube
Table Cloth — Handmade Vintage
Floor Lamp — Ikea
Wall Cubes — Walmart
Animal Skulls — Found and Gifts
Ceramic Tile Art — Xenia Taler
Metal Panther Heads — Vintage Lamps
Wool Dreamcatcher — Handmade by Lisa
Peach Cabinet — secondhand
Pitcher — Ikea
Aquarium — Eheim
Plant Mister — Lee Valley
Sectioned Wall Shelf —secondhand
Harmonicas — Steve's Music Store
Fox Drawing — Alex Davey
Bookshelf — Ikea
Dog Print — Vintage
"Lay Down in the Tall Grass" Painting — Lisa Vanin's Etsy Shop
Ceramic Trays — Xenia Taler and Akai Ceramics Collaboration
Embroidered Handbag — Vintage
Forest Print — Tin Can Forest
Duvet Set — Ikea
Decorative Pillows — Urban Outfitters
Wool Blanket — Woolrich
Cherrywood End tables — Vintage
White candle holders — Iittala
Table lamp — Vintage
Hanging Lamp — Miqo
Burl Shelves — Meg Tilston
Glass Terrarium — Homesense
Tiny Cat Pillow — Vintage
Embroidered Flower Art — Handmade
Curtains — Ikea
Geode Book Ends — Geologic Gallery
DRESSING ROOM
Dresser — secondhand
Antelope Statue — Homesense
Metal Containers and Objects — Vintage
Curtains — Urban Outfitters
Woman Print — Alexis Hepburn
Peony Print — Mike Rubendall
Grouse Print — Lisa Vanin's Etsy Shop
Laundry Basket — Ikea
KITCHEN
Most of my design classic Kitchenwares are from Swipe Design
Toaster — Cusineart
Cutting Board — Larch Wood
White and Blue Platters — Vintage
Cream and Sugar Set — Vintage Denby
Oven Mitt and Pot holder — Marimekko
Cup Rail and Wine Glass Hanger — Ikea
Blue Shelf — Ikea
Assorted Metal Teapots, Kettles,Copper Pans — Vintage
Ceramic and Cork Cups — West Elm
Ceramic Serving Pot and Tea Pot — Marimekko
Wooden Crate — Homesense
Condiment Set — Alessi
Espresso Maker — Bialetti
Cast Iron Pot — Iittala
Kettle — Fellow
Coffee Grinder — Hario
Juicer — Breville
Utensil Holder — Ikea vase