MANSTAD Sectional Sofa Bed & Storage from IKEA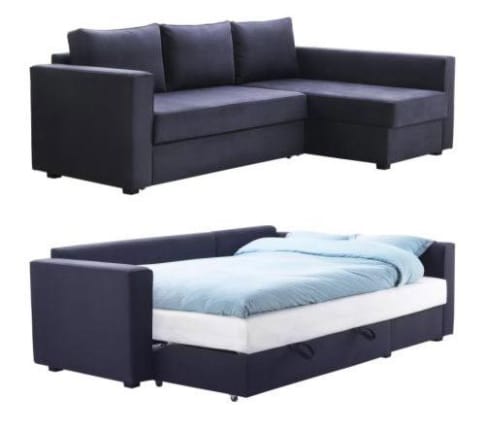 (Image credit: IKEA)
MANSTAD packs a lot of punch — it's a (1) small scale sectional sofa that's also a (2) bed and (3) storage. While there are options for sectionals with built in beds, few are this small, this inexpensive and few are designed to take advantage of the full footprint.
Editor's note: The MANSTAD is no longer available, but here are a few other sleeper sofas from IKEA you might like...
MANSTAD is a very efficient use of space, but it's also quite boxy. Its multiple functions definitely took a toll on the overall comfort level. Like the Twilight Sleep Sofa from DWR, this sleeper is actually more comfortable as a bed — the firm sofa cushions are also the mattress.
As with most IKEA sleepers, it is easy to see that nightly transformation from sofa to bed would more quickly break down the joints and construction. The MANSTAD transformation process was fairly intuitive but clunky — lots of tugging and pulling and readjusting. A drawer under the piece, rolls out and the other half of the "mattress" pops out of it.
The limited upholstery options — dark gray or dark beige cotton microsuede — inspired Eddie Ross to reupholster a MANSTAD and even offered step-by-step instructions on his blog.
The storage under the chaise is surprisingly large and a good bonus.
Manufacturer: IKEA
Price: $899 (available in dark gray or dark beige)
Dimensions: 28.75"H x 94.5"W x 35.5"D, Seat & Bed height 17.75''
Transition Ease: C-