I Tried This Carry-On with a Built-In Closet System — and I'm Never Traveling Without It Again (Plus, It's on Major Sale!)
We independently select these products—if you buy from one of our links, we may earn a commission. All prices were accurate at the time of publishing.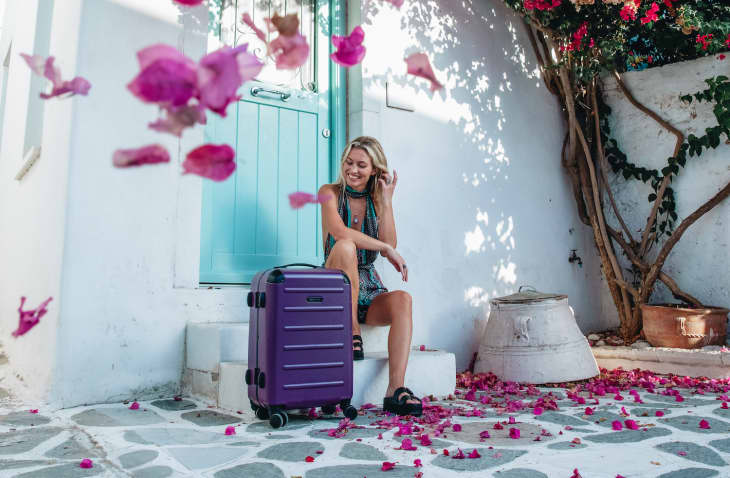 Truth be told, I have a bad history with checking luggage at the airport. I'm sure I'm not alone in this, but I dread the feeling of waiting for my bag to come down the carousel, only to find that it's not in the shape it was when you left it with the TSA agent. I've been half-joking about having roadtrip-specific luggage and flight-specific luggage for a while now, but that's total overkill when I could just get one nice set of sturdy luggage that can endure all types of wear and tear.
Follow Topics for more like this
Follow for more stories like this
When Solgaard was brought to my attention, I noticed immediately that it looked like the kind of hardside luggage I'd been looking for. After doing a bit of digging and seeing the innovative design of their Carry-On Closet, I thought it'd be the perfect upgrade to the suitcases I've had for years.
Right away, I was impressed by the durability of the Carry-On Closet. It has a polycarbonate shell and aluminum frame, and those features alone let me know that it would fare better at the airport than my other luggage. The carry-on is waterproof, scratch-resistant, and compact. It even has a TSA-approved, three-digit combination lock that you can set to your preference. The lock opens with a pinch of two buttons (one on each side), and from there, the latches keeping the suitcase closed spring open with a force that lets me know everything inside is in good hands.
The Carry-On Closet is available in two sizes: the standard 20-by-13.5-inch version is fitting for international travel and the slightly larger 22.4-by-14.6-inch suits domestic U.S. flights. The medium Carry-On Closet can hold enough for 3–6 days, and the large Carry-On Closet can store enough for a week-long trip. The suitcases come with a shelving system for smart packing, and a compression strap to hold it all in place. The shelves expand, making everything inside accessible, so you don't have to worry about unpacking to ensure that your clothes are neat and organized. Along with the shelving system, I found the zipper compartment of the Carry-On Closet to be wonderfully spacious. I was able to fit a large packing cube that was stuffed with three caftans and two belts along with my CHI handheld steamer into the space, and there was still room for a few small items. Best of all, I didn't have to force it closed!
Though the Carry-On Closet could fit in the plane's overhead compartment, I was already traveling with a lot for my trip to the West coast, so I checked it in for my flight and hoped for the best. I've been conditioned to expect the worst: a broken handle, allover scuffing, scratches, you name it. I once had a suitcase get so damaged that it couldn't close properly, and I had to get rid of it as soon as I got home. As you can imagine, I had reason to worry. I'm happy to report that the Carry-On Closet passed with flying colors! I had high confidence in it from how much I'd already banged it around at home unintentionally, but it felt great to grab a suitcase from baggage claim that didn't have a cracked wheel or tricky handle after the journey.
Until now, I haven't used a suitcase with a built-in lock. I've had a tiny lock and key that I've relied on since I was teenager, so the Carry-On Closet was an exciting change. However, it's worth noting that if you decide to create your own combination for the lock, keep it somewhere safe and be sure to set it up properly. There's no way to get into the suitcase without the correct combination (unless you have a TSA key), which was a bummer to find out, but not a dealbreaker. It's not uncommon with suitcases that have their own combination locks. It'd be nice if there was a back-up failsafe of some sort, but it only takes about half an hour to cycle through the combinations from 000 to 999. Your fingers might be a little sore, but it's doable.
The Carry-On Closet has been a promising start to my luggage transformation. If you're looking for something similar but larger, Solgaard has the Check-In Closet, which functions like its carry-on counterpart but provides way more space. I really feel like I've stumbled into a gem with this find. This seemingly indestructible luggage just might be the equivalent of a suitcase superhero!