A Design Editor's Apartment for Her Family of Four Has a Surprising Amount of Affordable Ideas
A Design Editor's Apartment for Her Family of Four Has a Surprising Amount of Affordable Ideas
We independently select these products—if you buy from one of our links, we may earn a commission. All prices were accurate at the time of publishing.
About this tour
Location
Jackson Heights, New York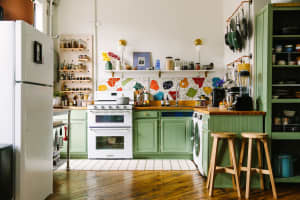 Can't-Miss House Tours Straight to Your Inbox
Keep up with our latest house tours each weekday with our House Tour of the Day newsletter
Name: Sophie Donelson and Greg Lindsay and their two boys, ages 6 and 2 
Location: Jackson Heights — Queens, New York
Size: 1200 square feet
Years Lived In: 4 years, owned
Sophie Donelson has an expert eye for design. For four years, she was the editor-in-chief of House Beautiful magazine, and also wrote and/or edited for Elle Decor, Curbed, Business of Home, and more. Today, she's an independent strategist and consultant working on brands and companies centered around design (she also currently consults with Apartment Therapy). Considering her successful career overseeing stunningly perfect interior design magazine spreads, you might think her home would be full of unattainable out-of-reach ideas, or perhaps feel stuffy and museum-like. But the apartment she shares with her family isn't designed just for looking at. She's more committed to her home "living well than looking good." And it's a space stuffed with clever and affordable design ideas collected from her many years at the helm of top design publications. Take a video tour of Sophie home and read about her home's style story in her own words, below:
This is our first true family apartment—two big bedrooms and two tiny ones in a pretty 1917 building in the historic part of the neighborhood. It felt enormous when we moved in four years ago with a toddler. Now that we have two kids, the walls appear a bit closer, but it's still a beaut.
Home for us is heavily trafficked, with two kids and two caregivers coming in and out constantly. There are days that my husband works here quietly, solo, and weekends when we host enormous parties and fundraisers, packing the rooms, and the furnishings and floor plan is designed to work for both.
I've been on the media side of the home/design industry for most of my career and I have enormous respect for architecture and interior decor. At my apartment, though, I'm more committed to it living well than looking good. As a design magazine editor, you're exposed to the finest work out there–and for years my job was to be discriminating—to say, this isn't special enough for the magazine—pass. But I would never hold my own home accountable to the same criteria; this isn't for show, it's for us. Still, I strive for a home that excites my eye and allows for the realities of family life.
I'm a sister, daughter, niece, god-child and friend to artists, mostly fine arts painters, and so I've always lived with a lot of art. Recently I acquired two pieces not from relatives (!) and both are room-changing to me. In the dining room is a large gouache by Dan Schmidt, a New York painter who uses found objects as shapes in his work, and in the living room, a photography piece by Celia Rogge. That one is an intimate large-format view of decorator Alexa Hampton's bookshelf. I had an idea that the living room should be the only room in the house without books—and just this photo depicting books!—but as it turns out, there are stacks of design books in there, too. I think art and rugs are most essential to completing a room. To me, it's just not done until there's something soft underfoot and something interesting to capture your gaze.
Apartment Therapy Survey:
My Style: My style is somewhere in the intersection of brown furniture and block prints, classical architecture, Renaissance paintings, earthy-crunchy fiber art, hedonistic textiles, and Lego pieces. I don't actively think about it and I don't really set goals for how my space should look per se. I suppose I just enjoy the process of living, decorating, creating, and evolving.
Inspiration: All over. Most consistently in Terrence Conran's "The House Book," a groovy old tome with spaces designed for living, not just looking at.
Favorite Element: The proportions. It's a classic beauty. The running joke is that Brooklyn apartments are gorgeous on the outside but (dark and tunnel-like and) gross inside and Queens homes are ugly on the outside (mostly staid brick piles) and gorgeous inside (lots of exposures). I've done both and I tend to agree!
Biggest Challenge: Living with a modicum of style and grace alongside two kids—in 1200 square feet. It happens on occasion.
Proudest DIY: I love a DIY and I've painted plenty of furniture in here, but I'm proud that I budgeted to hire pros for this apartment—my professional and family life doesn't leave a lot of time for projects, unfortunately.
A few smart things I did: I bought a bed with a square headboard so I can tuck a few yards of fabric over it and swap out the style, and I placed two large patterned rugs side-by-side (kissing!) to give the appearance of an enormous 10×16 rug (rug pads and plentiful of double-stick tape is essential for this).
Biggest Indulgence: At the time, buying hand-painted Ann Sacks tiles for the master bath felt exorbitant. But I've loved them every day since!
Best Advice: Budget for good hardware, like faucet handles and door knobs—the things you touch a million times a day.
What's your best home secret?
Magic Sliders for easily moving big furniture on rugs
Kraftex double-stick tape for adhering textiles to, well, anything
Chairish for vintage and secondhand finds
Stamford, Connecticut for best NYC-adjacent antiques and vintage shopping
The Accessory Store for all the fittings
LR walls — Farrow & Ball Dimpse
LR moldings — Farrow & Ball Lulworth Blue
DR walls — Benjamin Moore Odessa Pink  
Office — Benjamin Moore Abalone
Guest room — Paper-backed fabric walls, Geniesse by Tilton Fenwick for Duralee; Farrow & Ball Arsenic lower walls; Farrow & Ball Studio Green trim.
Kids room — Farrow & Ball Red Earth
Master bedroom — Farrow & Ball Lichen
White moldings/trim throughout — Benjamin Moore White Dove
Custom Sleeper Sofa — Avery Boardman
Eames chair — Herman Miller thru DWR
Rugs — Rejuvenation (style unavailable)
Plaster palm tree — Amanda Lindroth, call the shop for special order, 843-371-1581
Ceiling fixture — Arteriors
Karl Springer-style floor lamps — Antiques & Artisans, Stamford CT
Credenza — Danish, vintage
Reading light — Circa Lighting
Matchstick blinds — Overstock
Planter — CB2
Fine art photography — Celia Rogge
Giclee print — Nancy Fernald
All other art — Vintage and found
Wood cabinets — Innermost (discontinued) through Home Depot
Counter — Caesarstone, Frosty Carrina
Sink — Hillside kitchen sink DXV
Brizo Solna faucet —  similar to this one
Kettle — Smeg
Mirrors — Antique / family
Modern Bed — West Elm
Dressers, tables, and secretary — All antique and vintage
California Closets storage
Painting above secretary — Phyllis Chase
Ann Sacks Magreb hand-painted tiles
White subway tile
Copper mirror-back mosaic tile — Artistic Tile, similar to this one
Astoria Inset Medicine Cabinet — RH
DXV pedestal sink
Kohler Artifacts prong faucets in oil-rubbed bronze