Space-Themed Decor Is Blasting Off on Twitter (Even When It Comes to Christmas Trees!)
We independently select these products—if you buy from one of our links, we may earn a commission. All prices were accurate at the time of publishing.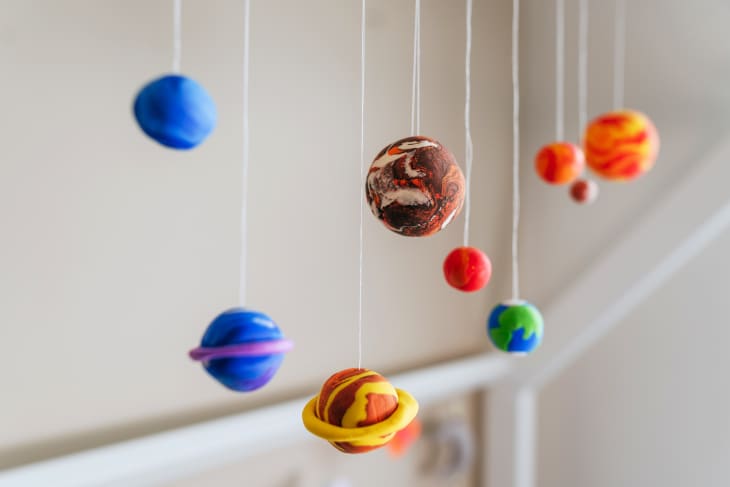 If you were the type of kid who loved planetarium projectors and had those glow-in-the-dark stars stuck to your bedroom ceiling, you're going to love the decor scheme taking off on social media. Outer space-themed decor is trending on Twitter these days, and it's the sophisticated twist every astronomy lover needs to incorporate a little wide-eyed wonder into their grown-up living quarters.
Of course, space-themed rooms are an obvious choice for little ones, but lighting choices can help make it just as much fun for adults, too — and equally chic. Twitter user @momentsofence recently shared a photo of these galaxy lamps from Creme Cloud ($130 each) that will add an eclectic, extraterrestrial spin to any space.
Follow Topics for more like this
Follow for more stories like this
Available in shapes to look like the Moon, Saturn, Jupiter, and Mars, these celestial-themed lamps fittingly receive across-the-board five-star reviews from buyers who love their spaced-out lamps.
If you want to add a space-themed seasonal spin to your holiday decor, take inspiration from Dr. Laci Brock (Twitter user @stellerarts), who recently debuted her space-themed Christmas tree that quickly went viral. Brock, a planetary astrophysicist, gave a glimpse into the process of transforming her tree into something decidedly otherworldly both on TikTok and on Twitter, showing off hand-painted planet ornaments, a handmade asteroid belt made from air-dried clay, and a sun-shaped topper atop the black artificial tree that cements the astronomically cool vibes.
Last year, Brock gave some detail into how her tree came to life on TikTok, sharing that she used acrylic paints to recreate all the planets in the solar system using ornaments of varying sizes. She created the sun-shaped topper by using an LED floating pool light in a warm, sunny hue. A galaxy-themed tree skirt completes the vibe, and the end result is, frankly, out of this world.