See How a Home Stager Turned a Sparse Loft into a Sophisticated Space
We
independently
select these products—if you buy from one of our links, we may earn a commission. All prices were accurate at the time of publishing.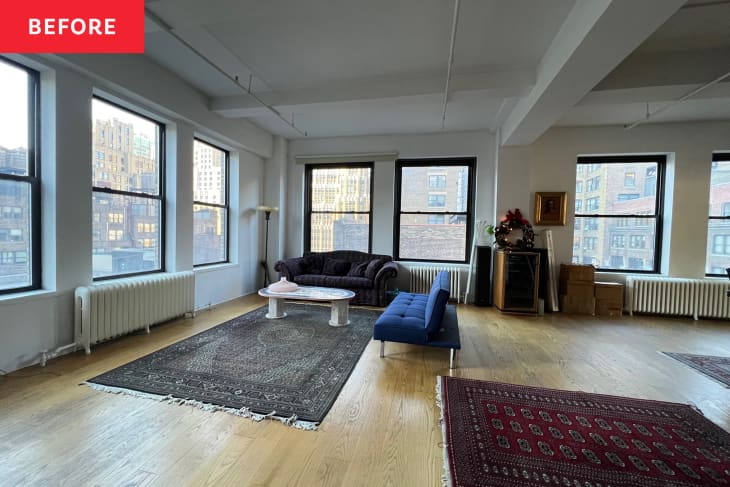 Inside a former button factory in the Garment District in New York City sits a 2,750-square-foot loft with 22 (yes, 22!) oversized windows. Henry Hershkowitz, a real estate broker with Compass in New York City, represents the co-op — and reveres its history. He explains it was originally designed in the Art Deco style in 1928 by Schwartz & Gross as a button factory. But in 1979, the building was converted into a co-op with half- and full-floor lofts.
This particular unit is awash in natural light, with sun streaming in through every window. Though when Hershowitz took over the listing, that light was casting a spotlight on a mishmash of minimalist furniture that was reading more "college bohemian" than "city co-op." It wasn't letting potential buyers see the incredible bones, the industrial details, or the possibilities for the open space. 
Hershowitz knew that this massive loft needed expert staging, and he brought in Jason Saft, founder of Staged to Sell, to fix it. 
"Jason reimagined the space and elevated it so much, including paint touch-ups, wallpapering, new light fixtures where they mattered, and of course, one of a kind furniture that helped prospective buyers immediately imagine living there," says Hershkowitz. 
Saft spent nearly two decades as a real estate agent himself and knows that understanding the buyers is key to connecting with them the minute they open the front door. "My methodology and process is rooted in my real estate background and it's what allows me to create such compelling designs that connect to a wide, yet specific audience," Saft says. He explains that there is often more than one decision maker in a transaction and his goal is to visually and emotionally connect with as many potential buyers as possible.
With this button factory living room, he designed a space that is striking, bold, and full of artistic references and patterns. Thanks to graphic chairs and a rich burnt-orange sofa, the co-op reads like someone's incredibly well-designed home rather than a staged-to-please-everyone space. And that's exactly what Saft intended. "The goal was to create something that felt unique, collected, artistically driven and aspirational, yet open and inviting," he says. "I wanted the space to be artful and imposing but not overly pretentious."
In doing that, Saft staged an oversized living area to help the buyers envision themselves hosting and entertaining. There are two large sofas: one a neutral with delicate detailing, the other a sumptuous velvet. Completing the seating area are two low slung chairs with a bold black-and-white print. Throughout the space are artful moments, from the marble drum coffee table and layered rugs to the cane screen in the corner. The chrome on the lamps adds a mod touch, while a wicker arc lamp sweeps in from the side.
To make all of these bold pieces work together, Saft explains that it's all about balance. "You have to find a balance by playing with different pieces and their configuration. By keeping the main seating a neutral beige it allowed me to easily work in the pattern in the chairs, along with the pattern in the rug and artwork." 
Much of the pattern all works within the same color palette — black and ivory. This let Saft bring in several strong graphic looks without feeling like they are competing. And, all those neutrals led him to the pièce de résistance: "This allowed me to easily work in that gorgeous burnt orange velvet Marconi Sofa from CB2 that is the finishing touch that adds a shock of much-needed color to what could become a very somber space," Saft says.
With these unique pieces, Saft paints a picture of a space where you can imagine friends lounging on the sofas, cocktails in hand, chatting over jazz music in the background. This is sophistication, but it's approachable and comfortable. Saft says, "I love the little detail moments that warm a space into a home."
The listing was previously on the market unstaged; it saw few showings and no offers. Once it came into the hands of Hershkowitz and Saft, they had multiple offers within the first few days and a list price contract in three weeks.