This '90s Decorating Task Brought Me and My Friends So Much Closer
We independently select these products—if you buy from one of our links, we may earn a commission. All prices were accurate at the time of publishing.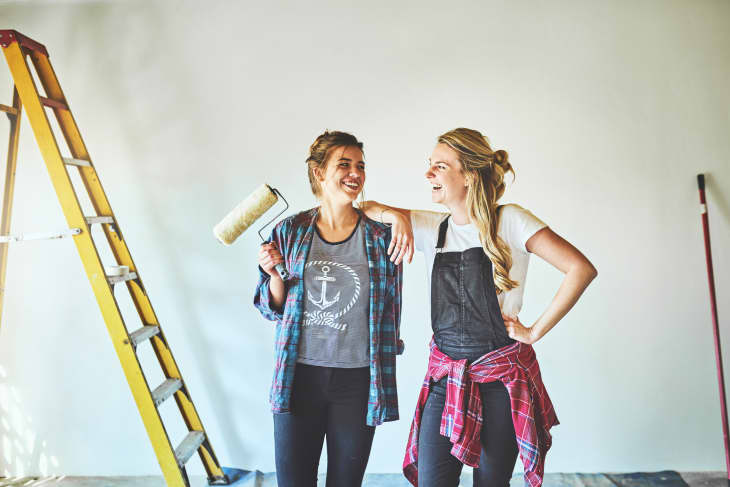 Ah, the '90s — a time of such glorious decorating trends as crackle finishes, safari prints, weird shapes, and bright, solid primary colors. As a teen at the time, I loved it all (and generally still do). But no other decorating style captured my heart as much as a messy, frenetic one: splatter paint walls.
Follow Topics for more like this
Follow for more stories like this
Splatter paint was satisfyingly easy to do. You'd paint the walls around you a simple base color, then pick some smaller cans of supporting paints. Pour them into cups, dip your paintbrush in, and fling the paint at the wall. Or, if you wanted to get really wild, throw the whole cup of paint at the wall. The goal was a chaotic mishmash of colors, a personalized experience that would help you know your room was truly yours.
As some aging '90s kids grew older, they started connecting the splatter paint dots with lines, making brand new constellations scattered across the walls — the universe of youth, all contained in one room. 
Splatter paint walls weren't done by just one person. It was an activity for friends. Not much was better for budding interior design fanatics than gathering a group of your closest pals and throwing paint at the walls. I helped one friend do it on a light purple wall, with splatter accents of different pastels — light green, pale yellow, sky blue. I helped another friend with a plain white wall, using red and black for a deeply emotional room that seemed to represent the disarray inside a growing teen's brain.
But my favorite splatter paint experience, the one I'll always remember, gathered not just a couple friends, but six of us. We crowded into my friend's too-small bedroom, where she had freshly painted the walls black. Stationed in each corner was a blacklight spotlight, one shining on each wall. In the middle, another light shone toward the ceiling. The accent colors were neon, picked for how well they would glow. 
We spent the next two hours spreading a world of colorful chaos all over those walls; swapping jokes and stories; complaining about school and the people who bugged us; and bonding in a luminescent space where we could help my friend express her inner world on her outer walls. We released our creativity and our frustration. We splashed our teenage angst away. It was cathartic, and it brought us all closer together. 
That room had more than just her touch, it had all of ours. And that was the great thing about splatter paint walls. You didn't just do it for the style. You did it so you could live in a space as wild as you wanted to be, surrounded by memories of the time you and your crew picked your favorite colors and threw them around with reckless abandon. It was the joy of youth, the beauty of friendships, the flair of self-expression, all contained in one place. And that made it magical.