Surprise! Split-Level Homes Are Becoming Popular Again—And I Know Why
We independently select these products—if you buy from one of our links, we may earn a commission. All prices were accurate at the time of publishing.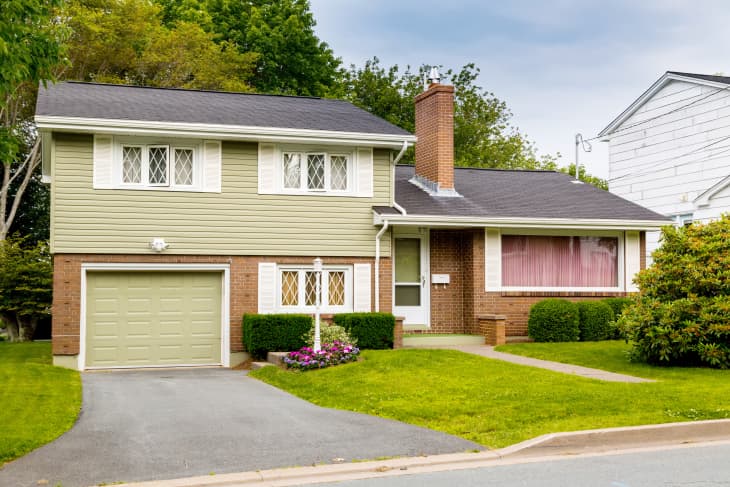 When you imagine your dream home, I can bet that you're probably not envisioning a split-level home. In the years since the 1970s, the style and its chaotic entryway have gotten a bad rap (think barely enough space on the platform to hug visitors hello, let alone hang coats or deal with shoes; and no one knows if they should go up or down). So it may come as a surprise that, according to data from Google, search interest in these homes has been steadily increasing since 2004, reaching an all-time high in January 2017.
Follow Topics for more like this
Follow for more stories like this
In the past year, the biggest spikes came during the busy-buying months of May and July, which could suggest that more people are looking at this home style once they've begun to actively house hunt.
As someone who has lived in not one but two split-level houses, I am well aware of the flaws of the living space. But also, I'm aware of the tremendous benefits they house beyond that initial impression. Here's the thing: Millennials still love ranch-style homes. And a split-level is basically a variation on that theme: double the benefits of the ranch's fluid and linear living spaces by planting one atop of another.
Whereas a ranch's one-story construction was sprawling, the split-level had the same amount of space but better utilized the horizontal square footage through condensed stories.
"I've always seen split-levels as the minivans of the architectural world," says Orly Halpern of John L. Scott Realty in Portland, Oregon. "If you can get past the often awkward curb appeal, they offer practical living options for most every type of household."
Interested in hearing exactly what these benefits include? I talked to a few real estate agents for the low-down, as well as their thoughts on why the home style may be regaining popularity now. Here's what they said:
Split-level allows for better separation between upstairs and downstairs
The split-level blueprint allows for more separation between downstairs and upstairs than other home designs and is great for those who want to have a home office, gym, or hobby space downstairs. The money-savvy might even rent out a downstairs bedroom to a roommate.
They're also good for families because they separate noise (family room and garage downstairs, living room and bedrooms upstairs). Additionally, this layout can aid multi-generational families living together:
They often provide more outside space
Since split levels maximize vertical space for their interior, that means that there can be more room to play with in terms of yard space on any given lot. Also, expansive decks often accompany a split-level's top floor, which is like having a fun adult treehouse platform right outside your kitchen. 
They're affordably priced' for now
Since they seem a little outdated, split-level homes actually tend to be cheaper since there is less demand in some markets and, since there are many of them following a 1970s building boom, there's ample inventory. It's a particularly smart option for first-time homebuyers.
Their basic shape is ideal for finished attic/loft space or additions
While a mansion really can't be made smaller, and it's hard to give a ranch more privacy, a split-level home, on the other hand, can easily be modified. With a climbing vertical aesthetic already in place, split levels are a great choice for lofted additions that continue along those lines. 
Becoming a split-level convert? Take more inspiration on how to lean into its vintage aesthetic in a totally modern way with this pink '70s family room makeover.
Correction: An earlier version of this post mistakenly featured a photo of house that… was not a split-level home. We've updated it to be more accurate—hopefully, we can blame it on Mercury retrograde.
More great Real Estate reads: