See How Stagers Made an Industrial-Style Apartment Feel Cozy with a Few Additions
We independently select these products—if you buy from one of our links, we may earn a commission. All prices were accurate at the time of publishing.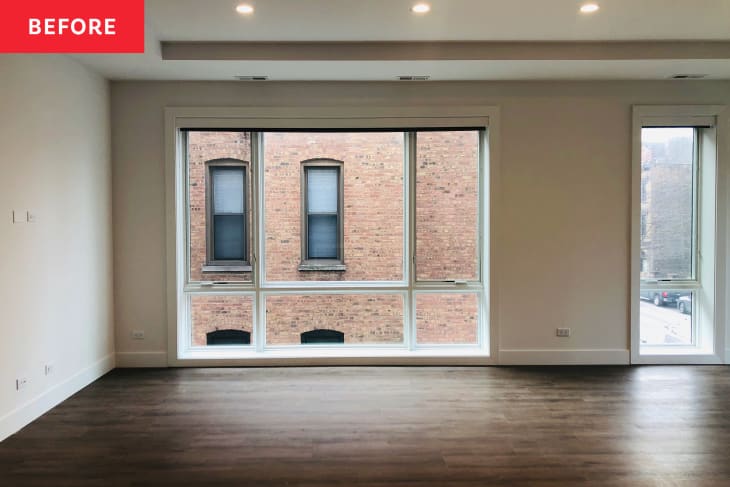 Open, modern apartment buildings with floor-to-ceiling windows are a favorite of many design-minded city dwellers. But when a unit is priced at the top of the market, how can it stand out from other similar listings?
Follow Topics for more like this
Follow for more stories like this
In one new construction building in Chicago's Lincoln Park neighborhood, Haven Staging was brought in to give life, functionality, and a vision to six contemporary units that would encourage renters to sign on the dotted line.
These apartments had a striking feature that was both their show-stopping quality as well as their biggest design challenge. An open floor plan and walls of windows give the units an industrial, loft-like feel, but that meant Brad Pierce, creative director at Haven, had to focus on defining areas that would make the space feel functional, livable, and warm. The latter felt especially important during the cold Chicago winter when the units were listed. 
Open floor plans can be a challenge when renters come in and can't imagine where their TV or their dining table will go. Pierce knew his highest priority was to visually create separate dining and living areas within the larger shared space. He carved out areas for activities like conversation, with the two chairs side-by-side close to the sofa, as well as TV-watching with the cozy sofa and coffee table setup. Piece was also intentional in setting up a dining table with six chairs for an area that felt like a true dining room.
The dining and living room layouts embraced the windows and drew attention to the million-dollar (or, at least $6,500 per month) city and neighborhood views. That included placing pieces away from the walls to avoid blocking the incredible window views.
"We placed more modular, floating pieces in front of the windows to draw the eye over and out of the windows. Running dining tables and coffee tables parallel to the windows particularly helps the eye flow to the pieces and then beyond to the views, without distracting or interrupting the flow," explains Charlotte Speranza of Haven.
Because of the modern lines, Pierce and the team used curved furniture and soft layers to warm up the units through color and texture, which was critical when renters were coming in from the frigid Chicago winter temps. They wanted to create an apartment that felt like a haven, truly, from the outside. "These units were staged over the fall and winter months. Our team in particular aimed to bring in extra warmth through pops of velvet, luxe throws, birch logs, and such," says Pierce. The combination of faux fur, leather, and warm tones created a cold weather retreat.
With the staging in place, renters were able to see themselves in their new in-town, modern lifestyle, and four of the six units were quickly leased at top dollar.