Everyone's Favorite Mid-Century Home Just Got A Redesign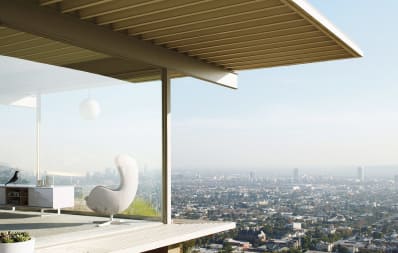 (Image credit: Photos by Steven Krebs)
One of the world's most famous houses - and arguably the world's most famous modern home - has just gotten a major makeover. Los Angeles' iconic Stahl House (also known as Case Study House No. 22) with its cantilevered structure, and its sweeping, unobstructed views of Los Angeles was an architectural and engineering feat when it was originally built in 1960 by architect Pierre Koenig. While it has had star turns in countess films and TV shows the home was perhaps made most famous by the black and white photographs of architectural photographer Julius Shulman. Now the preserved mid-century modern masterpiece has gotten an interiors refresh. The move comes courtesy of furniture store Design Within Reach, purveyor of authentic modern furniture designs.
(Image credit: Photos by Steven Krebs)
The 2,200-square-foot home has been outfitted with Design Within Reach's new 2018 collection. The new collection of includes everything from furniture, to fixtures and accessories with pieces from designers such as Norm Architects, Jerome and Evelyn Ackerman, Nathan Yong, Neil Logan, Note Design Studio, and Ibon Arrizabalaga.
(Image credit: Photos by Steven Krebs)
The collection, which will live indefinitely at the Stahl House, features an array of textures and a fairly achromatic color palette. The Stahl House's new interiors are defined by light woods, and primarily blacks and whites: the black and white designs of Jenev Ceramics from Jerome and Evelyn Ackerman, a black Sen Media Unit designed by Ibon Arrizabalaga, and Neil Logan's neutral-toned Lispenard Sofa, as well as a black Eames Lounge Chair which is perched in the corner of the living room and provides views for days. A pair of black Russell Woodard Sculptura chairs sit poolside, the mesh design of which leave still an unobstructed view of the city below when unoccupied. In the home's dining room, there's a Danish-inspired vibe. An oak Gather Table is completed with a set of Wishbone Chairs and their handwoven seats.
(Image credit: Photos by Steven Krebs)
You can see how the furnishings update the home's look while respecting its history for yourself by scheduling a tour here.